Thanks to Essex Ham member Paul G7BHE for submitting the following review:
Hands on with the AnyTone AT-D868UV Dual-band DMR Handheld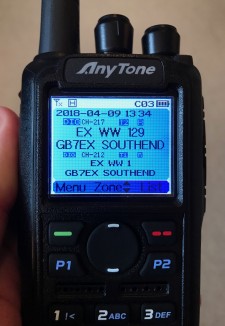 Having seen one of these strapped to another Ham's hip at a recent Suffolk RED, I instantly liked it and found myself buying one at the SEARS Canvey Radio Rally this year.
So what is it? The AT-D868UV is a handheld radio that is capable of DMR mode and FM. It operates in the 70cm and 2m amateur bands, with an output of 6 watts. It is ETSI Tier II compliant.
First impressions?
Solid, in fact, very solid. This radio has some heft to it. You know you are holding it. It seems to be well made with a nice action on the rotary knobs, substantial belt clip and sturdy antenna. The SMA Female antenna is the rubber duck kind with a curious orange decal at the top. I assume this is so you can see it clearly as you poke your eye out with it.
My unit came complete with two batteries, a programming lead and drop-in charger.
AnyTone AT-D868UV Availability:
Price: £149 from Mirfield Electronics, Martin Stokes G3ZXZ. Chris Taylor at Moonraker informs me that they are now stocking them too (Although at the time of writing they are not listed on the site). See also: AT-D868UV on eBay
Button layout is as follows, the side has PTT and two user-assignable buttons. The software allows for quick, medium and long presses, so assigning 6 different options is easy. Being the simple type of person, mine is set for scan and power level.
The front keypad is tactile and gives a nice positive click when operated. On the top is an orange 'Man Down' or 'Emergency' button. I haven't played with this as yet.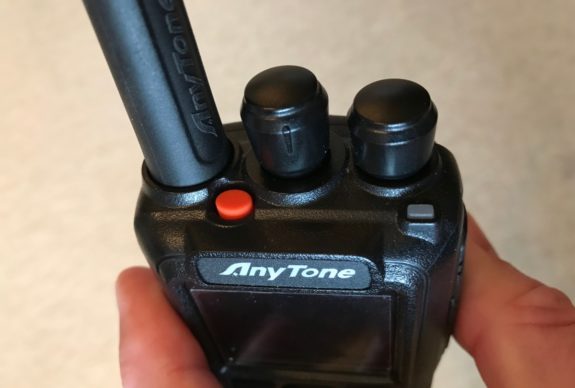 The display is nice and bright. It allows for a significant amount of information. In fact, I found it a little too busy, so I tend to have it in single VFO mode. Speaking of which, yes, this dual bander has a twin VFO allowing for your local DMR repeater or hotspot to be on one and your local FM repeater to be on the other.
Codeplugs
As is always the way, writing the codeplug for a new radio is trial-and-error. I was unable to find a UK codeplug online and set about writing my own. The software is available online free of charge.
Uploading to the radio was very simple using the supplied USB cable and I had no driver issues with Windows 10.
Using the AT-D868UV
The receiver is sensitive enough for everyday use, although I notice it can be a little tardy in opening the squelch when picking up a DMR signal. It's only short but it can be noticeable. This may be something that can be addressed in settings or with a firmware upgrade.
Transmission wise, I found it to be putting out 5.75 watts into a portable slim jim with a 1:3-1 VSWR on 145.525MHz using FM. I was more than happy with this.
Audio quality was rated as excellent during 2 QSO's in FM simplex and DMR provided excellent results also. Plugging in an Icom speaker Mic, I found the output audio to be very quiet. It turns out this again is something that is easily rectified in the myriad of settings and shouldn't be seen as a fault.
Scanning of pre-programmed channels, for instance PMR, I found to be a bit on the slow side. But in fairness to the unit, it isn't designed to be a scanner and I'm just happy to be able use it as such. Out of band signals from Marine Band and PMR are crystal clear and this radio appears to be very capable.
The drop-in charger was supplied with a Euro plug and I had to obtain an adapter. This is a bit of an annoyance as I'm sure UK style chargers are easily available to the manufacturer.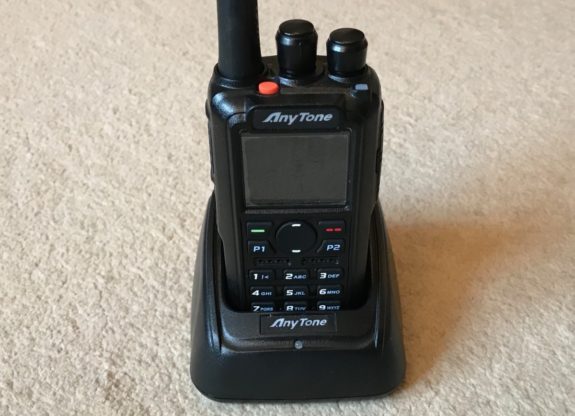 Battery life exceeds what I need and I often find that an evening's use of monitoring and the occasional QSO makes no noticeable difference to the charge level. The second battery isn't even out of its cellophane.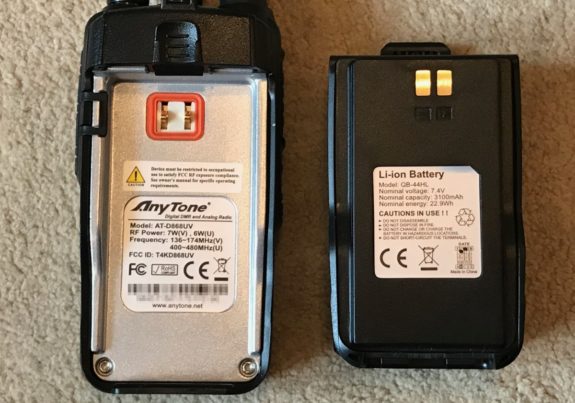 In comparison to other radios, this far and away is a better radio than the TYT MD380. It may not have the design quality of a Motorola, but it's way cheaper. I know that these are being sold commercially by the manufacturer for use in industry and I have no doubt that they will do well.
All in all, I can thoroughly recommend one of these AnyTones if you are in the market for a new DMR handheld. The downsides are too minor for me and for the money you cannot go wrong.
Information correct as of 9th April 2018.
Best 73,
Paul G7BHE
AnyTone AT-D868UV DMR Handheld Image Gallery
Thanks to Paul G7BHE for this excellent first-look at the AnyTone AT-D868UV. Any questions, or comments? Please add them below.