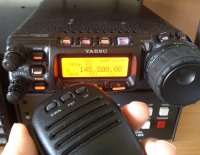 If you fancy trying your hand at some local contesting on VHF and UHF, note that the 2016 contesting season starts this Tuesday, with clubs from Suffolk, Essex and Kent taking part. The event is organised by the Leiston ARC (on the Suffolk coast), and here's their announcement:
The Leiston ARC are pleased to announce that the 2016 VHF Activity Contest season starts again on Tuesday, 23rd Feb 2016.
This year, there have been some changes – This is no longer just a Leiston Contest. We've called it a Co-ordinated Club contest as there are now four clubs who will each be running the contest independently in the same time slot. Colchester RA, Felixstowe & District ARS, Leiston ARC and Medway ARTS will all be supporting the contest, and each of those clubs is providing it's own adjudication. This should also provide quite a few more people to work, and some interesting propagation on evenings where conditions are a bit 'up'.
Contest Information
To support this wider base of users there have been some changes in the rules:
The contest will be on 2m and 70cm FM simplex, with more points for 70cm contacts – and you can work the same station on both bands for points.
The operation mode changes to Sprint style – if you call CQ, you have to move after that contact. If you reply to a CQ you can then keep the channel and call CQ – then you must move after that contact.
There is no difference between member and non-member scores.
We've brought back Assisted Operation for those who want to work together, and to help new licensees.
There is a multiplier for the total number of unique postcodes that you accumulate across both bands
You chose which club adjudicates your entry – you don't need to be a member. If you don't choose a club, your log will be treated as a check log.
Each club will post it's monthly table of results on its website, and Essex Ham will publish an overall table across all the clubs.
At the end of the year, the Leiston Trophy will be awarded to the highest overall scorer who has entered 7 sessions or more (the best 7 scores will count).
The new rules and log sheet are available at www.larc.org.uk/Contest.html
As normal, the contest starts at 8pm local time and runs for just 1 hour.
Dates for the 2016 VHF Contest
Feb 23rd
Mar 22nd
Apr 26th
May 24th
Jun 28th
Jul 26th
Aug 23rd
Sep 27th
Oct 25th
Submitted by Dave G4HUP
The dates for this year's contest have been added to Essex Ham's calendar, which can be synced to your smartphone
Related Links