Thanks to the Thurrock Acorns for submitting the following report regarding the 2016 AGM:
Thurrock Acorns Amateur Radio Club AGM.
Tuesday the 15th of March 2016 was the second AGM of the Thurrock Acorns Amateur Radio Club held at the 1st Grays Scout HQ in Grays. Following the election of the officers the focus of the evening turned to two areas.
The first was to hear a short presentation given by our guest the deputy regional manager of the Radio Society of Great Britain (RSGB), Keith Haynes. Keith looked back over the years that he has been involved in amateur radio and discussed the changes that had occurred including the arrival of space exploration and the impact that has had on the amateur radio community. This was very interesting as the speaker at the next club meeting will be focusing on a 'mini astro skills night' when weather permitting we will be exploring the skies and satellites that pass overhead every day. He also explained how his role at the RSGB is designed to support our club and other radio clubs in Essex. The RSGB is the organisation that works with OFCOM and other government agencies on behalf of the many UK radio amateurs.
Following this presentation the meeting then reviewed its future activities both events that the club will be supporting and training activities for people new to the hobby and wish to know more and possibly get a licence. Following the formal meeting everyone then adjourned to an informal chat over a cup of tea and savouries. The full programme can be seen at www.taarc.co.uk
The above picture shows some of the member's listening as the club officers go through the formal part of the evening.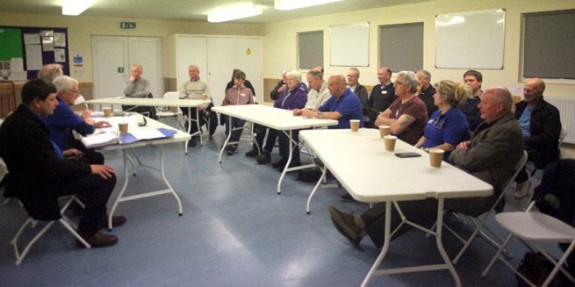 Thanks to the team at Thurrock Acorns for submitting this story.
Related Links
Involved with a club in Essex? We can help to promote your club's event to the amateur radio community. Send us your events news, and we'll help to promote your event to amateurs from across Essex and beyond. If your club's events aren't being featured, get in touch with Essex Ham, or find out more about how Essex Ham supports local clubs.