For the July meeting of the Chelmsford Amateur Radio Society, I was asked to prepare a short presentation to the club's membership on the state of amateur radio training, with emphasis on Essex. For those unable to attend, I thought I'd summarise come of the key points covered, plus share some of the audience feedback
2012 Training Stats
This information comes from the RCF, the body responsible for the exams:
2012 Pass Totals
Foundation: 1599 passes
Intermediate: 709 passes
Full: 350 passes
Encouraging to see 1,600 new voices joining the ranks of the UK Amateur Radio community – and the number is up on previous years. A total of 2650 exam passes across all three levels is good too. Interesting that only 13% of passes are for Full, showing that progression is an issue, which I'll touch on later.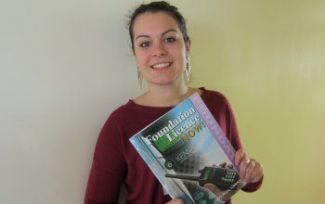 Pass Rate
Foundation: 85%
Intermediate: 93%
Full: 70%
It's great that so many people entering at Foundation are able to get their M6. The pass mark for those progressing to Intermediate is also encouraging with almost 19 of 20 people passing and getting the 2×0 callsign. Failure rate for the Full is high at 30% representing that the jump to Full is quite high. In Essex, there seems to be a lack of Full training courses, and if other areas also lack advanced courses, this could be a factor in the low pass rate.
Anyone reading this looking to jump to M0 should consider Steve Hartley G0FUW's distance learning courses, as that seems to be a great way to get the knowledge needed for the Full, if local clubs can't help., as it's often  in Essex
Essex Training
Of the 15 or so active clubs in Essex, as we understand it, only 5 in Essex offer training – that's CARS, Colchester, Havering, LEFARS and TARG. Apologies if I've missed any.
Most offer weekend Foundation, with CARS offering weekday evening courses.
I've been asked why more clubs don't offer training, and it's likely to come down to the amount of work needed. Working with Mark M0IEO, I've been largely responsible for creating the schedule and training material that's in use by the Thames Amateur Radio Group, and here's a summary of the work that's gone into setting up training:
Creating a team of 10 people to handle teaching, co-ordination, practical assessments, exams and catering
Registration with RSGB – Both for Tutors and the exam venue
Sorting out the practical equipment, in TARG's case with equipment built my Mark M0IEO and loaned by members
Writing the training material. Nine presentations, one mock exam and some video content. Creating over 120 Foundation training slides from scratch, plus testing and refining, is no easy task!
Running the session – from collecting payments, booking candidates, requesting the exam papers, preparing the venue, looking after attendees, assessing the practicals, handling the exam under strict conditions, then handling out papers and processing the paperwork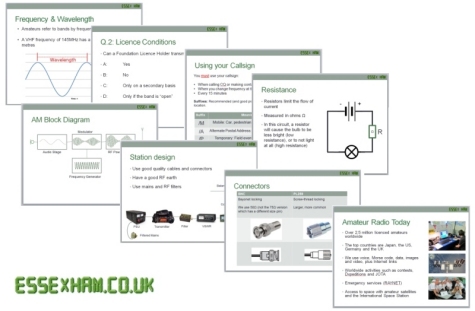 There's more to it than means the eye – and all of the clubs in the area working on exams deserve a pat on the back. Trainers are usually volunteers, and after hall and exam fees, little of the money received actually makes it into club funds. Well done to those that freely give their time to get people to the hobby and on air.
Getting more amateurs
This is proving to be a challenge. Getting new blood into the hobby is key to the hobby's survival, and it's up to amateurs to promote the hobby and act as recruiters. Essex Ham has just created "Welcome to Amateur Radio" – a short video clip that promotes the hobby and how to get started – and we have other plans to help promote the hobby.
A number of other suggestions have been raised, either via the RSGB Tutor's reflector, or at the CARS meeting in July 2013:
More field events / RSGB events
Involvement with schools / scouts
Making CW optional, not mandatory, from the Foundation practicals – as some apparently see this as a barrier to entry.
Encouraging progression
Why do so few M6s progress to Intermediate and Full? Where do they do? Can we do more to encourage progression to a higher level. Again, suggestions doing the rounds, or raised at the recent CARS event:
Clubs putting on more events for M6s
Additional classes and modules for Foundation licence holders
Adding an an expiry to Foundation licences
Removing access to some bands to force progression
RSGB contacting M6s with offers to encourage progression
Greater support from clubs, such as Mentors / Elmers – more experienced operators using their special skills to help newbies
Any thoughts on training, or how to encourage new operators and progression? Please add your thoughts below.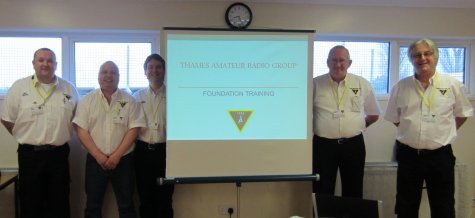 Related content