The Thames Amateur Radio Group, based in the south of the county, has completed its first Foundation training course.
The entry-level course took place over the weekend of the 17th and 18th of February 2013 at the club's base on Canvey Island. Training was led by Mark M0IEO and Pete M0PSX, with support from several other club members.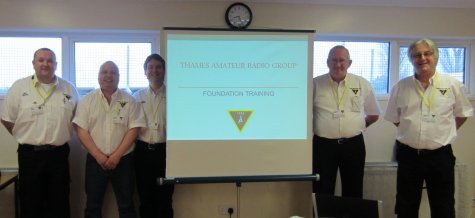 This first course covered the entire Foundation syllabus, as well as the HF and VHF QSOs, antenna tuning, station build and Morse assessments, ending with the RCF Foundation Exam. The club's shack was put into use for the QSO practical exercises, as well as for the Morse appreciation.
Thames ARG plans to announce the date of its first public course in the coming weeks, as Pete M0PSX explains:

"Before we announce the plans for TARG's training courses, the team wanted to be sure that we had everything in place. It's important that the training team is fully up-to-speed with the curriculum, and that we have access to all of the equipment necessary to help students through the various Foundation practicals."
"Our first training session was a friends-and-family course allowing us to test our training plan and get some honest feedback from our students. We'll be reviewing the feedback from the candidates, tweaking our training as necessary, and then we'll be in a position to offer weekend Foundation courses to a wider audience soon."
Training Course Video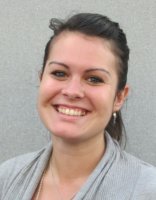 The team has put together a short video covering the various aspects of the two day course. One of the "guinea pigs" on the course was the co-presenter of FrequencyCast, a technology podcast that occasionally features amateur radio.
In a recent radio show, one of the FrequencyCast listeners challenged Kelly to get an amateur radio licence, and this course presented the ideal opportunity.
The FrequencyCast podcast has covered a number of amateur radio topics in previous shows, including coverage of the 2o12L Olympic station and updates on the troublesome Powerline Adapters (PLT) that are well known for causing interference to amateur bands. Kelly's first steps in amateur radio will be covered in the March 2013 show, which will be available at www.frequencycast.co.uk
To get a feel for Kelly's experience of her first amateur radio training course, take a look at the following short video clip:
Congratulations to the three successful candidates on the Thames Amateur Radio Group's first training course for achieving their passes. We look forward to catching Belinda M6JNX, Kelly M6KFA and Lucy M6UCY on the Monday Night Net in the coming weeks.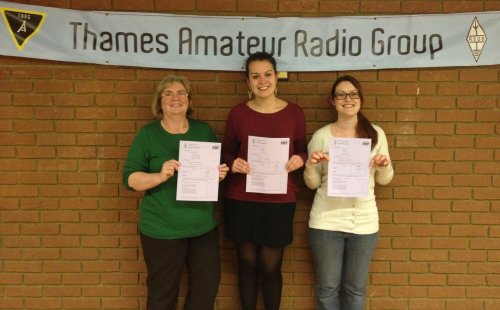 For more information on training in Essex, see our Essex Amateur Radio Training section, and for more on the Thames Amateur Radio Group, see our Thames ARG Club Profile
Related Links