Thanks to the team at the Thurrock Acorns for submitting the following story:
The Queens Birthday celebrations
On Wednesday 8th June 2016, members of the Thurrock Acorns Amateur Radio Club (TAARC) were invited to support the Tilbury Riverside Project who were organising an event to celebrate the queens 90th birthday. The event was run at the Tilbury Community centre and was attended by over 100 people. The event started off well and the radio station contacted stations both in the UK and Europe. However as the event developed it soon be obvious it was going to become challenging to talk to stations on the air with all the other activities going on in the hall. The TAARC members therefore scaled down their radio operation and joined in the festivities and at the same time told people about amateur radio.
The following picture shows John G4LTH of the radio club talking to one of the early attendees with other members of the club seated M0LMR, G7OED, G0EKP and G0EKN busy setting up the stations.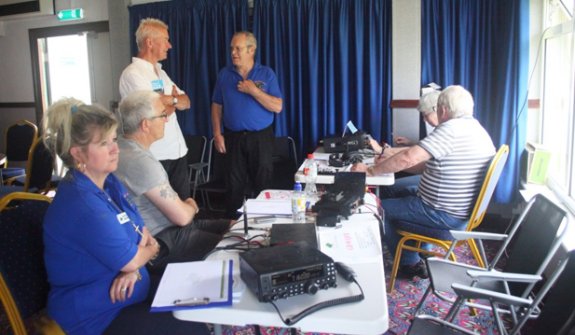 Rachel, the co-ordinator for TAARC said 'although event did not unfold as expected everyone had a good time and I talked to quite a few people about the hobby. The members of the Tilbury Riverside Project should be congratulated on organising such a good event'.
Thanks to the team at Thurrock Acorns for submitting this story.
Related Links
Involved with a club in Essex? We can help to promote your club's event to the amateur radio community. Send us your events news, and we'll help to promote your event to amateurs from across Essex and beyond. If your club's events aren't being featured, get in touch with Essex Ham, or find out more about how Essex Ham supports local clubs.