Thanks to the team at the Thurrock Acorns for submitting the following story:
TAARC attends the Horndon Feast and Fair – 25th June 2016
The thunder and lightning certainly livened up the Horndon Feast and Fair event last weekend. The Saturday started well and members of the Thurrock Acorns Amateur Radio Club were on site setting up two radio stations just before 07.00. The sun was out and it was quite warm as we erected the gazebo and antennas. An hour later we were ready to send our first message over the airwaves.
During the morning we had a steady flow of visitors. Some including the young lady in the picture sent a short message via the morse key we had on the table. The morning passed and we were pleased to have the gazebo as the sun was quite warm. However in the middle of the afternoon, the sky turned black and the thunder and lightning rolled in so the gazebo changed role, to a wet weather tent. Needless to say that signified the end of the day. However during the day the stations contacted people in the United States, Italy, Germany and other UK amateur radio stations.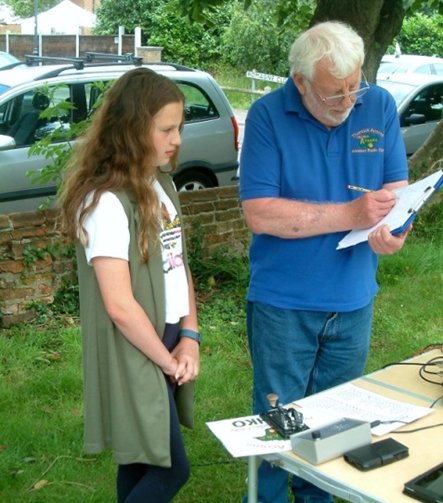 Nicholas Wilkinson chair of the club said:
"It was a shame the weather cut the day short but it did not dampen anyone's enthusiasm. In fact the joviality continued as we dismantled the station in the rain. We hope we will be able to return again next year when hopefully the weather will be a little better".
The picture shows Chris G0EKN a club member working with a young lady who visited the station and set a morse code message.
Thanks to the team at Thurrock Acorns for submitting this story.
Related Links
Involved with a club in Essex? We can help to promote your club's event to the amateur radio community. Send us your events news, and we'll help to promote your event to amateurs from across Essex and beyond. If your club's events aren't being featured, get in touch with Essex Ham, or find out more about how Essex Ham supports local clubs.