Thanks to the team at the Thurrock Acorns for submitting the following story:
Thurrock Acorns Supporting the 75th birthday of the Air Cadets
2016 is the 75th birthday of the Air Cadets and as part of the celebration the 106 (Orsett Hundred) Squadron, Air Training Corps wished its communication section to set up an amateur radio station and work 75 different stations.
The radio station was set up at the Orsett Show on Saturday the 3rd of September 2016, where the group were helping with the running of the Orsett show. With the support of the Thurrock Acorn Amateur Radio Club (TAARC) the radio station became operational at 09.30 tasked with making 75 contacts and at the same time talking to the general public when they approached the station.
The event started slowly and the station which was operating from a tent on the show ground was nearly blown away when the weather changed in the afternoon. Despite all the challenges the radio operators hit the goal of 75 contacts right at the end of the day.
Flight Lieutenant Darren Attersley said that he "was delighted that the group had hit the target and very impressed with the way the cadets had followed the operating procedure when talking over the airwaves". If you wish to know more about the ATC please email oc.106@aircadets.org.
In the following picture, Sergeant Gaywood a licence amateur from the ATC is shown talking to the 75th station at the end of the day. In the background is a member from TAARC operating a second radio station.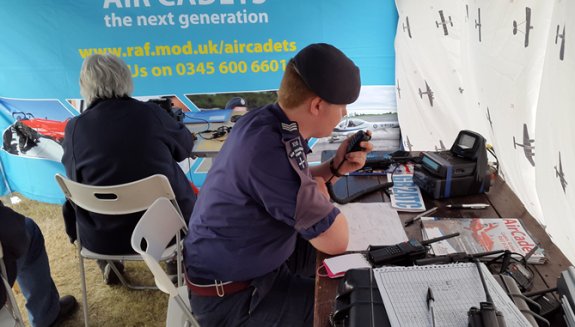 Thanks to the team at Thurrock Acorns for submitting this story.
Related Links
Involved with a club in Essex? We can help to promote your club's event to the amateur radio community. Send us your events news, and we'll help to promote your event to amateurs from across Essex and beyond. If your club's events aren't being featured, get in touch with Essex Ham, or find out more about how Essex Ham supports local clubs.