Wednesday the 23rd of April 2014 was St. George's Day, and a group of Essex Hams got together to celebrate England's National Day. The event location was the picturesque Galleywood Common, close to Chelmsford, and the event's one-day callsign was GB1STG.

The Setup
Several stations were operating on the day – SSB, CW and Data – Antennas in use included:
Charlie M0PZT's 40m Inverted-V (9m fishing pole)
James 2E1GUA's Buddipole
Peter G0DZB's Hamstick Dipole and Mag Loop
Kris 2E0SSX's 2m/70cm and 10m car mag mounts
Pete M0PSX's 4m fishing pole
Peter G3SUY's tree-mounted long wire antenna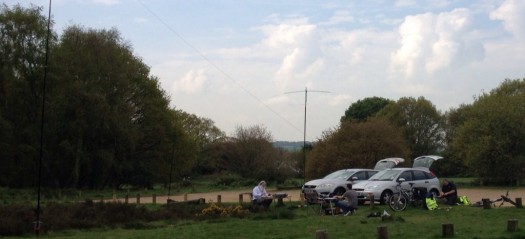 The event was organised by Charlie M0PZT, and promoted by Essex Ham, Southgate Amateur Radio News and at this month's CARS Skills Night. Nearly 20 amateurs turned out to see the stations, and also to have a go working the various bands. In totoal, over 200 contacts were made.
As expected, 40m was the most active band for the callsign, with some decent pileups for most of the day. Other bands were more patchy, so less contacts were made, but still some good ones. The prize for the best DX of the day goes to Kristian 2E0SSX for contacting LU5EOI (Argentina) and ZS5ROB (South Africa) on 10m, from his car! Pete M0PSX was operating PSK31, but proximity of antennas meant that data was only active when other stations were QRT. Two Brazil stations were received on 10m, but furthest data DX was Italy.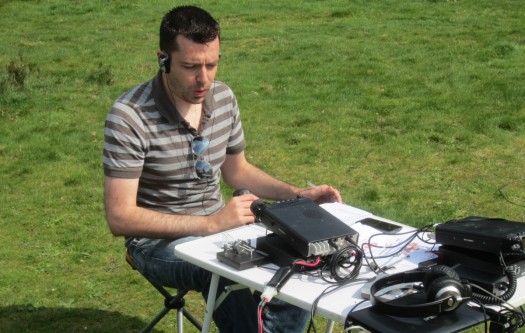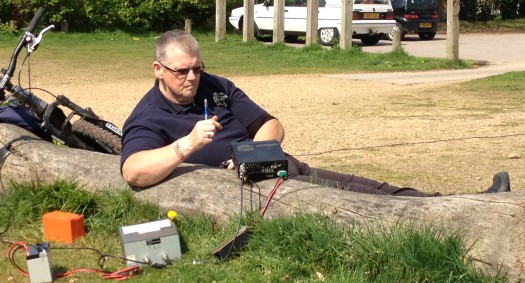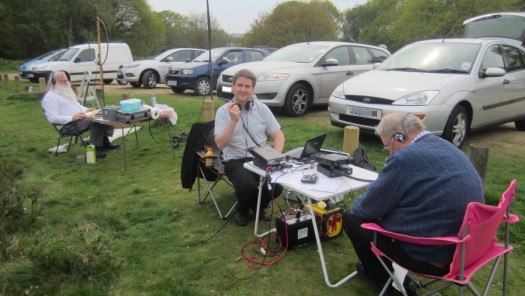 Galleywood Common is a great place to work – plenty of free car parking, a decent bit of altitude and a zero noise floor on many of the bands – A good place to experiment with antennas too – Peter G3SUY (known for his kite flying), opted to try a long wire to work 80m, and Peter G0DZB was able to make use of his handy catapult to help propel the antenna – offering several great photo opportunities.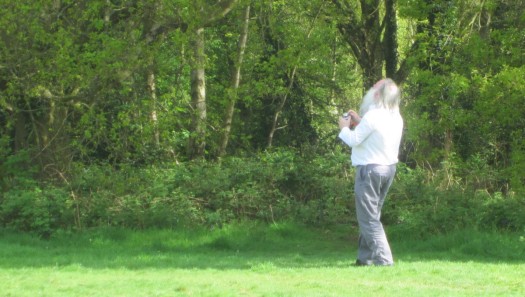 It was great to have so many local amateurs together in one place having a catch-up and playing radio, and also to see some interest from local passers-by and dog walkers wondering what the heck we were all up to.
Thanks to Charlie M0PZT for organising this excellent event and heping Essex Hams to celebrate St George's Day 2014 – See www.m0pzt.com?gb1stg for Charlie's page on the event.
Photos from GB1STG 2014:
Related Links