This coming Monday, the 21st of April 2014, is the next CARS Skills Night – These monthly sessions are open to all (regardless of licence and experience levels), and are a great opportunity to chat, swap ideas, and get hands-on with something new. What we cover on the evenings is decided by you.
Here is what's planned for the upcoming Skills Night:
Essex RAYNET will be bringing some items for show-and-tell and explaining what RAYNET is all about
Find out more about next weekend's direction-finding event in Danbury next weekend
Fingers crossed, there will be a live data demo – something I don't believe has been attempted at an event like this before!
Carl G3PEM will bring along some antenna-modelling software and also be on hand to help with antenna questions
The quiz will run again – just a bit of fun!
Show-and-tell: We've heard that a few people will be bringing along items to show on the night – Last month's guest appearance was an Elecraft KX3
Representatives from CARS, Essex RAYNET, the Essex CW Club, the Essex Repeater Group and Essex Ham, happy to answer your questions
If you're interested in coming along, the evening starts at 7pm, although you're welcome to arrive any time between 7pm and 9pm. If you have anything you'd like to bring along to show to the others, that would be great.
The event is open to all and there's no charge for attending the CARS Amateur Radio Skills workshops. Tea, coffee and biscuits will be available throughout the evening and an optional small donation to the tea fund and hall hire would be appreciated.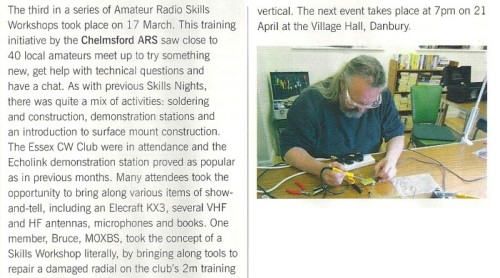 Venue: Danbury Village Hall, 2 Main Road, Danbury, Chelmsford Essex CM3 4NQ:
We hope to see you on Monday for a fun Skills Night