Well done to SEARS, the South Essex Amateur Radio Society, for another fun and friendly club night.
With the speakers schedule taking a break for the winter months, tonight's evening was a social get together combined with a 'station-on-the-air' session.
As always, a couple of announcements were made about the club's activities, notably this month:
The very successful ISS contact, where students from local school Winter Gardens Primary were able to ask an astronaut questions in real-time (More: SEARS ISS Contact 2014)
JOTA – Scouting event this weekend on Canvey Island
The evening's station mainly operated a mix of CW and voice on 40m using the club's callsign of GX4RSE throughout the evening.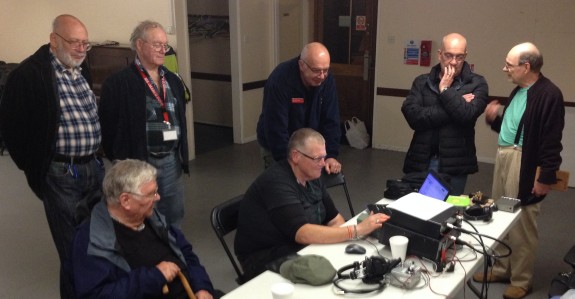 Also on display, was the £10 Realtek Software Defined Radio dongle – a surprisingly versatile USB receiver that was able to pull in all sorts of signals when connected to Pete M0PSX's home-brew Slim Jim antenna.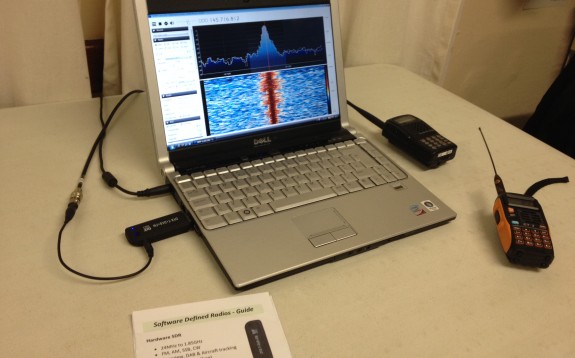 As well as picking up FM broadcast stations, the dongle was used to demonstrate how to monitor most of the 2m band simultaneously, and was also able to tune in to the CARS net on GB3DA, to demonstrate repeater reception to a possible new amateur radio recruit. Dell has inherited a Baofeng handheld ahead of his upcoming Foundation course, but hasn't been able to get a sound out of it – with the help of the SEARS team, Dell is now able to tune in to that local chat on GB3DA, as well as the daily 2m simplex SEARS net.
Thanks too to Dell for his comments on the Essex Ham girls up on our website – Glad they caught your attention and helped to draw you into the hobby!
A great evening, with a few new faces, lots of RF noises, and of course, lots of tea!
Handy Links