In the biggest shakeup to UK amateur radio licensing in 20 years, the RSGB has unveiled details of "Direct to Full", a new way to get a UK 'Full' amateur radio licence. On this page, we give you the basics of how this will work. We'd love your comments at the end of this article.
We've also put together the following video, answering some common questions:
What is Direct-to-Full
An alternative way of getting a Full licence, without the need to go through the current 3-tier (Foundation > Intermediate > Full) route.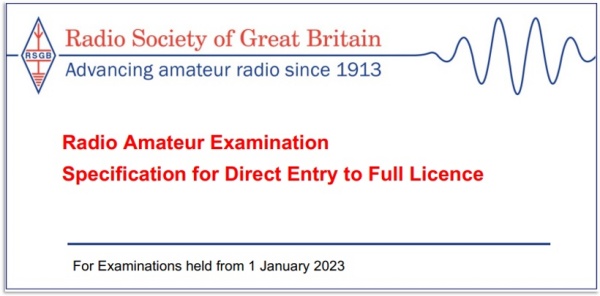 Who is Direct-to-Full for?
It's primarily aimed at people looking to get a licence who already have a solid knowledge of electronics and/or RF.
It's also available to existing Foundation & Intermediate licence-holders looking to jump to 'a Full' licence who feel they have sufficient knowledge to pass this alternative exam.
How does Direct-to-Full work?
The exam has 75 questions, lasts for 2.5 hours and is only available online (no paper version available). No practical assessments.
It's not clear whether the exam will be by "remote invigilation", or at a registered exam centre – we're under the assumption it will be "both" (as it currently is), with remote invigilation being the favoured option for most students.
When will this be available?
From the 21st of January 2023
What is the structure of the exam?
The Direct-to-Full exam will consist of two parts, which are sat in the same session, both of which have to be passed. The first part has a higher pass mark, presumably to satisfy Ofcom that licence conditions are clearly understood – those from an electronics or RF background may potentially be 'weak' on the amateur radio specifics, which is why we guess the bar is a little higher for the first part.
Direct-to-Full Exam: Part 1
Part 1 has 18 questions with a pass mark of 14 questions (77.7% pass mark)
| | |
| --- | --- |
| Syllabus Section | # of questions |
| Licensing conditions and station identification | 12 |
| Operating practices and procedures | 6 |
Direct-to-Full Exam: Part 2
Part 2 has 57 questions with a pass mark of 36 questions (63.2% pass mark)
| | |
| --- | --- |
| Syllabus Section | # of questions |
| Technical aspects | 10 |
| Transmitters and receivers | 11 |
| Feeders and antennas | 8 |
| Propagation | 5 |
| Electromagnetic compatibility | 10 |
| Safety | 8 |
| Measurements and construction | 5 |
Direct-to-Full Syllabus
The RSGB has released a 42-page syllabus, which broadly matches the current 3-tier syllabus (v1.5)
Back to RAE?
It's not gone unnoticed that this could be seen as a return to an RAE-style system, and it will be interesting to see how popular this route is, both with newcomers looking for a single exam, and for existing amateurs looking for a potential "shortcut" to upgrade to a Full licence.
Direct-to-Full History
The idea of Direct-to-Full was put out for public consultation in February 2021. The results have yet to be shared by RSGB, but Essex Ham ran its own independent Direct-to-Full survey in 2021, which showed 85.8% of respondents supported the introduction of this route of entry. Read more here: Direct to Full
Related links
Got any thoughts on the changes? Please add a comment below