A small band of Essex Hams descended on Shoebury East Beach to try their hands at contesting on the 5th and 6th of September 2015. 1300GMT saw the start of the RSGB SSB Field Day Contest, and as we've never contested as a group before, we thought we'd give it a go: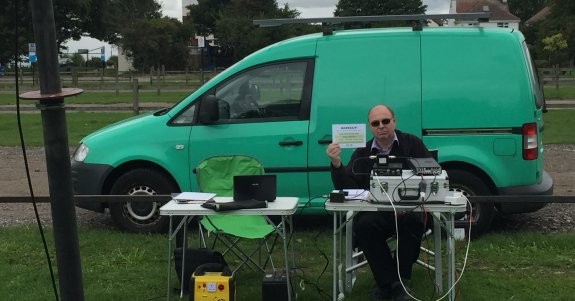 The idea was the brainchild of Steve 2E0UEH who, as an SWL, had listened to many contests, but not worked one. The event was promoted via Essex Ham to see who might be interested in trying some contesting, and four amateurs attended – Steve 2E0UEH, Paul 2E0DNQ, Rob 2E0LMX and Pete M0PSX. Attendance was significantly down on previous events at Shoebury East Beach, which could be an indicator that our regulars aren't interested in Essex Ham doing much in the way of contesting. Which is fine.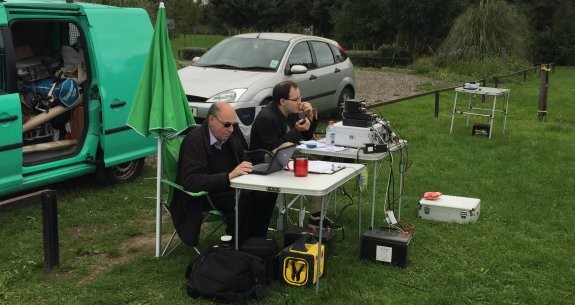 The rules during a contest mean stations have to operate to strict guidelines – only one transmitter and only on selected bands. Exchanges have to be handled quickly, with an exchange of a signal report and a serial number – No time to chat, and you have to have keen ears to get a callsign copied quickly. Great training for HF operation and for working pile-ups on special event stations.
We made use of our club callsign of MX0SXA for the contest, so that our Intermediate members could use 100 watts.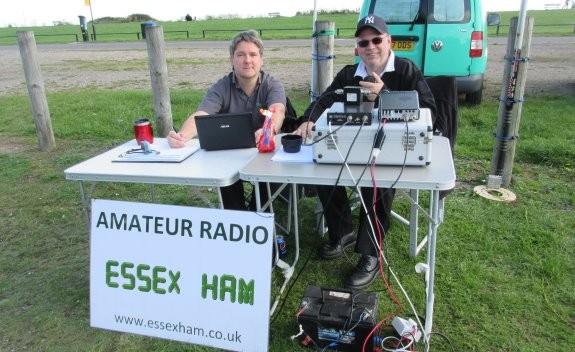 Weather held up well for us. Rain was expected on Saturday, but it stayed away, and Sunday was bright, but a little breezy.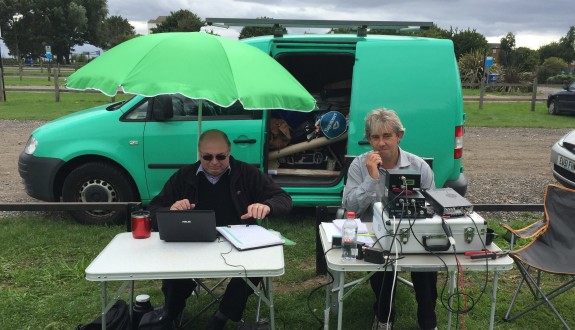 Our Contest Stats
We were hardly going to shatter any records – we were in this for a bit of fun, and to allow those new to contesting to have a go. Several serious UK contest stations were active, and we had the privilege of working or hearing them – UK club stations we worked included: G3RCV (Cray Valley Radio Society), G5TO (Sheffield), G3VRE (Chipenham & DARC), G4FBS (Horndean & District ARC), M0YRF (Yorkshire Amateur Radio Friends), G3MDG (Chesham District Amateur Radio Society), G4FUH (Scunthorpe Steel ARC) and G0FBB (Windmill Contest Group). We also heard our friends G3PYE (Cambs Hams) a couple of times, but didn't get into their log.
To succeed in a contest, you have to be dedicated. With a 24 hour window, you need a good set-up, several operators, accommodation for 24 hours, plus planning. Whilst we started at 1300UTC on Saturday (the official start) and ended at 1300UTC on Sunday (the close), we did take a short break between 1650 and 0938 (a total 17 of the 24 hours), plus a few tea and snack breaks.

At the end of the contest, we were quite pleased with our results: 67 contacts over 2 bands, and a total of 16 countries.
As we closed, we worked G3TBK – We send our serial number of 67 contacts, and got the figure of 1163 in return… That's what you get for not having a 17 hour supper break.
Equipment
Day One saw us using a Yaesu FT-857 at 100 watts using a dipole on 40m and 20m. Day Two was using a 10m vertical mostly on 40m with the FT-857 again. Logging was on a Windows 10 Acer netbook, running the excellent PZTLog, written by local amateur and Essex Ham member Charlie M0PZT.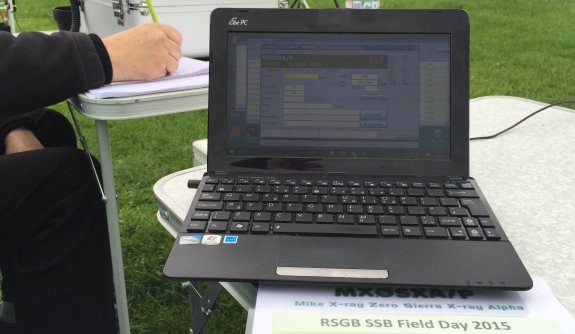 Log Submission
As it was our first time, we submitted our log (in Cabrillo format – one we've not used before. Essex Ham didn't appear as an RSGB-affiliated club (which it is), but it let us proceed anyway. In our category, we were, unsurprisingly, bottom of the UK entries: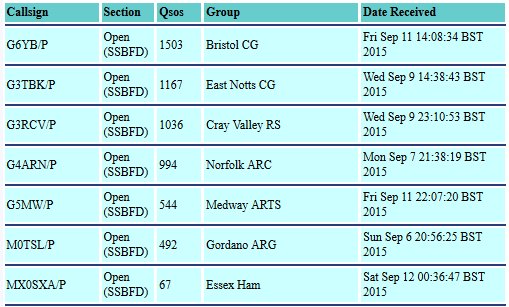 Summary
We knew from the start we'd not make a serious impact in the contest, but it was great fun taking part, and good training for those new to the hobby looking to experience contesting. After the contest finished, we made a few contacts on 2m (including a special event station via the Ipswich repeater, and Gordon 2E0IRX on GB3DA), and also contacted Charlie M0PZT and Pete G0DZB on 40m, who were out /P in Chignall. Nice to work you.
A great two days – Good fun to try some contesting, and a good chance to interact with a few members of the public (and traffic wardens) keen to find out what we were up to!
The weekend was marred by some sad news. Respected local amateur Clive Ward G1EUC passed away on Friday. Many will know Clive through his involvement with the Chelmsford ARS training, and know of his passion for helping to get people into the hobby. Clive was also a member of the CARS committee, Chairman of the Essex Repeater Group, a member of the SEARS training team, a member and supporter of Essex Ham, and the quizmaster for the Danbury Skills Night.

As a mark of respect, the team observed two minutes of silence at 1000GMT, with the HF rig tuned to an empty frequency. Our thoughts are with Clive's family and friends.
Related Links
Other events at Shoebury East Beach
RSGB SSB Contest
Amateur Radio at Shoebury East Beach