This year's RSGB Convention took place on Saturday the 12th and Sunday the 13th of October 2019, at the Kents Hill Park Training and Conference Centre in Milton Keynes.
Pete M0PSX from Essex Ham brings us the following report:
First off, well done to the RSGB team for organising this event – no mean feat… and also well done to the team at CambHams for the huge amount of work that their team put in to support the event – from running the station from Flossie at the front of the building, to providing sound and vision across the five lecture rooms.
For those who've not been before, the two-day event is a mix of the following:
Presentations and talks simultaneously taking place in five lecture rooms, loosely divided into "HF/DX", "VHF & Above", "General", "Contest" and "AMSAT"
RSGB Construction Competition
UK exams at all 3 levels, plus US exams
Raspberry Pi Workshop
A Buildathon run by Steve Hartley G0FUW
AMSAT AGM
Martin Lynch tables (sponsors of the event), plus a presence from Yaesu, Icom and Kenwood
RSGB Bookstall
A room of Special Interest Group displays
Plenty of quiet corners to have a natter over a tea or coffee
A formal dinner on Saturday night (plus some informal dinners offsite)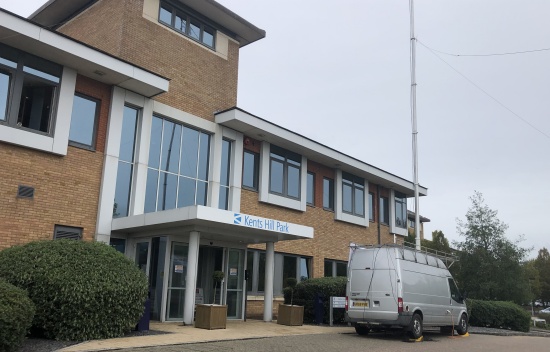 For me, it was a non-stop two day experience – catching up with many of the people I've been in contact with over the last year, seeing some familiar faces, and attending lectures. Some hot topics were discussed too, including: Introduction of a new entry-level licence, the urgent need to get new blood into the hobby, what happened to the "Beyond Exams" talk, ideas around rebranding the hobby, the new RSGB Workshop group, tutor support, and a look at whether clubs need to "grow, merge or disband"… The need for change was a constant theme, both during the various presentations, and in many of the huddles dotted around the venue.
Here is a short summary of the talks that I attended:
Apollo 50 and Return to the Moon
This was the first session I went to on Saturday morning. The session was presented by Pat Norris, who was one of the team at Houston during the Apollo 11 mission. An excellent session giving an overview of the Apollo mission, the landing 50 years ago, the Russian effort in getting to the moon, and next steps in the space program. An excellent insight with behind-the-scenes photos and videos.
BBC Relay Station on Ascension Island
A series of photos from inside the BBC South Atlantic relay station, from Steve White G3ZVW. A fascinating look at the antenna array and transmitters, plus a summary of how the station was maintained. I'm from a broadcast background, so this one was of special interest to me.
RSGB Exam Update
Presented by Tony Kent G8PBH from the RSGB's Exam Standards Committee. This was an overview of exam activities, including the rollout of the 2019 syllabus and the revised structure of the group (including the new Exams and Syllabus Review Group). Some notes:
The stats for exams from Jan to Sep 2019 were presented, plus the stats for the first full month of the new syllabus. With only 13 exams (29 candidates) taking place in September, Tony reported that it's too early to make any judgement base on this limited data.
Takeup of the online exams is only running at around 25%, which appears to be lower than the RSGB would like. Several questions were asked about online exams, and handling Internet dropouts during exams
One member of the audience asked for the RSGB's comments about rumours of a possible new entry-level, or fourth-level exam. The response was that this was nothing to do with the RSGB ESC, and is apparently a "discussion that other people are having". (More: A Proposal for a Beginner Amateur Licence)
RSGB is recruiting for members to join ESRG (Exams and Syllabus Review Group).
The direct-to-Full exam and syllabus has been delayed, due to the re-org/recruitment of EG to ESRG
Disappointing that there was no tutor session this year – just one talk on exams (compared to three training & exam sessions last year). Could the RSGB's apparent lack of interest in supporting and talking to its volunteer trainers signal that change is in the air? Could a new entry-level exam, remote online exams and a theory-based direct-to-full exam reduce the need for tutors and clubs?
Any comments? Feel free to chat in our HamTrain (for Trainers) Group or our new HamChat (Future of the hobby) Group.
The Future & Growth of Amateur Radio
Presented by new RSGB Board member Kamal Singh M0IOV, this offered a refreshing view on the state of amateur radio, and the problems facing it. Surprisingly honest, the presentation outlined the problems, the missed opportunities, and the need for change. Some memorable highlights:
Once we had many famous amateurs, a high profile and reputation for innovation. "Have we lost the technical edge?" Kamal doesn't blame the Internet, but our ability to adapt, and that we missed the third Industrial Revolution
Relevance is our Achilles heel. We're seen as out-dated, and we didn't keep up with the tech trends
Warnings about the danger of limiting our boundaries with statements like "it's not real radio", "this isn't what amateur radio is all about", "this isn't how do do things"
Barriers: Licensing and hardware cost are limiting uptake of amateur radio
Are we too "insular, niche and aloof"? Do we need to become more "integrated and broad-minded?"
Key message: "Relevance, Visibility, Appeal"
Our opportunity is to capitalise on the 4th Industrial Revolution, which will include automated vehicles, drones, sensors, smart cities and IoT
Comments from the audience included:
Is the term "radio" outdated? Would "Wireless Communication" be more apt?
A suggestion that the RSGB rebrand to "The Communication Society of Great Britain"
Some interesting observations from John Regnault, the RSGB's VHF Manager in the audience: We should not keep doing "more of the same". How are we seen in other people's eyes? Does CW, voice and vintage military equipment at field days "sell us". "1-to-1 personal communications without a service provider".
See also: Blog entry from Michael G0POT
Any comments? Feel free to chat in our new HamChat (Future of the hobby) Group.
Meet The RSGB Board
A series of short updates from various RSGB Board Members.
Noteworthy were comments that there is a need to get new blood in (2,000 new RSGB members each year). Suggestions of using the path of least resistance to acquire them (Men in Sheds, NRC visitors, CB, 4-by-4, Aviation and Ex-Service people.)
Last year, members were given the opportunity to ask a panel of board members their questions or raise their concerns. I personally didn't attend last year, but reports from those who attended last year's session indicated that the RSGB didn't come out of it very well. It's been noted on social media that although the session was videoed, unlike the other conference videos it's not been released, and apparently isn't likely to be released (same as the 2018 Tutor forum!).
RSGB may have discovered that open forums don't do them any favours, so they opted for an attempt at a bizarre Board-member speed-dating session, where small groups of members could approach Board members at circles of chairs around the room to quietly ask questions, before rotating to visit other board members when a buzzer sounded.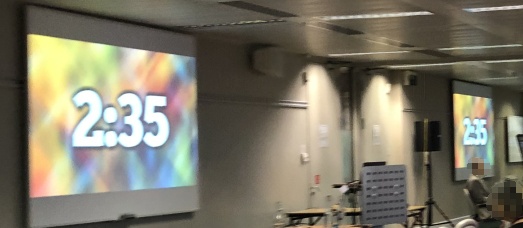 From those I spoke to, this just didn't work, but of course it was a great way for the RSGB to ensure that member concerns weren't discussed openly in front of the whole audience, that the board responses were limited to a small audience, and that questions and answers were not recorded, documented or likely to appear in the public domain.
Any comments? Feel free to chat in our new HamChat (Future of the hobby) Group.
Writing for all variants of Radcom
Run by Elaine G4LFM, one of the two-person team responsible for the Society's monthly magazine and online siblings. A good solid overview of Radcom, Radcom Plus and Radcom Basics, and how to write content and submit photos. A key point raised by Elaine is that those who write for club newsletters, websites and blogs can easily create content for Radcom, that Elaine and Giles are there to help and to fill in knowledge/skills gaps that a prospective author may have, and that there are cash payments for articles that although won't make you rich, could go towards a new radio. Questions from the floor, taken by the BBC's Jim Lee, largely centred around why Radcom doesn't make an appearance in shops (or in online magazine portals), and what to do with old issues (doctor's surgeries?)
More details & getting started with Radcom content: Information for authors
ARISS Operations
Sadly, ARISS lead Ciaran Morgan M0XTD was unable to attend, so a video of the recent schools contact with a Devon primary school was played. Plenty of questions from the audience about the setup required to make contact, and the activities in classrooms in the 12 months prior to an ARISS contact. A shame that Ciaran wasn't there to provide an update on ARISS recent and planned activities, but an interesting and lively session with lots of information from various folk involved with giving school kids the once-in-a-lifetime chance to speak to an astronaut – one of our biggest "selling points"
Grow, Merge or Disband Your Club
Probably the highlight of my weekend. Run by the ICQ Podcast team, this was a panel of two ICQ presenters, two RSGB Board members (Ian Shepherd and Kamal Singh), plus Richard G4JJP (author of a controversial article in the June 2019 Radcom suggesting a change to club structures)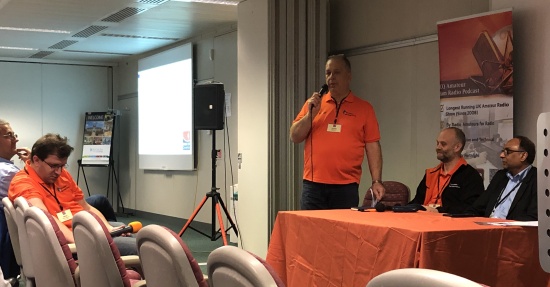 To be honest, I'm still digesting the contents of this talk and reviewing four pages of copious notes taken. There's a lot to be said about this session – far too much for this summary. A few of the points I underlined:
"Hubs not clubs"
"Club baggage"
"Hub" vs "Virtual clubs"
"Should the RSGB be a hub?"
To Google: "Disintermediation", "centre set" "closed set" (bounded set?)
A mention for the "Brickworks" scheme (that didn't launch at the Convention)
Some RSGB regional teams issue a "regional newsletter"
Top-down vs Bottom-up approach
Some interesting thoughts on youth access to amateur radio
Clear divisions between single stand-alone clubs, and those acting as "hubs" to a greater or lesser extent
It was great that the efforts of Essex Ham members was acknowledged, and it was very rewarding that both Richard and the ICQ team highlighted Essex Ham as positive examples of the hub model. Positive mentions too for CambHams and Suffolk RED. RSGB also acknowledged that virtual clubs are "starting to appear"
This is a subject I'm very keen to get back to – and I strongly advise anyone with an interest in clubs to watch/listen to the ICQ Podcast's coverage of this session, which will hopefully appear in the coming days.
Were you there? Feel free to chat in our HamClubs (club support group), or our new HamChat (Future of the hobby) Group.
See: ICQ Podcast homepage
Summary
Again, well done to the organising team at RSGB, to ML&S for sponsoring it, to everyone else who presented or helped out, and to CambHams for supporting the event. Especially fitting that one of the CambHams team (Rob M0VFC) won a Yaesu FT-818 in the raffle. Well done Rob!
An honourable mention to RSGB's Graham Murchie G4FSG – The 2019 Convention was the last one to be organised by Graham, who now steps down from organising the event. Well done Graham – great work!
Thanks to everyone who took their time to say "hello" – for me, it was a non-stop weekend. When I wasn't in a lecture room, I was chatting, catching up, and having some very enlightening conversations.
The urgent need for "change" was a constant theme, and something we all need to consider if the hobby is to survive. I'll be expanding on some of these topics in the next few days, with an interesting interview to follow soon!
(Views are my own, and not necessarily the views of Essex Ham)
Pete M0PSX
Related Links