Continuing the week-long River Crouch Celebration, Essex Ham was once again helping to promote amateur radio on Wednesday the 1st of July 2015.
Several of the event's artists gathered at Hullbridge on the south bank of the River Crouch to take part in the event with children from Hullbridge's Riverside Primary School.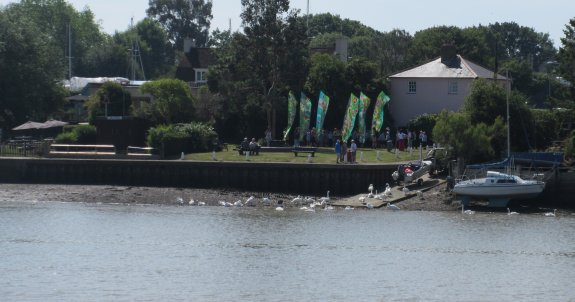 Flag created for the event and representing six of the schools involved were set up, with the seventh flag located across the River Crouch. This final flag was the Collingwood School flag, and was fitted with a 2m Slim Jim antenna (secured to the flag's 5m pole). Contact was made on 2m with Laura M6LHT on the south bank of the Crouch, using a similarly-equipped flag antenna.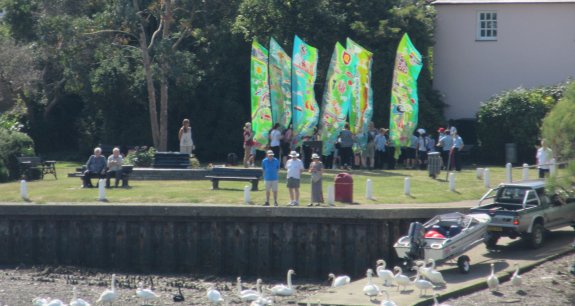 With the children and artists gathered, radio messages and waves were exchanged across the water, with the kids letting out a massive cheer which carried perfectly across the river.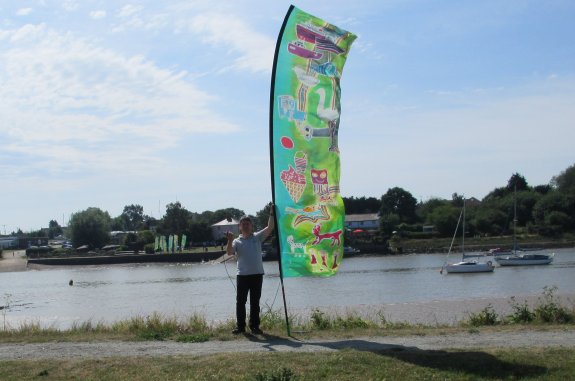 Peter Holmes, from local radio station BBC Essex, was in attendance recording interviews with artists and event project manager Sarah Bedell. Pete M0PSX took the opportunity to talk to the BBC about the part that amateur radio played in the celebrations, including the line of poetry sent via the ISS on Sunday (See: River Crouch Celebration Field Day 28 June 2015)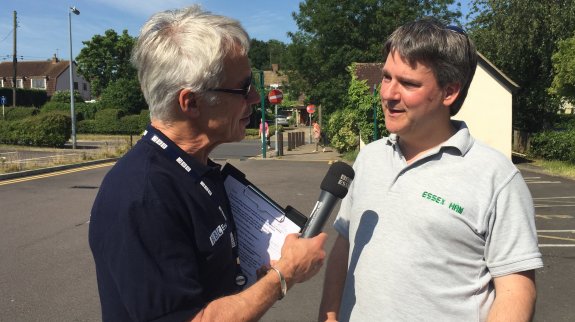 With the ceremony complete, the children returned to the school, where they then had a fascinating session with local artists. Laura M6LHT also spoke about her part in the project and here motivations as an artist. Pete M0PSX played a short extract of the drone footage from Sunday's activities (taken by Dean M6NSX), with many of the kids reporting that they could see their houses.
Access to the school was made possible with thanks to the STEM scheme (Science, Technology, Engineering & Maths) – both Laura M6LHT and Pete M0PSX are STEM Ambassadors, so have the required paperwork to allow assistance to be given to schools.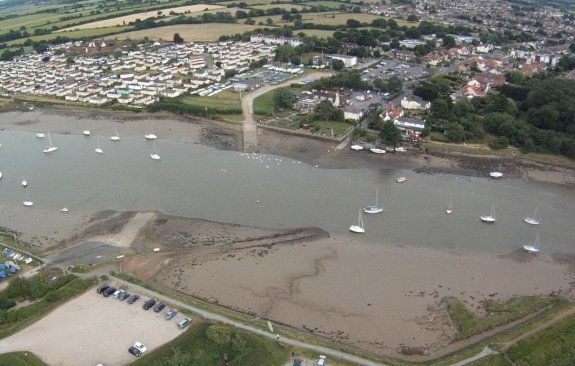 Activity Friday 3rd July
Essex Ham is proud to be associated with the week-long River Crouch Festival. The final day of amateur radio activities takes place on Friday the 3rd of July from 12 to 3pm, on the north bank of the river. Nearest postcode is CM3 5WP – Exact location on Google Maps
Related Link