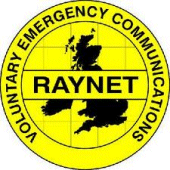 Saturday the 12th of July 2014 was another successful day for the Essex RAYNET team. They had been asked to supply event communications for the annual Bradwell Pilgrimage – an event which consists of a church service at St Thomas Church in Bradwell, a two mile walk to St Peters on The Wall chapel, followed by a concern, prayers and special events.
This is one of the smaller of the Essex RAYNET's community support events, but it still requires good planning and a good mix of people to manage the comms for the event. Here's a quick summary of the day.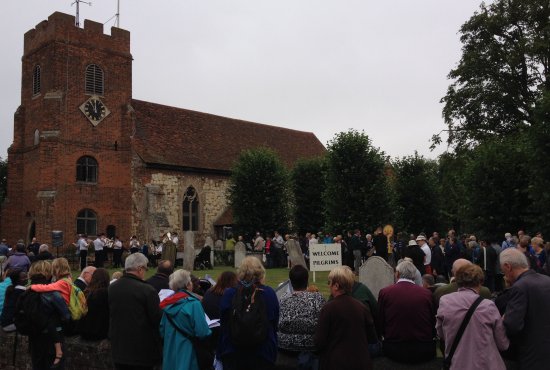 After a short service at St. Thomas Church in Bradwell, the pilgrimage set off for a two mile walk to the historic St Peters On The Wall chapel.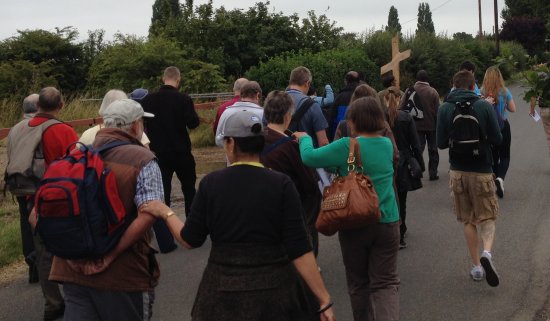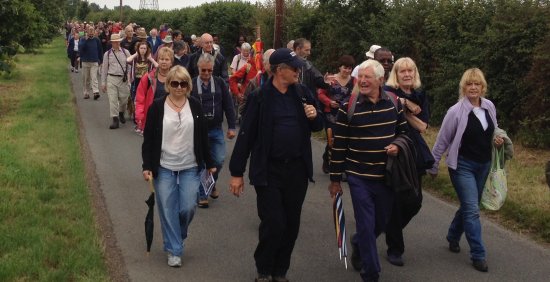 On arrival at the chapel, pilgrims took part in an open-air service of prayers and live music, as well as other activities.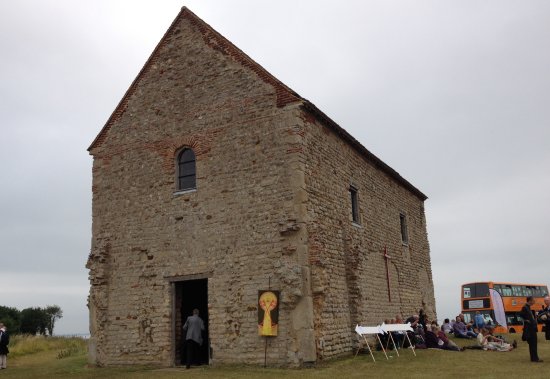 RAYNET Involvement
The event was centred around the village of Bradwell-on-Sea, so no need for a repeater. The Control was located in the centre of the walk at East Hall Farm. RAYNET operators were assigned to the start and tail of the walk, as well as to each of the two minibuses used to ferry those not able to walk to or from the chapel.
The last part of the walk is along a narrow single-lane path with no vehicle passing point – for that reason, a RAYNET operator was placed at each end, controlling traffic. The two track operators were using 70cm to control traffic, whilst the main walk was managed on a 2m simplex frequency.
In all, eight Essex RAYNET operators were involved with this event: Event controller Gareth 2E0PSN, Net Controller Geoff G7UHE, Track Controllers Roger G7RGR and Mark M6RKC, Minibus comms Aron M3ZZN and Jon M6JXL, plus walkers Roland M0BDB and Pete M0PSX. Other amateurs at the event included Steve G8XDV (representing the Maldon Salvation Army) and James 2E1GUA.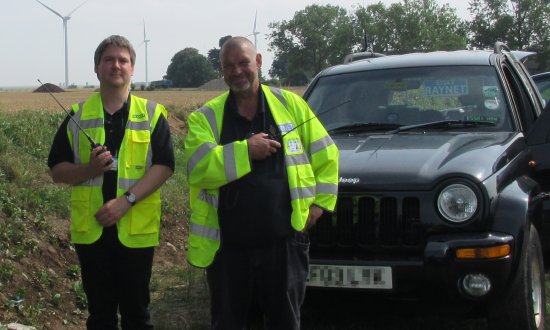 Bradwell's Wildlife
A quick note for next year's event… It seems that Bradwell's thunder flies are extremely attracted to RAYNET's yellow hi-vis jackets. They don't seem to bite. Midges are also keen, and they do bite. Although the thunder flies don't bite, they are extremely irritating and distracting, causing the team to ditch the jackets at the earliest opportunity. An online search reveals this to be a common problem, with others switching to orange hi-vis, which is less attractive to flying critters, it seems.

Photos from the event