Thanks to Richard from the Southgate Amateur Radio News site for bringing this to our attention:
A few radio hams living in and around the Rayleigh area thought it might be a nice idea to organise a Ham Radio social evening.
They are planning to meet at The Half Moon pub in Rayleigh High Street on Monday evening, 16th July from about 8.30pm onwards.
Whether you're a radio amateur, SWL or just have an interest in radio and/or electronics, you are most welcome to join us – in fact, the more, the merrier!
This is purely a social get-together. It is not a club, so there's no membership fees, no committees and no rules (other than to enjoy yourselves).
The Half Moon is situated at the top of Rayleigh High Street at the junction with Websters Way and is directly opposite the church (see map below).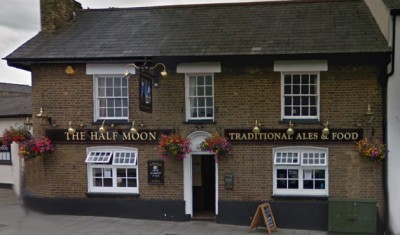 There are two car parks close by, one next to the Town Council offices and Barrington's restaurant, and a larger one situated in Websters Way itself (just a few minute's walk away).
Remember, the World Cup finishes the day before (Sunday, 15th July) so there won't be any more football to watch on tv. So, what better reason to come along and enjoy the evening.
So, why not pop along and have a pint or two in the company of some like-minded folk, and maybe put a few faces to callsigns.
It would be great to see as many of you as can make it. Please tell all of your friends.
Map to Half Moon Pub
We can help to promote your club's event to the amateur radio community. Send us your events news, and we'll help to promote your event to amateurs from across Essex and beyond. If your club's events aren't being featured, get in touch with Essex Ham, or find out more about how Essex Ham supports local clubs.