The March 2015 issue of Practical Wireless is out now. Here's a taster of what's included: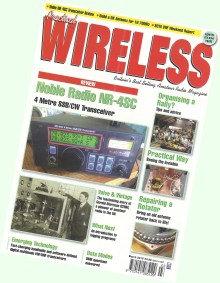 A review of the Noble Radio NR-4SC 4 Metre SSB/CW Transceiver
The Sloping Wire Loop, a DX Antenna for 18 through 70MHz
How to Organise a Radio Rally – A look at the West of England Rally
Emerging Technology – Fast-charging handset batteries, Ofcom's crackdown on interference and software-defined digital multimode VHF/UHF radios
Doing it by Design – The G3RJV and G4CFY Regenerative Receiver
Bringing an old antenna rotator back online
About Gerald Marcuse G2NM, a pioneer of amateur radio in the UK
Using DMR – Reader's questions answered
Detecting radio waves
Introduction to computer logging
SOTA weekend
Plus regular features such as HF highlights and the world of VHF, the letters pages, bargain basement
World of VHF
A big thanks to PW's VHF columnist Tim Kirby G4VXE for mentioning Essex Ham in the March 2015 edition – Tim mentions our report on the low-price Linx Windows 8.1 tablet, originally spotted by Charlie M0PZT and then purchased by Nick 2E0DVX and Pete M0PSX – The article mentions Nick's video of the Linx 7″ tablet, and also looks at other budget tablets and their usefulness with the Realtek dongle and the FUNcube dongle. Here's an extract from World of VHF: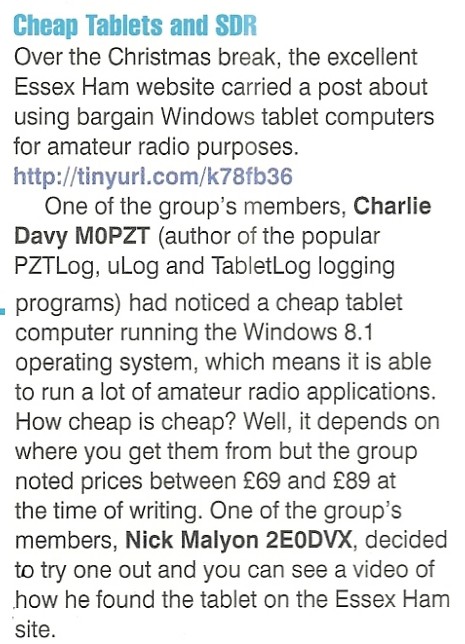 Linx 7″ Tablet – First look by Nick 2E0DVX
More on the tablets here: Bargain Linx 7″ Windows Tablet for Ham Radio
Practical Wireless is available from W.H Smiths, or direct from the publisher (Call 01202 751611 Monday to Thursday, 9.00am to 4.00pm with a credit or debit card).
Related Links