On Friday the 23rd of June 2023, Ofcom released details of what it has in plan for the UK amateur radio licence. The consulation was open until 5pm on the 4th of September 2023, with all amateurs encouraged to have their say.
To help you get to grips with the 101-page Ofcom document, we've created a summary video, and we ran a survey to get a feel for what the community thinks.
Consultation Links
The consultation and our survey are now both closed. View our survey results
Video Overview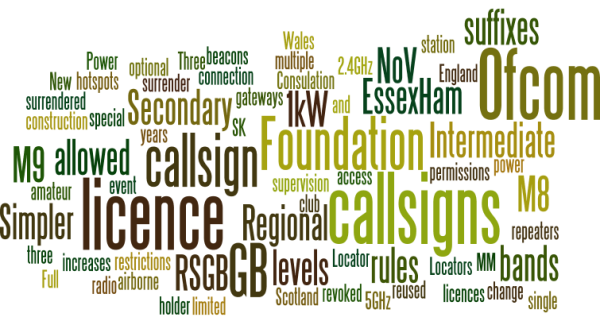 Ofcom Licence Change Proposal Keywords
Proposal Highlights:
The three licence levels (Foundation, Intermediate & Full) remain
No new bands to be made available
Power increases at all 3 levels (20w, 100w, 1,000w) – not all bands, and some restrictions apply
A single licence and callsign for each amateur (if you hold multiple, you'll be required to surrender all but one, except club callsigns)
Previously issued callsigns to be reused (2 years after the holder goes SK, or the licence is surrendered/revoked)
Ability to change your callsign every 2 years
New callsigns for Intermediate (M8 and M9 callsigns) – those with a 2×0 or 2×1 will be encouraged to change (but not forced)
Regional Secondary Locators (Scotland, Wales, Northern Ireland, etc) to become optional
England can optionally have an "E" as a Regional Secondary Locator (e.g. ME7QQ or M0QQQ)
Dropping /P, /M, /A and /MM from the licence. These suffixes will still be allowed, and you can use any suffixes you like
Introduction of limited airborne use (max 0.5 watts) on some bands
Simplifications around GB special event station callsigns
Greater supervision permissions to help promote the hobby
Simpler rules on use of hotspots and connection via Internet
Simpler rules for setting up and running beacons, gateways and repeaters
Foundation construction to be allowed
Foundation to get access to 2.4GHz and 5GHz allocations
Closing date for submissions to Ofcom was 5pm on 4th September 2023, with a statement on the proposal expected by the end of 2023
The consultation and our survey are now both closed. View our survey results
Consultation Links
RSGB Panel Discussion
Feel free to add a comment below, but be aware that off-topic messages, or messages deemed as
trolling
may be deleted.