As you may know, we run a busy online training course for newcomers. We reach out to those who've completed our course after a month or so, to see how they're getting on. In 2021 and 2022, we had 1,614 responses, and below is a summary: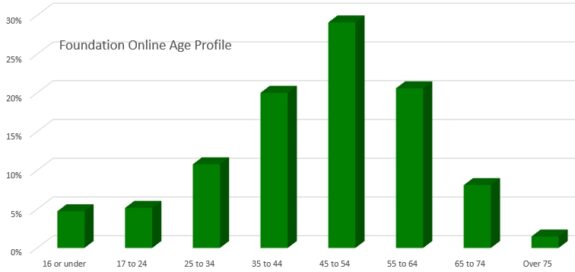 How did you first find out about the amateur radio hobby?
| | |
| --- | --- |
| Answer | Count |
| Long-term interest in radio | 832 |
| From a friend | 257 |
| Via social media (YouTube, Facebook, Twitter, Instagram) | 181 |
| Searching for a hobby | 155 |
| From a family member | 137 |
| A specific need (e.g. sporting activity, emergency comms, etc) | 125 |
| From a work colleague | 54 |
| From recent promotion of amateur radio (web, newspaper, TV, radio) | 26 |
| Other | 155 |
What made you decide to choose this year to get into amateur radio?
| | |
| --- | --- |
| Answer | Count |
| Ability to take online, not via a physical club | 844 |
| Spare time due to COVID-19 Lockdowns | 424 |
| As good a time as any | 417 |
| Looking for a new hobby | 349 |
| Removal of the practical sessions from the exam | 261 |
| Change of work situation (e.g. furlough / retired) | 260 |
| Encouragement from friends / family | 167 |
| Special requirement (e.g. work, other hobby, emergency comms) | 150 |
| Discovered that Foundation is easier than the old-style RAE exam | 123 |
| Seen discussion / videos on social media | 90 |
| As a result of the "Get On The Air To Care" campaign | 9 |
| Seen adverts / press articles | 9 |
| Other | 149 |
Where are you on your amateur radio journey?
| | |
| --- | --- |
| Answer | Count |
| Passed Foundation and staying put for the moment | 567 |
| Passed Foundation and studying for Intermediate | 450 |
| Passed Foundation and Intermediate, and studying for Full | 75 |
| Passed Full (A5) | 53 |
| Passed Foundation and Intermediate, and staying put for the moment | 39 |
| Failed Foundation and plan to re-take it | 21 |
| Failed Foundation and don't plan to re-take it | 7 |
| Other | 31 |
What aspects of amateur radio first attracted you and encouraged you to get started in the hobby?
| | |
| --- | --- |
| Answer | Count |
| To chat to others around the world | 892 |
| General technical interest | 880 |
| Listening / Scanning / SWL | 712 |
| To chat to others locally | 622 |
| Electronics & radio construction | 518 |
| Mobile comms (whilst out driving / walking) | 499 |
| Antenna design | 457 |
| To be able to use radio equipment for other hobbies | 368 |
| Space and satellite comms | 337 |
| Social side of the hobby | 291 |
| To use data modes | 287 |
| Emergency Comms / RAYNET | 265 |
| To learn / use Morse code | 238 |
| Prepping resource | 219 |
| Supporting the community (schools, scouting) | 88 |
| Contesting / Competitions | 61 |
| Other | 59 |
Do ouy agree or disagree with the following statements?
| | | | | |
| --- | --- | --- | --- | --- |
| | Strongly Agree | Agree | Disagree | Strongly Disagree |
| It was easy to find how to get started in amateur radio | 732 | 776 | 76 | 12 |
| It was easy to find a Foundation course | 713 | 797 | 78 | 6 |
| I preferred to take the exam online rather than at a club | 966 | 462 | 90 | 16 |
| It was easy to get set-up once I'd passed | 484 | 581 | 107 | 16 |
What experience have you had with the following groups?
| | | | | |
| --- | --- | --- | --- | --- |
| | Very Positive | OK | Not very positive | No contact |
| Essex Ham / Ham Train | 1483 | 97 | 4 | 7 |
| RSGB Exam Invigilator | 1169 | 92 | 5 | 76 |
| RSGB (as an organisation) | 825 | 486 | 29 | 82 |
| Your local amateur radio club(s) | 303 | 215 | 88 | 552 |
Thinking about after you've passed… What ways would you appreciate help and support after passing your Foundation exam?
| | |
| --- | --- |
| Answer | Count |
| An online Intermediate course | 891 |
| Video guides / online tutorials to help with getting on-air | 708 |
| A series of videos on key topics from the Essex Ham team | 494 |
| A structured "Foundation Plus" course (material not covered at Foundation) | 449 |
| Practical "hands-on" sessions locally | 350 |
| Online radio groups / communities | 288 |
| Support forums / Facebook groups to ask for help | 287 |
| Q & A Database / Help Pages | 272 |
| Webinars / Zoom Sessions | 251 |
| Face-to-face help and support from a local radio club | 229 |
| Events (rallies, field days, social events) | 216 |
| Searching online as needed | 205 |
| An awards scheme that encourages activity | 109 |
| Other | 51 |
RSGB Brickworks What do you think of this scheme?
| | |
| --- | --- |
| Answer | Count |
| I would be interested taking part in this scheme | 684 |
| I would not be interested in a scheme like this | 440 |
| I am already taking part in this scheme | 14 |
| Don't know | 442 |
Post-exam, which of these areas did you most need help with?
| | | | | |
| --- | --- | --- | --- | --- |
| | No help needed | Some help needed | Lots of help needed | N/A |
| Choosing my first base-station radio | 322 | 514 | 256 | 58 |
| Choosing/installing a VHF/UHF antenna | 316 | 520 | 245 | 68 |
| Choosing/installing an HF antenna | 213 | 485 | 348 | 94 |
| Setting up the station (PSU, soldering connectors, layout) | 504 | 379 | 158 | 79 |
| Operating 'Portable' / in the field | 374 | 472 | 140 | 104 |
| Interference problems | 328 | 507 | 135 | 122 |
| Choosing my first handheld | 468 | 467 | 133 | 77 |
| Choosing/installing a VHF/UHF antenna | 316 | 520 | 245 | 68 |
| Programming the radio / repeater settings | 335 | 495 | 276 | 34 |
| Making contacts / on-air procedure | 376 | 577 | 164 | 19 |
| Getting started with data modes | 131 | 447 | 342 | 173 |
| Using digital voice (DMR, Fusion, D-Star) and/or gateways | 142 | 404 | 380 | 168 |
A selection of comments
At the end of the survey, we asked for final comments. We got 868 comments, mostly thanking us for the course. Below is a selection of comments chosen as they have something potentially interesting to say about the bobby, as perceived by newcomers.
A very interesting and satisfying pastime that is very rewarding, making new friends around the world. Surveys like this help to promote Amateur Ham Radio.
The Foundation course is pitched well. The Intermediate course has too much emphasise on formulas and theory which in practice will never be used as most amateurs will purchase black boxes and never build or seek to repair. The emphasis should be on safety, operating modes and understanding propagation. The level of maths expected in the Intermediate exam is also off putting for many and an unnecessary hurdle to progression in the hobby.
Online studying is a great concept, especially when you can replay the training videos/ppt slides over and over and at any time of day or night.
Myself and my son are continuing our journey with amateur radio – each with our own interest. Amateur radio encompasses such a broad range of interests there is much to pursue but it is the people and their code of support which makes this possible. We are grateful for all the help and support we have received from everyone we have encountered.
The most frustrating thing in starting at Foundation is that the most accessible bands, (2m/70cm) seem to be the ones the more experienced amateurs stay well clear of, and the budget required for the more 'serious' radio (HF) is a real issue for some of us. The RSGB should find a way to encourage more use of the 'simpler' radios to get more interaction going on. It was several weeks after passing Foundation before I had a CQ call answered on 2m – I wondered where everyone was!
The Essex Ham course was a great introduction in to amateur radio for me and was just what I needed to actually get started. What I found most useful was the section/detail/quiz format. In comparison the study books from the RSGB are very "wordy" and whilst they are a great read, picking out the syllabus points is not always so clear. Having to marry them to the available past papers is then also maybe harder than it needs to be. Totally doable but the foundation course shows how slick they could be too!
The subject matter is basic. But the whole hobby is predominantly populated by idiots that think they're something special.
Hugely disappointed that despite email exchanges with some local group oganisers I have yet to make a single live cq…
The price of equipment is ridiculously high and fraught with shark vendors especially in the pre owned market. Cheaper simpler units should be made available for entry level users. A second hand online market place regulated by RSGB. Would be useful for licensed enthusiasts.
Intermediate and full courses are hard to find due to covid no one is running them and those on line you cant tell how old the syllabus is. It is hard to progress to a full licence without a training course.
It was a good course but from someone who is new to all this it can be tricky to pick up and some may need more help.
I feel that the Intermediate and Full do not reflect the hobby as it is today. There should be more focus on operating procedures. As most radios use integrated circuitry also review the syllabus to reflect this. Look at digital modes and modern means of communication.
I think all exams should be "open book" type with multiple choice questions and short answers. You don't need to be overly technical using this approach. One should be able to progress through the hobby in small increments in order to obtain full licence status. The full exam is ridiculously complex and difficult and in many ways pointless. The licencing system acts as a barrier to adopting amateur radio as a hobby. It discourages people to engage in the licencing process beyond foundation level and intermediate levels. Most people just want to be able to get on the air. There is no representation on the RSGB board for foundation and intermediate level licence holders. Where is DMR being covered in RSGB publications? The RSGB do a terrible job in promoting amateur radio, especially with the young. Why not encourage schools and youth clubs to set up their own radio stations operated by school children under affiliation and supervision of local radio clubs?
The whole subject is shrouded in elitism attitude. This will undoubtedly be the death of the hobby.
Although I passed Foundation I have had no practical experience. I will take intermediate at some point but I think practical experience with help is essential for me.
The technical side of things felt a bit overwhelming at first, selecting all the equipment was a challenge. There is so much available and making sure it met requirements/expectations took lots of research. Even then, having confidence that everything would be compatible was a bit difficult. I didn't want to approach a shop for advice until I at least understood a moderate amount of what I was talking about because I didn't want to look silly – especially as I am female. Lots of headaches, quite off putting tbh but I'm not easily put off.
Although I thoroughly enjoyed studying for the Foundation and Intermediate exams, I have decided not to continue with amateur radio. I was driven by my interest following from an OU Electronics/Signals module I was studying. Many thanks to Essex Ham and RSGB – very impressed!
The hobby still appears to be dominated by old men. More diversity is very much needed.
The biggest thing for me was getting from hearing nothing on any bands, to hearing something, to getting the courage to speak. I believe that this is one of those things people don't see when in a club environment, as the equipment is setup and people know where to look. For me; because I couldn't get a good signal at home (for HF). I bought an ATAS antenna and found a hill (>300 Meters) and walked through the band plans until I found/heard something (mainly Italians); so I started to know where people transmit.
I have tried attending my local radio club and they have very very old understanding and very slow pace. Online radio club would be amazing as I find more useful information from fb groups etc
Although I've passed the full exam I've never been on the air, some courses on use of equipment would help, I did it online because I don't want to join a club as I see them a bit introverted
There is a massive amount of snobbery deeply rooted within the amateur radio community which I find laughable considering at least half will when pushed admit they started on CB radio but believe they are some form of elite person now they have a piece of paper and a call sign, something I've had myself since 1978 but I'm more about helping others rather than patting myself on the back because a piece of paper says I can use more frequencies and power than another person. I think a certain element of the ham community (and by no means all some of them are great lads and very helpful) need to realise we all bleed red and will all end up dead and their licence is just a piece of paper they received because they past an exam, they didn't just save the world or cure cancer. I also feel the more advanced intermediate is bogged down with the electronic side of the hobby, than the operating radio side.
I feel the exams are over complicated and not required to press a button and talk. Things have moved on and most people have no interest in building equipment and the exam is a big hurdle for a hobby and it can be offputting. RSGb need to rethink what they doing and why we need exams to this extend, it is a hobby not a University Degree
it's a real shame the hobby is so commercialised. It seems more like about how much bling you can buy, rather than geeks like me spending hours of time getting absolutely nowhere and doing meaningless pathetic attempts at doing electronics design, thinking we might bring something new to the planet. The exam thing is meaningless in the end because everything I had to remember is now erased from my memory, or sent back to the text book where it can be recalled any time I need it. I think the only thing one needs to demonstrate should be related to keeping the electromagnetic spectrum clean, and narrowing bandwidth use, and knowledge of harmonics and EMC. Everyone wants something different from their 'hobby', so merely remembering things to take an exam is a turnoff.
I would have preferred a 'hands on' session at a club before Tx'ing live for the first time. My 1st Tx was to the MK Club radio net on Sunday PM. It worked out OK in the end but it would have been better to have a Full licence holder supervising me IMHO.
With regard to licence content, I found the gap between Foundation and Intermediate huge and that the Foundation didn't really prepare me enough.
Your course was excellent and my initial plan was to move immediately on to the intermediate course but I have found myself very absorbed with QRP. So, for the time being I'm staying put at foundation level. I'm leaning morse and have bought a QRP radio for operating athome and in the field. I'm also operating a Pi-Star hotspot at home andusing DMR which I also find intersting and absorbing.
I missed not having personal contact with people over the last 18 months and am looking forward to meetings at my local club
I feel a bit stuck on equipment choice, eg something that will not only be useful now, but for the future too and also 'on air' etiquette etc.
You guys were a great help and the course was fantastic. Really appreciate it. My problem now is the lack of a local radio club (mid wales). I listen out on the 2m band, but the air is silent ! I applied to join the FB group but was ot accepted and don;t know why not, but I have recently found a person nearby who has a licence so hope to have a chat with him about how best to progress and a few pointers to local groups
The Intermediate syllabus is a significant step up from Foundation especially regarding electronics, mathematics and theory. I have no desire to build my own equipment so it feels as if there should be a different approach to the syllabus and exam st this level.
I have been on the journey to full since December 2020, since then have found that there is a certain amount of "we are better than you" with call signs and local clubs.
The Essex Ham course, along with the online intermediate course completed are understandably pitched at passing the exam but actually doesn't cover a lot of what is needed to be known for real world operation. Unfortunately, a lot of so called experts on the web manage to highlight that the actual level of real understanding in the hobby is often low. A case in point is earthing and counterpoises … ask a dozen Hams and you'll get at least that number of different answers. This is extremely confusing to the beginner!
I've been associated with radio (11meters) and building antennas since 1978, and covid 19, coupled with the ability of doing the course and exam online, gave me the push I needed. Radio clubs that I'd attended previously appeared somewhat clicky and uninviting, especially when mentioning CB radio and the 11m band. This is something that needs to change if they are wanting people to join the hobby. We all have to start somewhere, so embrace it and move on. I am also noticing how there are quite a few old school operators who choose to avoid talking with newer foundation operators that choose to only operate QRP. This QRP option should be accepted by more operators as it is a matter of choice.
Have now decided reluctantly to concentrate on SWL activities. I previously completed the Essex Ham course then went on to apply for the foundation exam. Sadly my efforts to connect were thwarted by the fact that my internet connection was via a mobile dongle which was unsuitable as the connection could not be suitably established.I am not the account holder of the landline connection and my partner is uncooperative in this respect. Sadly, end of story for me i'm afraid.
One of the main reasons I decided to attempt the foundation license was that no on air test required. I struggle doing new things in front of people. The information provided by the course helped my confidence in progressing to the exam.
Although I think it's great the online courses and exams exist, I will probably seek out a club to gain confidence before I set up any equipment at home. Even better would be if there was an option to get help at home setting up a station for newbies (paid or otherwise). Having said that, the cost of the exam is the only thing that has stopped me from taking it this far.
I was put off for years, I have an electronics background and sold CB systems too, went to college to do RAE exam but found it too basic and slow, I didnt need the practicals so did nothing until it went online during covid and I had additional time. I am also a RAFAC radio operator and Maritime radio licence holder.
In module 6 or 7 I learned I need a full licence not foundation to be able to use a ssb radio whilst in foreign waters. The courses are very rarely run and only in the UK. An online " Foundation +++" course would be very attractive.
Local club (where I have attended a few time) would probably not even know of the additional things a foundation holder could do to advance themselves and from attending with my partner find them not particularly hands on with going on the radio. I think clubs should be encouraged to use Radio more rather than just sit and drink tea and eat biscuits. I work shifts which is why I too the online course however if the club was my only option my local club would have put me off.
There is an unmet need for a self paced,online FULL exam course with good test questions. There are a few courses out there but difficult tro get booked on hence a self paced course with perhaps an attached forum to help with stuff you don't understand. Why isnt RSGB creating super animated content for this … seems like its what they should be doing.
My biggest problem after passing foundation level was / is programming my handheld. I'm VERY computer fluent and tech savvy (I have computer education to university level) but still had enormous problems getting my Boefeng handheld to talk to my laptop. I eventually managed it by ignoring ALL the advice I had been given (online and within FB groups) and treating my radio like a computer peripheral. The next stage is what to program into my radio???? I still haven't figured that out despite hours of watching YT videos, reading online advice, and asking in FB groups. It's this step I need help with now. The other problem I've found is most FB groups (populated by "experts") are less than helpful. Actually, I have been REALLY disappointed by the response.
I would like to take the intermediate but feel that in this modern day, lots of the content is un-necessary. I'm not likely to build a radio etc and feel a need for very basic understanding of how things work is rrequired. Lots of people just set up a station and use it as is
You guys opened the door and I am so grateful.. I use a ft818nd and a wonder loop inside my flat and pick up DX and contest calls from Italy, Poland, and even just outside Moscow! Awesome!
It was harder than I thought it would be. Didn't realise how technical it was / how much physics you needed to know
My opinion on the exams that are needed to be passed before you can transmit at the varying levels can become a issue for new upcoming members who would enjoy being able to be involved in this hobby that may find it hard to pass and understand the tech side of the required exam passes needed. If it was possible to implement a exam that did not require the electronics and mathematics equations that are needed at the moment .
I note with interest the direct to full thinking study. As an electronics engineer with a lot of background in electronics design, hazardous area electronics, Communications, Radio and Radar I would have opted for this option. I find the idea of sitting two more exams time wasting and would rather go straight to the Full license.
My sole reason for the late entry into the hobby was the well outdated Morse code requirement. I never saw the need for everyone to do this, partly because I was aware of, saw equipment that could do this automatically in the late 1960s. The stopping of the requirement of ships Radio Officers to learn Morse was the final nail in the coffin.
I think the hobby has a lot of people who do not like the new online courses. I have had some real knock backs trying to join clubs. As soon as they find out you have done the online course they shun you.
It's a bit of a disappointment if you get 2m equipment as the activity is just not there. Hf is much better but there seems to be little real purpose with people rushing to collect signal reports as though they are preparing for some future apocalyptic event no one has any substantive or purposeful conversations. It's easy to get bored. Activities should be encouraged on higher bands such as 10m to reduce the carnage that is in the lower bands. 2m and 70cm need encouragement they're really quiet and often the only activity is boring blokes using the radio like a telephone. I don't know what the solution is but the image is one of old blokes and when you get on air it's being proven.
I would prefer lessons at a club, particulaly practical aspect which has been removed.
I've found a local club that – fortunately – have members who go out of their way to give help, practical instructions and some social interaction (not the first club I found, unfortunately… those were rather clique-y and not very friendly).
The idea to have club task-based certificates would be worth their weight in gold, as far as I'm concerned. Very much the missing part of the RSGB Guided Journey (if the Foundation course we're the first step in the journey).
I know there many technical aspects of this hobby, which I have absolutely no interest in, and think it's unfortunate that so much emphasis is placed on them by the RSGB. They seem to be stuck in an era where the only way to enjoy this hobby was to make everything from scratch.
They need to realise that this is no longer the case as almost everything is available at the touch of a button now, and people generally only make things or tinker, as that is there interest. They fail to realise that to encourage youngsters into the hobby things have to be on a basis of 'Instant gratification'. Many would not be interested in making their equipment,as it's easier to turn on a pc/games console and play a game. Also, we live in an age where repairing something is unnecessary as it's too easy to simply buy something new which is instantly available. To survive the RSGB must adapt, and not be dinosaurs! Incidentally, I'm 64!
Currently my journey in amateur radio is using a handheld or mobile setup in the car, on both 2m's and 70cm's. I'm starting to chat to other hams and have had 2 good long distanced contacts on the handheld with one being 36 miles away from me. I enjoy going into the fields up on hills with the handheld radio, and parking on high point with the mobile setup in the car and working stations as far as possible. I did struggle with mic shyness to start so would listen to other hams to build confidence, and still from time to time I get mixed up with the on air communicating procedure, but fine otherwise.
Now online exams are here with no club interaction needed at all, lots of operators will be able to operate with zero practical experience (like me) I eventually found a local club that helped (though it's struggling for membership, 8 weeks of attending and I've been the youngest there by a fair way at age 47), and YouTube videos helped, but specific tutorials showing typical interactions in voice, cq and digital modes would have helped a lot.
I'm not particularly interested in the intricacies of antenna and radio construction, so much of the content of Radcom doesn't really appeal to me. I'm happy to buy what I need at this stage and I took Foundation to be allowed to use Amateur equipment and to know just enough to avoid causing interference to others. I think the whole "technical hobby" thing goes way too far. I'm more interested in the social/prepping aspects of the hobby, but there seems to be very little of that in the NE Scotland. At 39 years of age, it is alarming to consistently be the youngest person taking part in a net etc.
Really liked my RSGB examiner. He made me feel excited to go to the next level.
My only reason for doing the course was to allow me to use a hand held radio, this meant most of the course is irrelevant and a waste of time, I feel there should be specific courses tailored to the users need.
Amateur radio seems to have something for everyone. You could just start with a cheap handheld and make some contacts on a local repeater to a full blown shack with an antenna farm. Make your own antennas, hack an old 2 metre taxi radio. The people you can chat to on a local 2m net are full of ideas, advice and all do something different. And there's no rush either, get your foundation, enjoy using it whilst working out what you want to do next. There's budget, space and technical ability to take into account when deciding what's right for you.
I think the Foundation course seemes brilliant to encourage people into the hobby; it could be lack of knowledge or no club in my town, but it feels like quite a jump up to the next level from accessing your local repeater on a handheld (though it's SO much more accessible as a hobby than when I first started!)
I was really interested in the course but didn't feel confident enough to take the exam especially on some of the technical questions. I believe I would benefit from joining a club, but unfortunately due to my geographical location it's not feasible. I'm not giving up though and will maybe look at re doing the course at some point.
I think amateur radio is relying very heavily on the old guard, and I don't see younger generations coming through to take it on. Locally there is very little desire to change.
There seems to be a difference between the Official Language used in RSGB, and normal scientific language and notation. I have a Physics Degree from a previous existence, but have found Amateur Radio difficult. Also the way exam questions are phrased is not easy to understand. I fail to see the point in trying to confuse people with words and phrases when simple scientific language and numbers would be easier to understand.
Very good course, but I've decided Radio is not for me. There's not enough on it to keep me interested. It could be I can't pick much up where I live. But I've invested quite a lot of time and money and there isn't very much happening on the channels. But thanks for the help.
Although being able to do the course online in my own time was great, a live session or two would've helped as I wasn't able to get to a local club, and I felt the practical application of the theory was lacking.
I'm really enjoying my ham radio experience but unfortunately I think the 10watts limit for foundation license is far to low I understand there should be restrictions but foundation license holders literally don't stand a chance against people running 100 watts 400 watts and in some cases over 1kw.
Essex Ham course is very professional in appearance and delivery. Provided some good links and tips to other resources. I particularly like the Physics Interactive circuit trainer, which helped me to understand the differences in series and parallel circuits. Thank you very much for all your help. Now continuing my journey in learning more about the hobby and, hopefully, attaining a Full licence.
I had initially expected to chat to other radio amateurs, but I will never, ever use voice modes now because I have briefly experienced and often heard what happens when a rare female ham appears on air. The least bad issue is pile ups during competitions, but I am not interested in competitions. Our local ham club is full of men who are not welcoming and who have been openly abusive on air. They are not only rude when I have briefly tried to talk to them, but they also regularly have nets on our local repeater and air racist, homophobic and sexist views. How can the hobby be inclusive when you have people like this around? No wonder so few new people join their club (something else they complain about frequently)? I tried reporting this to the RSGB, but was not taken seriously. I will stick to modes where no one can guess my gender by listening to my transmissions.
I tried to contact two local clubs to gain information and advice to help me understand what is required to obtain the foundation license along with help on selecting what radio equipment would be the best to obtain for a beginner, in addition hopefully get involved with club members directly to benifit from their knowledge, the first club I phoned i could not get an answer from the club secretary so I left a message, the secretary never return my call, the second local club I tried i did manage to speak to the secretary but again he failed to contact me with information regarding joining their club? I was bitterly dissapointed in the response from both RSGB clubs which was a dissapointment.
Thanks for all your help, the free course material and lessons are great! However, I did find the laws and rules reasonably challenging. From the technical side, this gave me a good sense of how much I actually don't know about electronics. Thus, I have taken a slight detour, to study maths and electronics from the teach-yourself range of books. I do plan to cross the finish line and achieve this personal goal. ~ Keep going, keep keeping on and we'll get there, don't give up on your dreams just because life gets in the way. ~ None of us is as smart as all of us ~
I found some technical aspects difficult to grasp (despite having degrees in other subjects) possibly as they're not actually allowed/required for the licence, eg: requirements to understand how to build a radio – irrelevant, as foundation licence forbids holders from do so.
Ham Train course was generally great though, I have stepped back as have new health issues, but I'd like to pick the course up again in the future.
I think the foundation level content is too involved for just getting people on air who just want to start out with a basic affordable handset but want something more than PMR446 radios.
It's odd being the only woman at my local club. On air the guys chat to me easily but face to face are awkward. I go with my husband who is a full licence holder and they talk to him just fine and mostly ignore me.
I note that some of the people who took the course complained that the exam questions were different in the comments section in the training area, or that the questions in the real exam each had several options which could have been correct. I don't think that is a fair complaint about the course – to me I suspect they failed to learn or understand the underlying principles being taught and just learnt by repetition only so naturally got caught out when a question threw in something a bit different but still based on the same principal.
I was thoroughly enjoying the course until I discovered the on-line exam was not available for Linux users. I could not find a local group doing the exam and could not find a windows machine to borrow for long enough to book and complete an exam.
Coming from CB radio, the basics like setting SWR and setting up a station/antenna come naturally. Having no friends who are amateurs I had NO clue what radio/HF or VHF/UHF set to purchase and so easily could have ended up buying the "wrong" set. Local amateurs have been SO SO friendly and so so helpful and are a great resource for help and advice on many issues like radio/antenna choice.
This was an amazing course. Very professional. I bet it took ages to create! many thanks to the team! It was just what was needed and the RSGB online exam was a significant part of my decision to apply.
Thanks to everyone who took part in our survey. The 2023 survey is already running, with a few extra questions. We'll publish the results in due course.