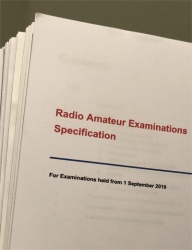 The chaps at the RSGB's Examination Group have been busy. The ink is only just dry on the first revision to new Syllabus 2019 (some of the supporting docs such as the mock papers are still to be released) – but the latest report released shows that the RSGB has been beavering away on another project… which is writing a new, new syllabus!
The new syllabus, currently in draft form, is set to lead to a new exam that is designed to appeal to those who wish to fast-track straight in at "Full" (Advanced), without the need to go through Foundation and Intermediate first.
The announcement can be found in the recently-released Exam Standards Committee 2019 report, but for convenience, the important bits from page 5 of the report are as follows:
"The Examinations Group have prepared a draft syllabus, based on Syllabus 2019, for an exam that will provide direct entry to a Full licence, like the old RAE."

"The ESC has agreed that the syllabus will be put out for consultation in the UK amateur radio community. This consultation will take place later in 2019."

"An important question, which is yet to be resolved in EG and ESC, concerns what form any practical examination might take, and we will look to the wider community for guidance on this."
Keep an eye out for the RSGB's consultation on this important matter in the coming months. There will be lots to consider. When the consultation starts, make sure you have your say!
Whilst you're waiting, some handy stats:
To get a Full license today requires 3 exams (133 questions in total, over 4 hours and 20 minutes), and complete 22 assessed practicals
Under the 2003 RAE 7650, it was one exam, with 80 questions in 2 hours and 15 minutes

The RSGB's report also reports that in 2018, the total number of candidates was up compared to the previous year. These were mainly for the higher two licencses, and there were slightly fewer Foundation candidates. They report that over the past five years, there has been a slow decline in the number of Foundation candidates, averaging about 2% per year.
The report also mentions that the switch to online exams is progressing – these have the advantage of cutting down on admin, and providing instant results to candidates.
More when we have it… but in the meantime, feel free to add your comments below
Related Links