Keen to have a cheap 2 metre handheld device as a backup, I stumbled across what appears to be one of the cheapest portable amateur radio device on the market, the Moonraker HT-90E. I was frustrated by the lack of reviews of this little radio, so I thought I'd write one.
MoonrakerHT-90E Basics
This is a very small portable radio that's ideal as a cheap 2 metre rig with minimal bells and whistles. Here's what this radio has to offer:
Receive/Transmit on the 2 metre amateur band between 144-146MHz
5 Watts output power
Support for repeaters (offsets, CTCSS/DCS)
Hands-free VOX mode
Also receives FM broadcast radio (87-108MHz)

Holding the MoonrakerHT-90E in the field
Price / Availability
The radio is available at a rather nice price of £69.99 from Maplin. At the time I got mine, there was £10 off too, which helped. You can also pick these up on eBay for about the same amount.
The Hardware
It's a solid radio that doesn't 'feel' cheap. Once programmed, it operates well, and does a decent job. The antenna is a short, thin(13.5mm) rubber duck that doesn't inspire much confidence, but it's removable allowing you to use a more substantial portable aerial, or to connect to a car magmount or home base station aerial. It's a standard SMA connector, and unlike some handhelds, the connector isn't recessed into the case (meaning it's fine with common adapters and aerials!)
Controls: PTT on the left, plus a button to disable the squelch. On the top a rotary volume control that also turns the radio on, plus an orange panic button (that transmits a tone). On the front, a small LCD display and the keypad
On the right, under a rubber flap, sockets for Mic and Speaker.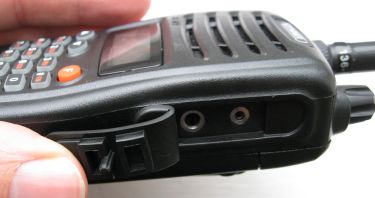 These two sockets can be used with an external mic or an earpiece. There are a few different types of connector on the market, normally referred to as "General", "Motorola 2-PIN" or "Kenwood 2-PIN". I tested the Moonraker with a "Kenwood 2-Pin" earpiece and mic kit, and it worked perfectly. Here's a picture of the plug, for reference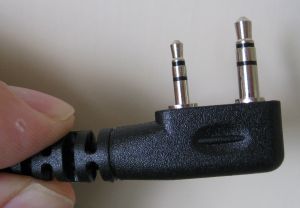 Using the HT-90E
It's not a bad radio to use. The 11 page manual is a little light on content, meaning that some experimentation is needed to get it to work, particularly things like changing the key beep, and disabling the auto-keylock.
Like most radios, the interface has its quirks – such as use of a speaker icon to represent CTCSS, and the letters AO (which appears if you're listening to the FM broadcast band 88-108MHz).
The radio has 199 memories, and you toggle between VFO (tuning mode) and Memory mode using the V/M button, The Orange F button is used to adjust the settings (F-1 for Squelch, F-2 for VOX, F-9 for Options, etc)
Setting up a repeater: Programming in the offsets and tones for repeater access is easier than the QuanshengTG-UV2 I had the pleasure of setting up recently, but not obvious. To help out any Essex Amateur Radio operators, I've put together a guide on how to set the HT-90 so that it can access the Danbury, Essex 2m repeater, GB3DA – See Programming the Moonraker HT-90E for access to Danbury Repeater
The HT-90 can receive broadcast radio, and you can set it to listen to an FM radio station, and flip to an amateur frequency when the squelch is broken, which is a nice touch. The VOX (hands-free) seems to work well too.
Comes with the following:
13.5cm aerial (rated 136-174MHz). 50 ohm
Removable battery pack (7.4V 1300mAh Li-ion)
Removal belt clip (two screws)
AC Mains charger and charging station
Hand strap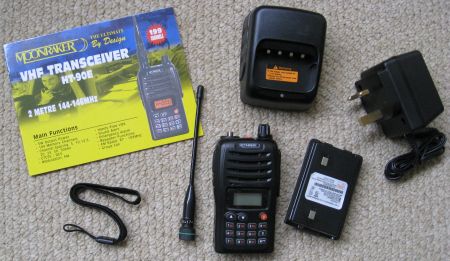 HT-90E So Far:
I've only had the radio for a day, and have yet to give it a serious try out in the field. First impressions so far are that this is a capable radio, well-built and able to work 2 metres without a problem.
My main portable rig is the Yaesu FT-60, which is nearly double the price (the FT-60 also does 70cm and is a scanner). Comparing the two, the Yaesu is bigger and heavier, but comes with a better aerial, plus support for 70cm. The other difference, and my only gripe so far about the Moonraker, is the speaker. It's a slightly tinny speaker and doesn't sound as nice as the Yaesu. I'm guessing the speaker is slightly smaller, and possibly cheaper. Not a problem, but it's worth mentioning.
I'll update this review as I get to spend some more time using the radio. In the meantime, if you have any questions, please let me know and I'll be happy to run some tests on the radio for you.
HT-90E Questions
Adjusting output power:It wasn't immediately obvious how to change power. My radio showed an "L" in the bottom left of the display, and I couldn't get the radio out of low power mode. The trick? Press F then # to toggle between High (5W) and Low
Programming from the PC? Not as far as I know.
Unlocking other frequencies? Sorry, no info on this as yet
Airband? Alex asked if this can support listing to the airband. Sadly not. The FM radio claims to cover 87 to 108MHz, but actually covers 70 to 107.9MHz
HT-90E Manual
We can't find a copy of the official manual on the Moonraker website, but have received several requests for a copy of this, to help with programming. We've scanned in the relevant pages from the user manual, which you can find here: Moonraker HT-90E Manual – This is intended as a service to our site users. Moonraker's copyright is acknowledged.
Larger Aerial
The stubby little aerial supplied with the Moonraker HT-90 is pretty small. You'll be able to get a better range by adding a larger aerial. Thanks to sukhdev for suggesting the Moonraker MRW-210, pictured below. This will certainly increase the range, but at the risk of having someone's eye out.
You could also consider getting a magmount for your car, which will give you a better range when mobile. Look for an antenna with an SMA plug.

Related Pages: