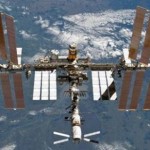 From Saturday 28th December 2019 to Wednesday the 1st of January 2020, there is an opportunity to receive live SSTV images from the International Space Station.
This is always a great opportunity to try to receive some live images from space, although note that some of the best passes are early morning in the UK, so you may want to set up MMSSTV to receive images unattended.
Here is the official ARISS announcement:
ARISS will be supporting SSTV transmissions worldwide in memory of cosmonauts Alexei Leonov, Valery Bykovsky and Sigmund Jaehn.
The transmissions are scheduled from December 28, 2019, starting at 11:00 UTC, until January 1, 2020 at 18:20 UTC when the system is scheduled for shutdown.
Transmissions will be on the standard frequency of 145.800 MHz and in the PD 120 format.
The Polish ARISS Team prepared an award for participants to this SSTV experiment. Please see https://ariss.pzk.org.pl/sstv/
Many thanks to ARISS Russia for setting up this worldwide SSTV event.
Season's Greetings !
73, Gaston Bertels ON4WF
UK pass-times to watch out for, are as follows:
Sun 29 Dec: 0517, 0654, 0831 and 1008
Mon 30 Dec: 0430, 0606, 0743 and 0920
Tue 31 Dec: 0342, 0518, 0655, 0832
Wed 01 Jan: 0255, 0430, 0607, 0744, 0922
Happy image hunting!
Related Links