A quick report on today's East Suffolk Wireless Rally, from Pete M0PSX.
Today, Sunday 14th June 2015, was my first visit to the East Suffolk Wireless Rally, better known to many as the Ipswich Rally.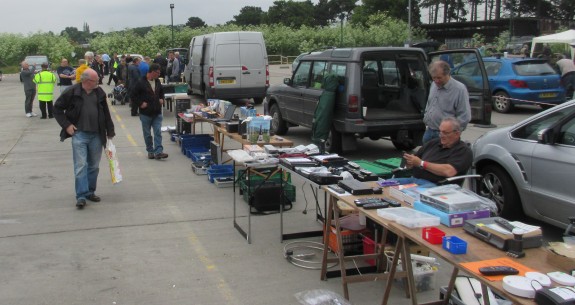 This particular rally is an open-air affair at the Orwell Crossing Lorry Park, just off the A14, and Charlie M0PZT and I trekked from Essex into Suffolk, over the Orwell bridge and into the lorry park near Nacton.
The event is well organised, with plenty of parking, a talk-in station operated by the local RAYNET team, and a wristband entrance scheme (parking and admission £2).
The majority of the vendors were set up outside with tables next to their cars, with the usual mix of radio, computing and AV bits and bobs on sale. There were also stands from a few local groups, plus the RSGB bookstall manned by Steve M1ACB and Keith G7CIY.
Great to see so many amateurs from Essex cross the border into Suffolk, including Peter G0DZB, Richard M0CLZ, Dorothy 2E0NCE, David M0HBV and Keith G7FFI.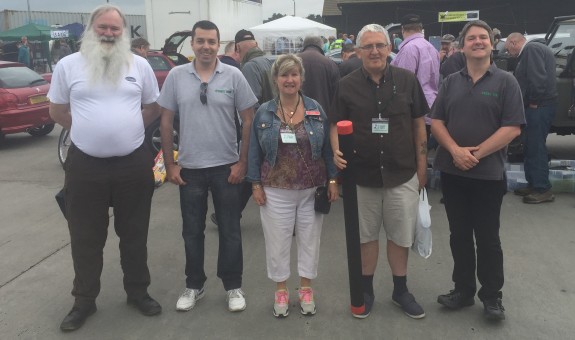 Good to see some of the lads from HADARC too – Charlie M0PZT and I spotted George M1GEO sailing past us on the A12 – here's a blurry pic: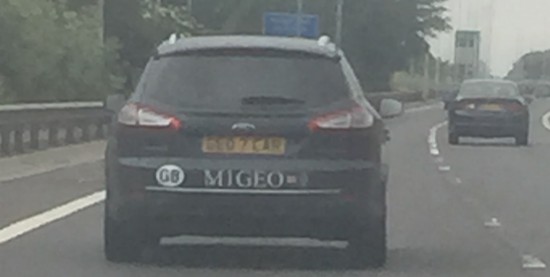 Good to see Ann M6INE, Andy G1GKN and Tom 2E0TNC too – Tom came away a happy chap after purchasing an interesting looking wooden box – when I asked him what it was – the answer was "£1". It did have some sort of 'thing' inside, but with a bit of TLC from TNC, it'll be a nice box perfect for an upcoming project.
It's obligatory to mention the catering at any rally, and the Ipswich Rally was certainly well catered. A decent all-day breakfast kept me going, plus a coffee strong enough for the discerning tastebuds of Charlie M0PZT. The venue is used for regular ham get-togethers – the "Old Codgers breakfast" – and it's a good choice.
The break was timed to perfection as the heavens opened at around 12:30 whilst our group was in the dry cafe. Sadly, rain-stopped-play, and the rally wrapped up a little earlier than normal – the perils of an outside event!
Well done to the Felixstowe & District ARS for putting on the rally, and thanks for allowing us Hams from Essex to cross the border!
Pete M0PSX
Event Photos
Related Links