Got an iPhone, iPad or iPod? Then you might like to explore some of the Apple applications out there, written for hams, by hams
On this page, we take a look at a few of our favourite apps for the iPhone, as used by the Essex Ham team. If there's one we've missed, please let us know in the comments section below.
We'll be taking a look at ham apps for the Android platform in a future article – again, suggestions welcome!
Ham
This was the first amateur radio application that we downloaded, and it has three handy features that make it worthy of a mention:
QRZ – Lookup callsigns in the QRZ.com database (sadly only a web interface at the moment)
Solar – A look at current solar activity for HF users
PSK Reporter – A quick way to check where your PSK signal is getting, and who you've received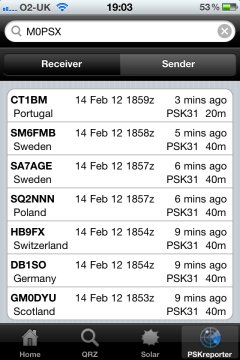 Get the app: Ham on iTunes (freebie)
UK Repeaters
A very handy little application that overlays the entire network of repeaters overt a map. Find your local repeater, and get the vital input and output frequencies, plus the CTCSS codes. A must for any mobile ham. It also reports your GPS co-ordinates and altitude.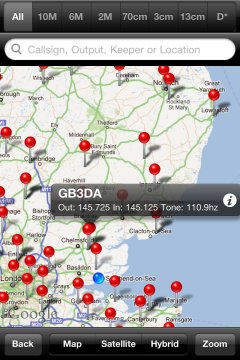 Get the app: UK Repeaters on iTunes
Echolink
OK – So we know that some hams regard Echolink as 'cheating' as it uses the Internet for communications instead of RF, but regardless, Echolink is a great way to stay in touch with other amateurs when RF isn't up to the challenge. This is a great, free, application that does a great job of handling Echolink communication, and a very handy directory of who's online.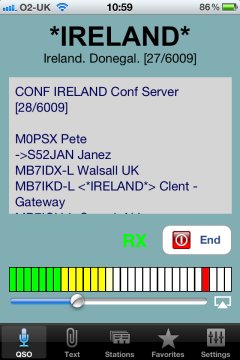 Get the app: Echolink on iTunes
Ham Logger
There's a load of mobile logbook applications out there for the iPhone, and we've tried lots. This one has come out as the favourite as it offers quick access to QRZ and eQSL as well as DX Cluster. Sadly, no direct export to eQSL or other logging applications, but it does at least allow a fast way to log mobile contacts. For more on Echolink, see our Echolink Hands-on Guide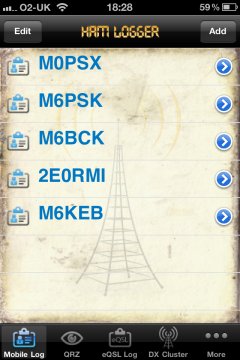 Get the app: Ham Logger on iTunes
Ham Tracker
If you want to experiment with APRS, the amateur radio location service, then you can use your iPhone or iPad to report your location using the APRS network. A handy way of showing other amateurs where you are when you're mobile.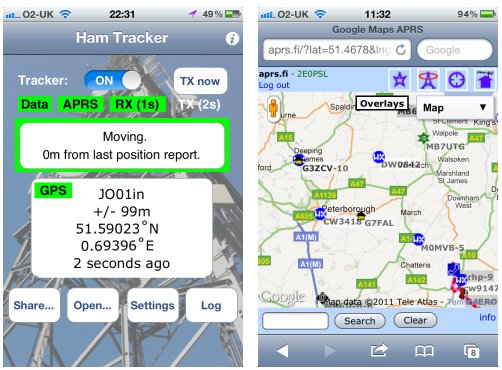 Get the app: Ham Tracker on iTunes
Morse Decoder
Learning CW, or just interested in what's happening on-air with morse? This app uses the iPhone's built-in mic to pick out morse signals from the noise and convert from CW to plain text. Sometimes it can be a little hit and miss, and it needs fine-tuning to get stable, readable, strings of text – but for those looking to listen into the world of morse, this is a great app. With audio filtering and a words-per-minute count.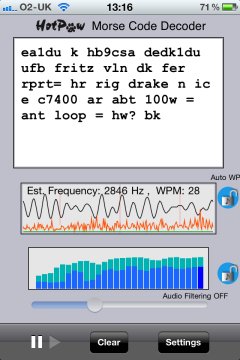 Get the app: Morse Decoder on iTunes (£6.99 last time we looked)
Ham I Am
A very handy app for newbies to the hobby… this lists the Phonetic Alphabet, Q-Codes, common ham terms, the morse alphabet, RST, RF spectrum information and common ham formulas (handy for those revising for Foundation, Intermediate and Advanced). It's a US app, so there's information about ARRL not the RSGB, but nonetheless it's a handy reference app.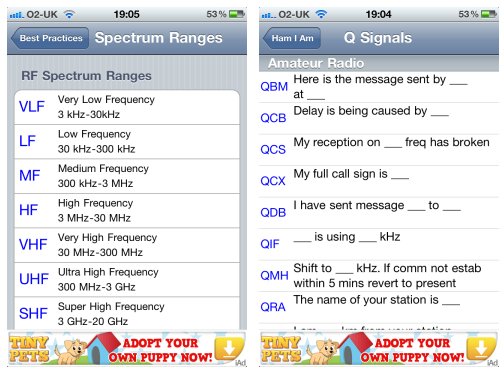 Get the app: Ham I Am on iTunes (freebie)
Satellite Tracker
A handy app for tracking the amateur radio satellites and the International Space Station. Not as intuitive as a world map, but very handy for looking at future passes and AOS (Acquisition of Signal) for your target satellite.
Get the app: Satellite Tracker on iTunes
Sputnik (International Space Station)
Another handy app for tracking the International Space Station. Again, no map, but the information about upcoming passes is very handy and easy-to-read, and there's a handy "Notify Me" alerter plus an audio countdown.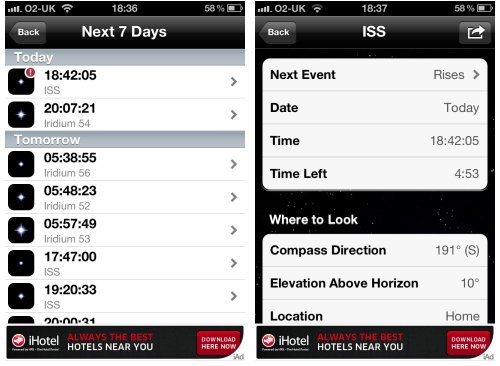 Get the app: Sputnik on iTunes
DX Fun
Great for contesting or trying to contact that elusive contact – this makes use of DX Cluster information to see who's talking to who and on what band. Includes "Last Sports", a "Spots World Map", a logbook (with the option to upload your spots), plus a Grey Line map and propagation information. Well worth a look for serious DXers.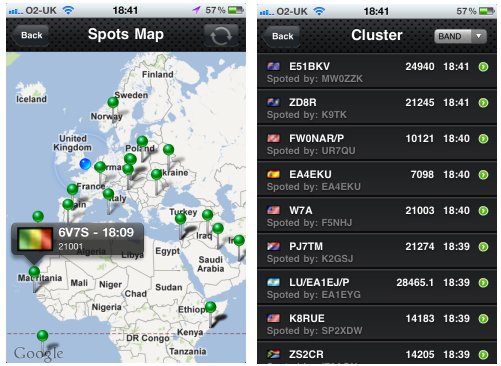 Get the app: DX Fun Cluster on iTunes
Other Apps worth a mention
| | |
| --- | --- |
| Ham Utility – Includes a handy Band Plan, antenna length calculator and a list of the more common Q codes | Waveguide – Handy app for showing PSK31 signals received and sent |
| Ham Square Locator – Free app to show you your current Maidenhead locator and Long/Lat, based on your GPS location | RF Slide Charts – A handy sliderule-type app for calculation of various RF factors, such as antenna output and efficiency |
Got an app we've missed? Add a comment below…