Here's a quick summary of events at the Canvey Rally earlier today, Sunday the 5th of February 2012.
Essex had quite a dusting of snow the night before, and listening to the local repeater GB3DA from 9am, there was some doubt that the event would be going ahead. The good news is, that the event did go ahead as planned, with doors opening at 10:30am to a smaller-than-usual group of enthusiasts.
This was the 27th annual Canvey Rally operated by SEARS, hosted at The Paddocks Community Centre on Long Road. Here's the scene at the front of the building today: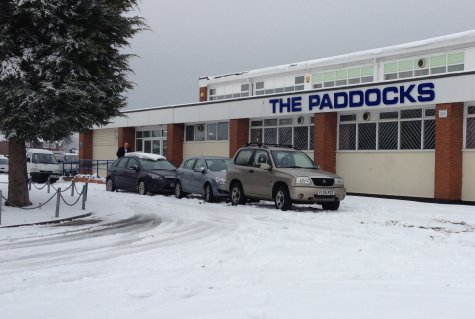 Attendance was considerably down on last year, with many clearly kept away by road conditions. The next shot is of the car park, taken at 1030 today. As those who've attended the rally in the past will know, it's a struggle to find a space if you're not there before 1030.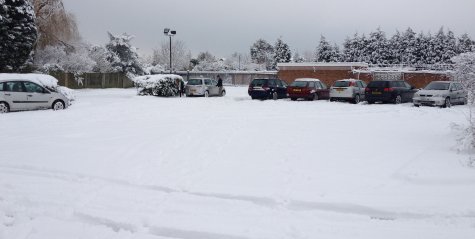 We understand that around 200 folk turned up, and although much quieter than previous years, there was still a good crowd browsing around and chatting. Luckily, most of the usual retailers had been able to make it. There were a few empty tables, but still enough stalls to be worth the trip for those that braved the elements. Here's a photo of the hall activity taken at 11am: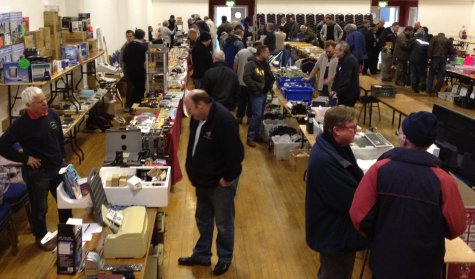 All credit to SEARS for going ahead with the event and for doing such a good job of organising the event. The legendary bacon rolls were certainly welcomed, as was the cup of tea.
It was good to be able not to have to fight through the crowds, or stand out in the queue for too long, but it was a shame that the weather marred the day, meaning a few empty tables. It was even sadder not to see some of my local amateur friends that I was hoping to meet up with.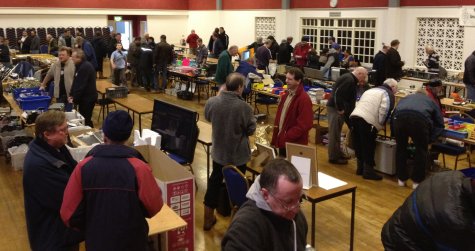 Nonetheless, great to catch up with those who did manage to struggle through the snow to make it – including: Mark, Myra, David, Patrick, Tom, Bruce, Bob, Terry, Zephram, Luke, David, John, James, and some of the lads on the Foundation Course that's running in Chelmsford at the moment. Plus anyone I've missed.
Hopefully, next year's event will be free of snow and back to the usual numbers. For those not able to make it – Other rallies this year in the area include Luton, Cambridge, Ipswich and Rainham.
Did you make it? Are you planning to go to another local rally this year? Please add a comment below.