This page has been put together after an interesting discussion on one of the Essex Ham Amateur Radio 'net' discussions – what movies can you think of that have a strong radio-theme? Broadcast radio, Ham radio. Anything.
Here are a few that popped up as part of the evening's on-air discussion:
Films: Broadcast Radio
The Boat That Rocked – Pirate radio in the 60s… sort of
Play Misty for Me – Clint Eastwood stalker classic
Alan Partridge "Alpha Papa" – New film with Partridge in a radio station siege
Good Morning Vietnam – Robin Williams bending the rules as an early military radio shock jock
Private Parts – The life story of US radio shock jock Howard Stern
Cry for Help – US film where the presenter gets the town to help track down a girl threatening to kill herself
FM – No static at all. Believed to be the inspiration behind US sitcom WKRP
Films: Ham Radio
Frequency – In this 2000 film, a son accidentally makes contact with his late father over ham radio, and saves his life.
Contact – Starts with Jodie Foster using ham radio with her dad. Her radio experience helps her to pluck an alien message from space in later life.
TV series: Ham Radio
Last Man Standing – Current US TV sitcom featuring Tim Allen as a radio ham
Tony Hancock "The Radio Ham" – You can watch this online for free on YouTube.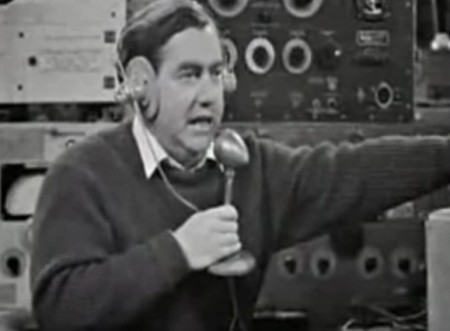 Films: CB Radio
Films: Other radio
Enigma – WWII HF decoding
Independence Day – Details of the mission to bring down the invaders, was sent by Morse
Titanic and A Night To Remember – Films documenting the loss of RMS Titanic in 1912, and highlighting the tireless efforts of wireless operators Phillips and Bride
TV series
"Radio Phoenix" – an old TVS soap opera
WKRP – Classic US sitcom
Kit Curran Radio Show – Denis Lawson as a local community radio presenter
I'm Alan Partridge – Radio Norfolk (later North Norfolk Digital)
FM – Recentish Channel 4 sitcom
Midnight Caller – US drama
Shoestring – Trevor Eve detective series, set at Radio West
Dukes of Hazzard (often featured CB radio)
Last Man Standing – Current US TV sitcom featuring Tim Allen as a radio ham
The Forest Rangers – 1960's Canadian series featuring CB and walkie-talkies (thanks Mark M0IEO for that one)
Thanks to everyone who got in touch on-air to help build this list. Any more? Please add them below!