The Essex RAYNET team has been hard at work today supporting the Cycle For Life 2014 event for Farleigh Hospice.
Cycle for Life is three cycle rides in one starting and finishing at Farleigh Hospice. Participants could opt to take part in a leisurely 20km ride, or the more challenging 50km or 100km routes.
The large route and complexities of an event on this scale required considerable planning and preparation for the Essex RAYNET team, who had been asked to assist the marshals and provide communications for the event. Here's just some of what was involved in pulling the event together:
Engineering and coverage tests ahead of the event
Preparation and liaison with the event organisers
Deployment of a portable 70cm voice repeater running from batteries topped up by a portable generator
An additional mobile repeater to cover the northern part of the 100km route
Over 15 RAYNET members deployed across the route
Sweep vehicles following the final riders
APRS tracking and use of DMR handsets
In The Field with RAYNET
I'm one of team's newest members, so I'm still learning the ropes. Here's a short summary and some photos covering my day – hopefully interesting reading for anyone considering getting more from amateur radio.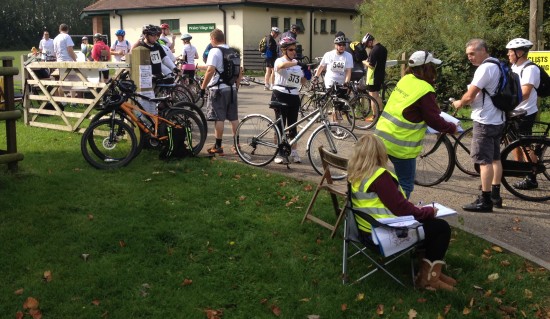 Today's start was an early one, driving to one of the event's larger checkpoints. My checkpoint was about halfway along the 20km route, in the village of Pleshey. As well as being the ride's main checkpoint, the location was also chose to the be site of the main 70cm portable repeater. For the day, I'd been paired with family team Vince G8YPK and Charlie M6YPK. With very few vehicles on the road  at 7am on a Sunday, it wasn't a complete surprise to find Vince on the road slightly ahead of me, and to convoy to the venue, the village hall at Pleshey. Contact was made on one of RAYNET's 2m simplex channels with other operators en route to their respective points.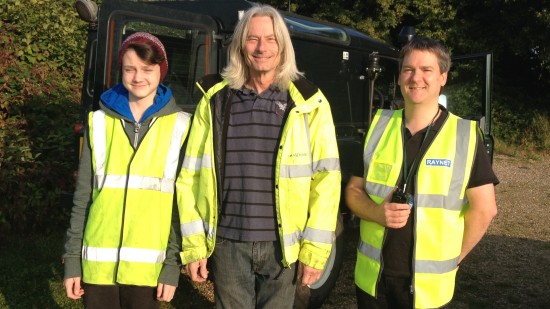 After discovering the entrance to the hall was locked, Neil M0NAS in the mobile station was able to make contact with the site owners and collect a gate key. Shortly after gaining access, Vince's colinear was up, and the repeater was running. Certainly at our checkpoint, RAYNET was first on-site, and set up before the deliveries of food and water for the riders arrived – followed by the Farleigh volunteers who were looking after the mashaling, participant counting and distributing the very welcome food and drink.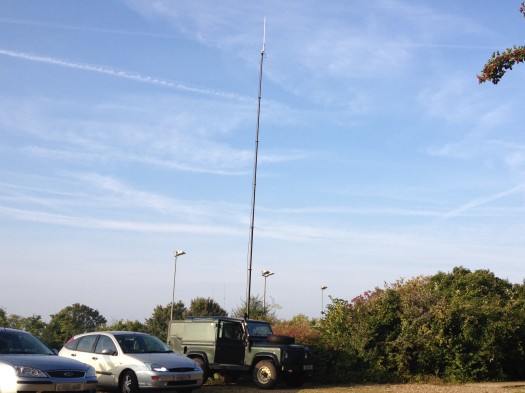 The pairing of Vince and I, no doubt an accident, was a good one – as Vince and I have worked together before, many years back, in commercial broadcast radio. We're both no strangers to setting up radio links early in the morning, so were both well prepared with our own food and hot drink supplies, as well as tools and equipment to help the Farleigh team get set up. Vince's vehicle is incredibly impressive, kitted out with one very tall mast, the repeater, DMR kit, APRS, a generator and a stove. Vince and Charlie chose to stay with the vehicle and keep the repeater running, whilst I sited myself with the Farleigh volunteers to help where I could. Typically this involved reporting departure times of groups of riders from the start point and keeping the marshals updated with news of the event, as reported from the network of checkpoints.
Great to discover that one of the riders was Ray Clark, a former BBC Essex presenter, and someone that both Vince and I have worked with in the broadcast world.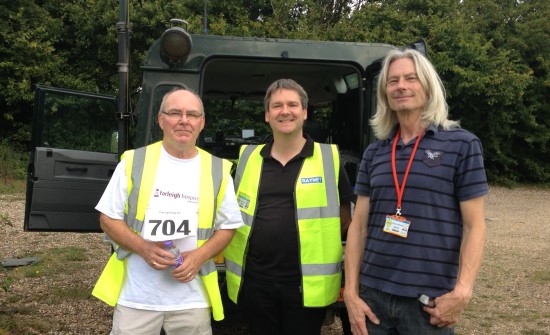 There's a real team spirit – different groups of volunteers all working to keep the event on track, offering moral support to flagging riders, and sharing information.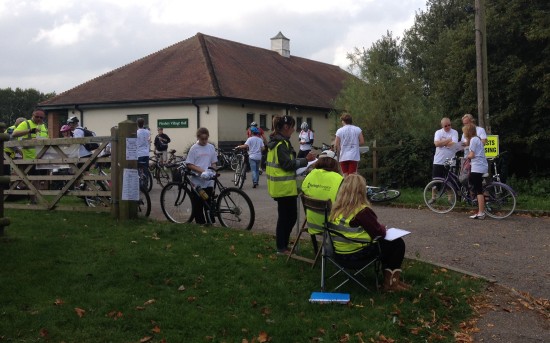 Once the last cyclist had left our checkpoint, the Farleigh team packed up and their supplies and equipment were collected. The 50km and 100km rides were still very much underway, and I was then diverted to a marshal station a few miles away. Rather than a nice comfy village hall car park, this was a T junction on the busy A130, and on arriving, I found a lonely sole Farleigh volunteer, Heather, directing cyclists. This station was 10km from the finish of the 100km ride – the ride for the serious cyclists,  and it was good to be able to provide Heather with an update on the event, based on the reports received from the other checkpoints.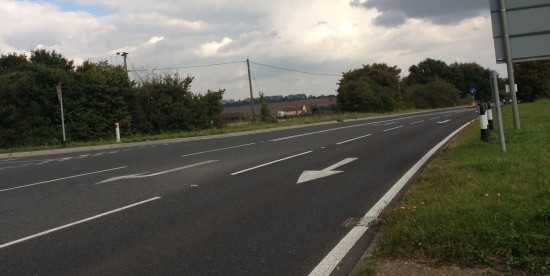 On an event such as this, a checkpoint can only 'close down' after the last rider is through, so hearing reports of progress gives a feel of how long to keep a position manned. This is where APRS can into its own, as the 100km Sweep vehicle (driven by Owen M3OIL) was equipped with two APRS devices, allowing us to see in realtime, the location of the last of the 100km riders.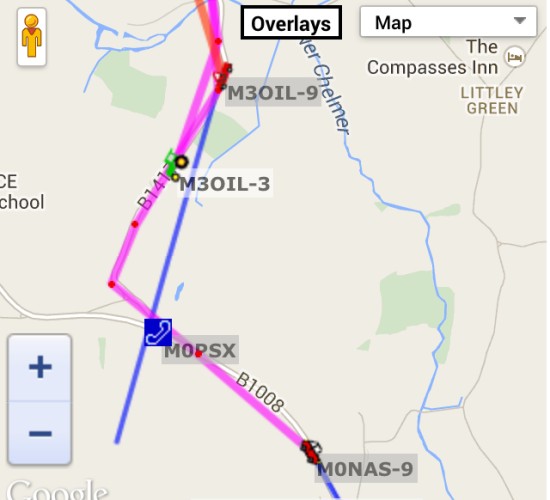 With the last rider through, and after a quick handshake with Owen, Heather and I were stood down and made our way home after 4pm. A long but rewarding day. One which was not over for many. Vince was still at the Pleshley site running the 70cm repeater. The North repeater, looked after by Roland M0BDB, has been switched off now that the riders were in South, but Control was still busy with updates on the 50km and 100km.
The hardest job of the day was probably completed by James 2E1GUA. As a keen bike rider, he'd volunteered to 'sweep' the 50km route. Traditionally, this is done in a car, but this time, from a bike. James dropped his usual pace to make sure we was at the tail-end of the 50km ride checking for stragglers – not easy when they stop for lunch in a local pub so end up behind you. A long and tiring day for James.
Interested in RAYNET?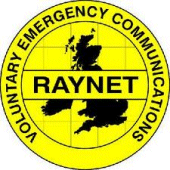 Events like this are certainly eye-openers compared with many amateur radio activities. This is real teamwork. There were some incidents on the route that required RAYNET to take action – driving around to check misleading signage, contacting medics and passing details of riders unable to complete the ride. Sending messages on RAYNET events is very structured with messages being relayed via control, and brief. It certainly makes a change from sitting at a special event station calling CQ, or having a rag-chew, and it's a very rewarding experience.
If you're an amateur looking to get more out of the hobby – RAYNET could be for you. You'll learn how to use the VHF/UHF frequencies in a very different way, and by being paired with experienced operators, can get first hand knowledge of things such as mobile repeaters, DMR, generators, APRS and event planning. You also get the real feeling of being part of a team, and making a difference.
Find out more at www.essexraynet.co.uk
Related links