Today was a busy day for several Essex Hams, who were taking part in the Southend Raspberry Jam.
This is a regular event put on by the good folk at SOSLUG (The Southend Linux User Group), at the Tickfield Centre in Southend. The event concentrates on Raspberry Pi, Linux and Arduino projects, but also includes a whole range of other technologies, such as 3D printing, programming, robotics, construction kits, drones, weather stations, and of course, amateur radio.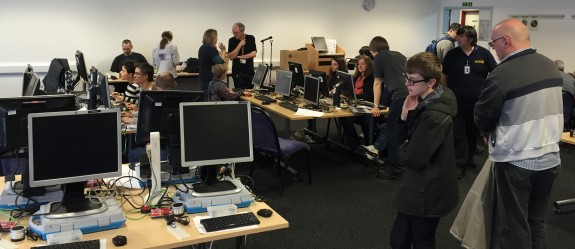 We attended the fourth Raspberry Jam last November, and really enjoyed the mix of tech, chat, and new ideas. It's a great opportunity to promote amateur radio to an audience keen on technology and innovation. Here are some of the demonstrations we laid on at the Jam, to help promote our hobby:
The popular "Send your name in Morse Code" demo, by Nick 2E0DVX
A demo of SSTV decoding, showing images from the ISS
Decoding of PSK31 traffic on a Raspberry Pi
A display of how to send packets to the ISS using a GPS TNC
The £10 USB SDR dongle connected to the budget Windows 8.1 Linx tablet
Essex Ham's scrolling "What is amateur radio" video, played back on a Raspberry Pi
Add to that, a good collection of leaflets, including some of the RSGB's material and some created by Essex Ham to promote the hobby.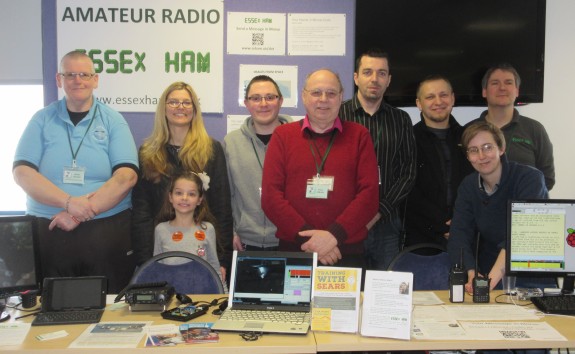 Essex Ham was spread over two tables, and was conveniently sited next to Charlie M0PZT who was taking a break from amateur radio to sell his Ham Goodies project kits and accessories.
We had a lot of interest from people keen to find out more about the hobby, and potentially looking to get started with amateur radio – it was great that several members of the South Essex Amateur Radio Society came along. Steve 2E0UEH, who's looking after training for SEARS, had produced a new leaflet promoting the club's upcoming Foundation course in April. With SEARS being the nearest club to Southend offering training, it was great to see so few leaflets left by the end of the day.
One of the more popular attractions was Nick 2E0DVX's "send your name in Morse" demo – this time running on a Raspberry Pi. This time around, visitors could type in a message on the keyboard, as well as from a smartphone – thanks to some Essex Ham tweets, a number of amateurs sent in names and greetings too.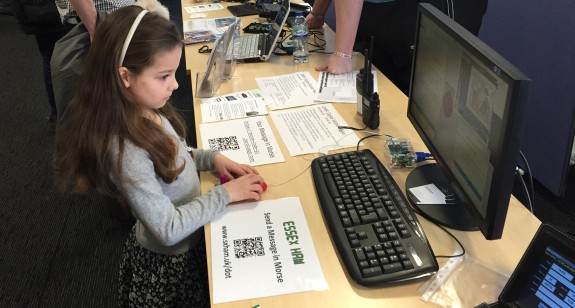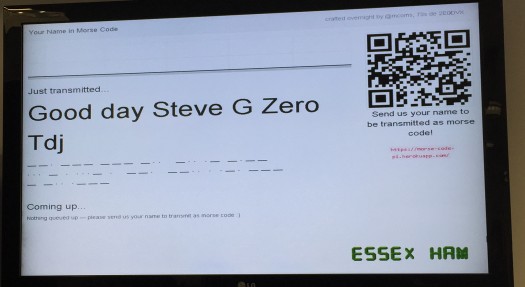 As well as amateur radio, plenty of other things to do – and Kathryn, our youngest member, had fun learning to solder and create a small wearable tech badge.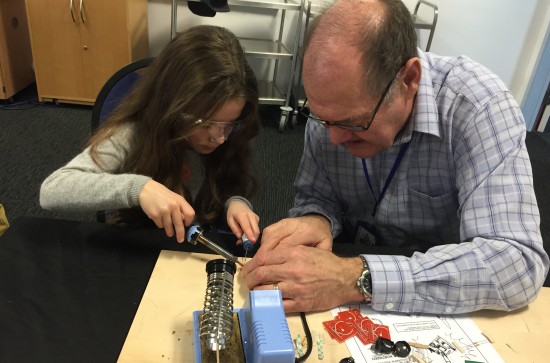 All in all, a great day… Fun moments of the day included: Jakub simulcasting the raffle numbers in Morse as they were drawn, some of the odd messages received on Nick's Morse Message demo, helping to set up FLDigi and the Funcube dongle for Raspberry Pi tracking, and scanning for the frequency of the event's radio mics and listening in via the £10 Realtek dongle.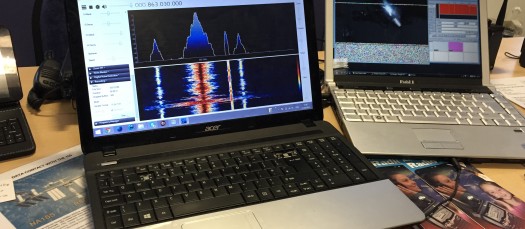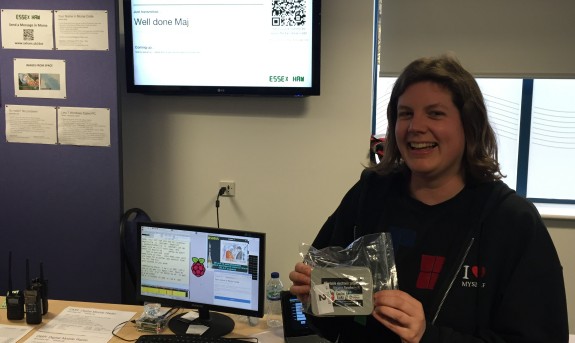 Thanks to the various amateurs and supporters who helped out by promoting amateur radio, and for making it a great day – and thanks to SOSLUG for allowing us to come back!
Related Links