The September, Essex Ham will again be supporting International Air Ambulance Week. We'll be at Earls Colne Airfield, the home of the Essex Air Ambulance, for three days in September.
IAAW is a nine-day amateur radio event to support the work done by Air Ambulance services around the world, and we're proud to be supporting the Essex Air Ambulance for this year's event. The following video (from last year) summarises the event:
2018 Planned Operations
We are currently planning to be operating at the following times:
Saturday 8th September 2018 from 10am
Wednesday 12th September 2018 from 10am – On Wednesday, we will be operating for the first time as GB1NHS
Sunday 16th September 2017 from 10am
Supporting the event
Everyone's welcome to attend – and hopefully to do some operating. Come along to help support the event, and spend some time with the team at Anglian Flight Centres, a busy flying school.
Attending / Visiting GB4EAA – What you need to know.
We have a limited space from which to operate. You will not be able to bring along your own radio kit and set up your own station unless it has been pre-arranged with Pete M0PSX
We are guests of the Anglian Flight Centres, an active airfield. We must obey their rules at all times. Visitors to GB4EAA should report the Essex Ham station to be briefed. Access to the apron, aircraft and air ambulance hanger is restricted for obvious reasons
In previous years, we've been lucky to see several aircraft launches and meet the crew, as well as operate two HF and one VHF station. As this is an active airfield and the Air Ambulance is on-call, there are no guarantees.
There's free parking at the airfield, and on Saturday, we're very close to a burger van for excellent breakfast and lunch. The flight school has basic tea-making facilities in return for a small donation, and they kindly allow us to use their loos.
Essex Air Ambulance is a registered charity. Essex Ham asks that all visitors to GB4EAA make a donation to the Essex Air Ambulance. A collecting tin will be available during the event, plus there may be the opportunity to buy a souvenir badge. Please show your support and make a donation.
Please keep an eye on Essex Ham's Twitter feed for updates on the event.
Location:
Anglian Flight Centres Ltd
Earls Colne Business Pk Airfield
Lancaster Way
Earls Colne
Colchester CO6 2NS
If you can't make the event – please try to work us on-air (updates on frequencies via Twitter), and of course make a donation (see below).
Donate to Essex Air Ambulance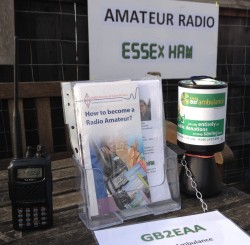 It costs thousands of pounds a month to keep the Essex & Herts Air Ambulances flying, and your support is needed.
Please show your support for the excellent work that the Air Ambulance does. Collecting tins are situated around the county. You can also donate online, by post, or on the phone – See ehaat.org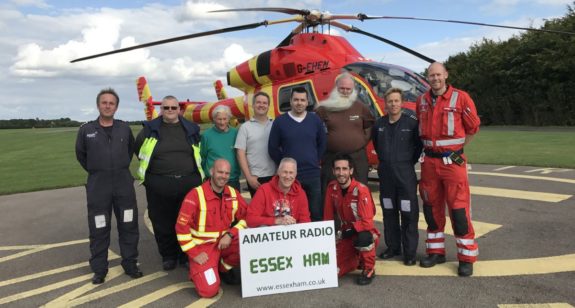 Essex Ham is an official supporter of Essex Air Ambulance. Supporter ID: 47279
Our Thanks
Our thanks to team at Anglian Flight Centres at Earls Colne Airfield for allowing us to set up our stations in support of the Essex Air Ambulance.
Related Links