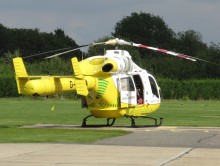 Saturday the 4th of October was the third and final of Essex Ham's events activating the callsign GB2EAA at Earls Colne Airfield, in support the Essex Air Ambulance.
The activation is part of the amateur radio community's support for International Air Ambulance Week 2014, which sees over 20 other special event stations operating over a 9 day period to raise awareness of the air ambulance service and promoting the vital service that they offer.
You can read about our first event here: Essex Air Ambulance Event 28 Sept 2014 and the second day of operation here: Essex Air Ambulance Event 01 Oct 2014
Day Three of GB2EAA
The team arrived on-site just before 9am, and two Essex Hams were in for a real treat. On the two previous events, we'd been incredibly well looked after by the team at Anglian Flight Centres at Earls Colne Airfield, and one of the centre's instructors, Eddie, offered to take Jim 2E0RMI and Pete M0PSX up for a short spin around the airfield.
Flight of the Essex Hams
The forecast for most of the day was looking grim, meaning possible disruption to flights from the airfield, and so to get some flying in before the weather closed in, Eddie loaded Jim and Pete aboard the Piper Cherokee, taxied into position, then reached for the skies.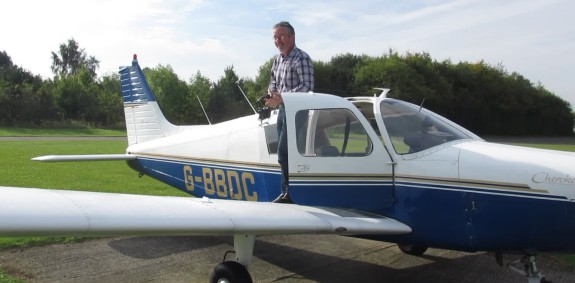 What we thought would be a short circuit around the airfield, turned into an amazing flight around a good chunk of North Essex, including Clacton, the Orwell bridge, Walton-on-the-Naze and Harwich. For once, Pete and Jim were both pretty speechless, taking in the breathtaking views of our county. Eddie is a superb pilot who talked us through every step of the flight, from pre-flight checks, radio procedures, navigational basics, flight controls and instrumentation.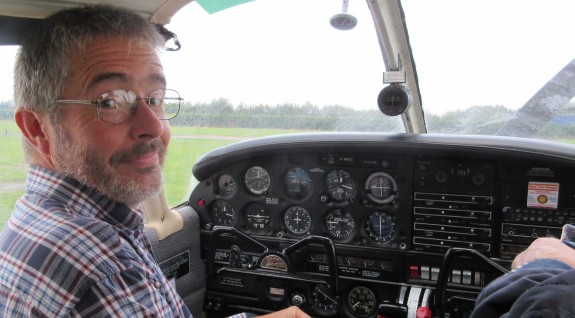 Up in the air, we got a unique view of some of the places that we've set up radio stations, including the LV18 Light Vessel in Harwich, the High Lighthouse in Harwich, and most recently, Walton Pier (for the GB5OR offshore radio event)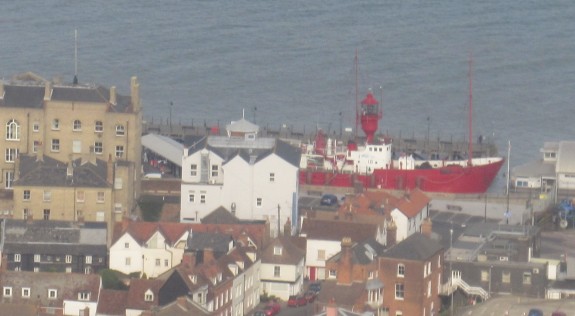 Unknown to Eddie at the time, this was only Jim's second ever time in the air, the first being a standard shorthaul Easyjet flight. We're not Eddie would have taken the next step had he known this, but he briefly handed control over to Jim to make a gentle couple of turns and to climb the aircraft. Jim is now, of course, hooked.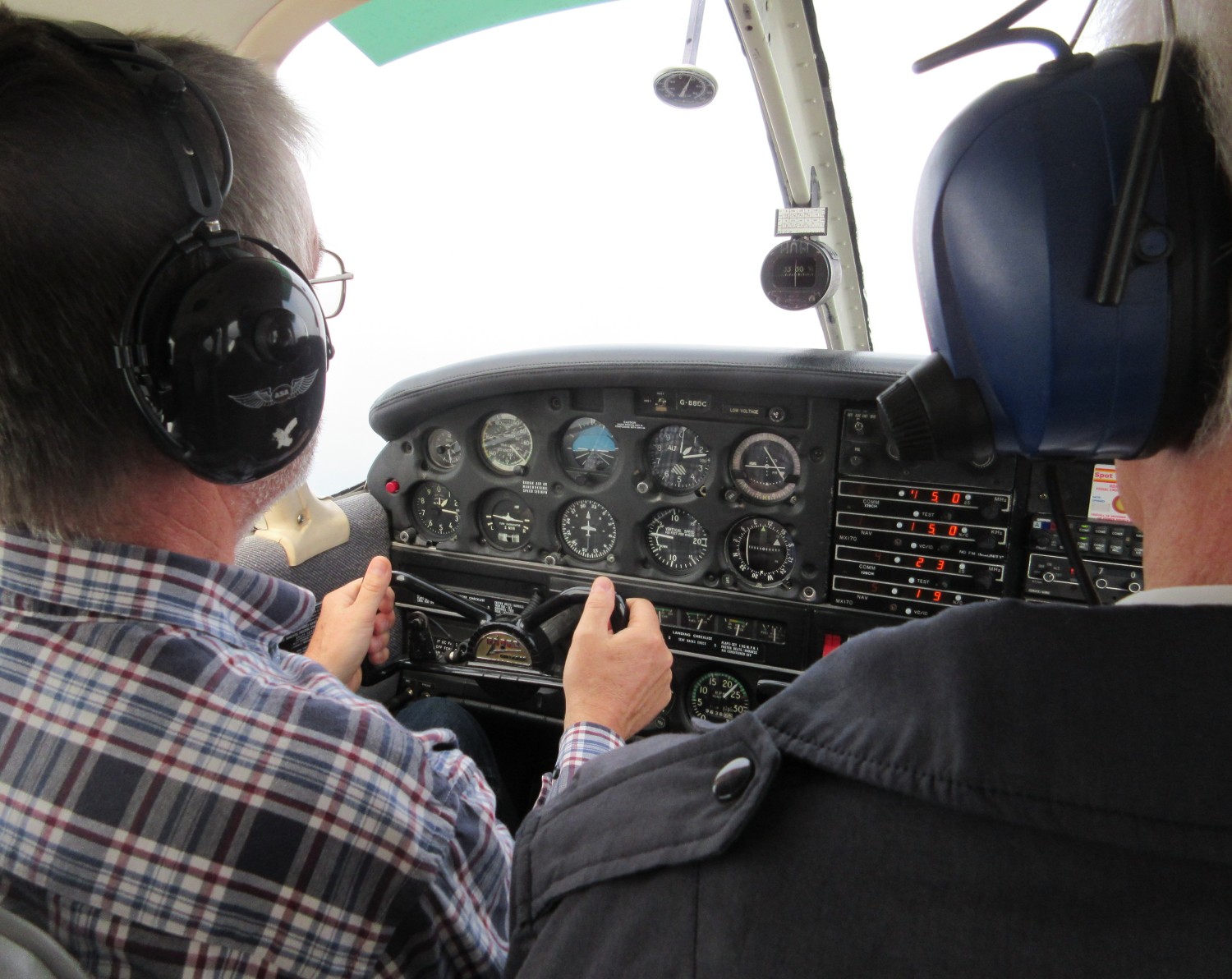 On the return to the airfield, we entered a bank of cloud, which was a little disconcerting. A breeze for an experienced pilot such as Eddie, but with no visible horizon or landmarks, it's slightly disorienting being engulfed in blanket of white. Instruments give an indication of heading, plus pitch and bank angle, and when we emerged, we were right on course for the airfield.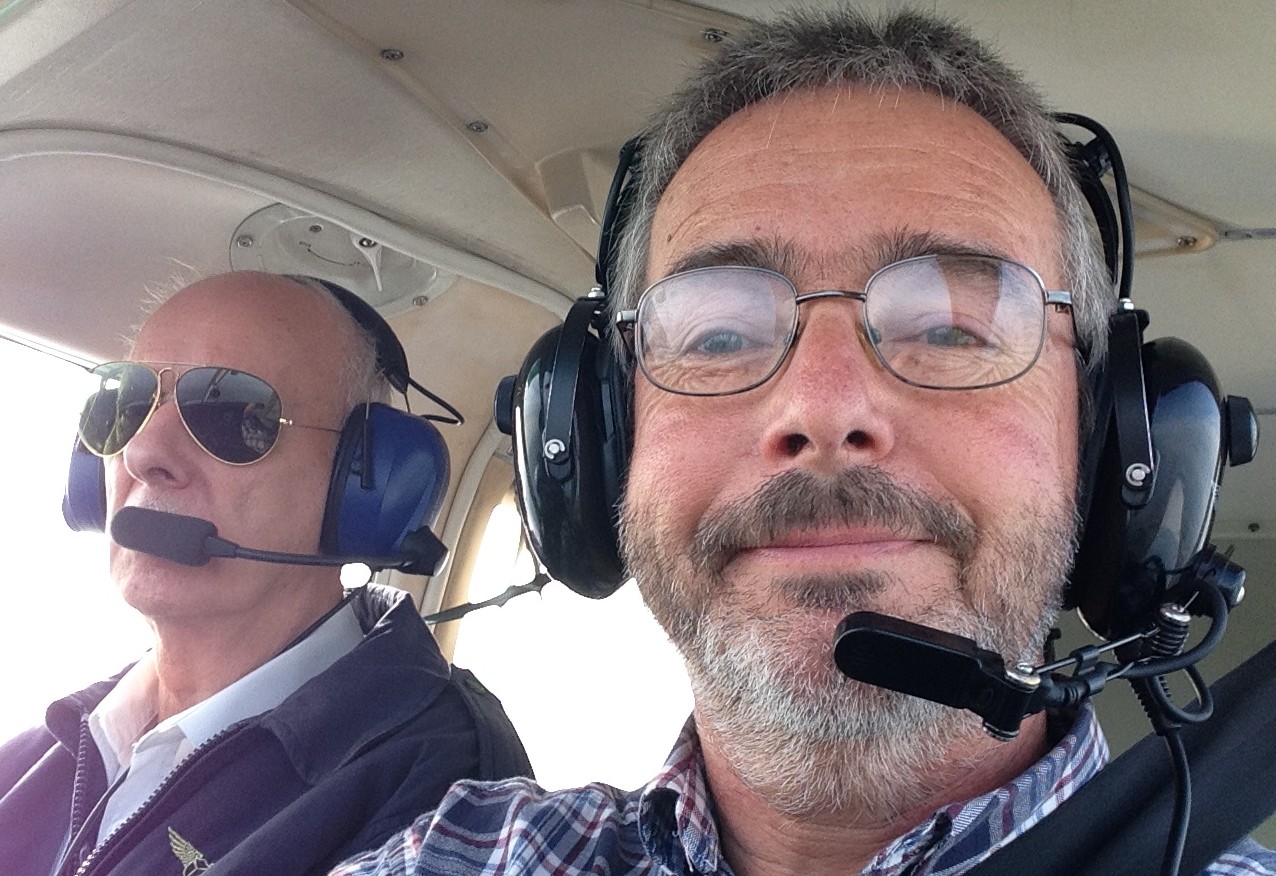 The radio equipment was of particular interest, and we listened in to several beacons and weather services whilst airborne, including various ADF signals and the ILS beacon at Southend. Morse isn't mandatory for pilots, but with many beacons giving callsigns in CW, Eddie's Morse-literate, although not at the speeds that one of our team was operating at later in the day.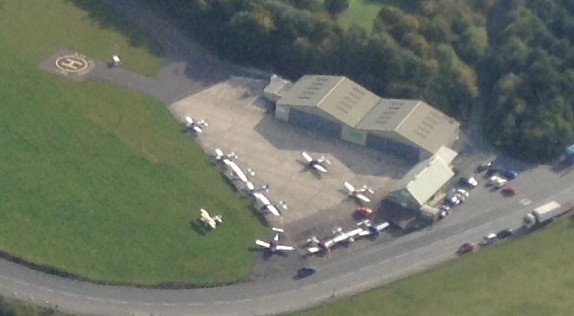 Back on the ground after a very smooth touchdown, two very very happy Essex Hams had smiles on their faces for the rest of the day. A huge thanks to Eddie Ford and the team at Anglian Flight Centres for getting us up in the air. Jim and Pete are now looking at dates for trial flying lessons from Earls Colne.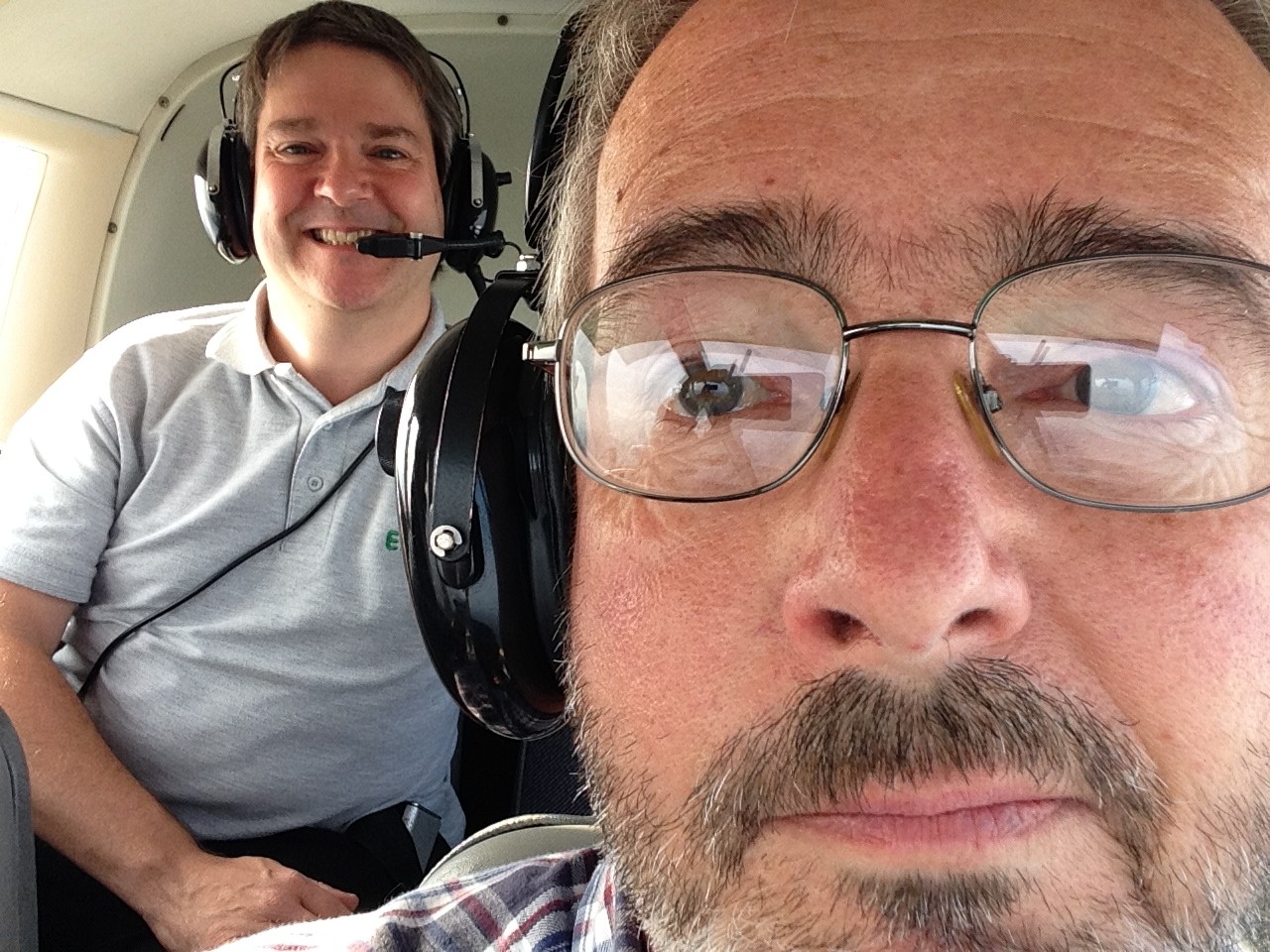 Working GB2EAA at Earls Colne
Back on the ground, we were back to the world of amateur radio. We were greeted by one of the Essex Air Ambulance charity team, adorned in the bright yellow colours we've got very familiar with over the last week.
After a cuppa and a chat about what we were up to, time to get GB2EAA on-air. Charlie M0PZT quickly set up the 40m inverted V, on loan to us by James 2E1GUA. Pete M0PSX set up the 2m Slim Jim, and we were then joined by Pete G0DZB, who set up a vertical for 30m CW.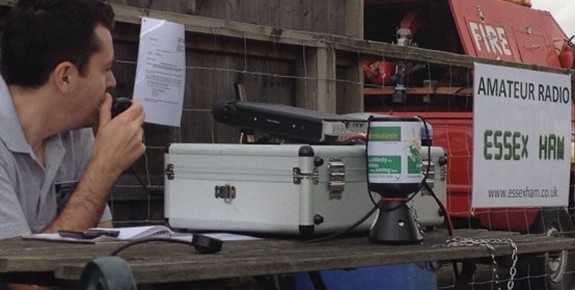 Charlie managed to fill up a sheet of log entries on 40m before things changed for us.
After two days of good weather, the forecast for the third day hadn't looked good – solid showers for the afternoon, and that's exactly what we got. A minor inconvenience for us, but more of an issue for our hosts at Anglian Flight Centres at Earls Colne Airfield, as training flights obviously aren't possible in poor weather or low visibility.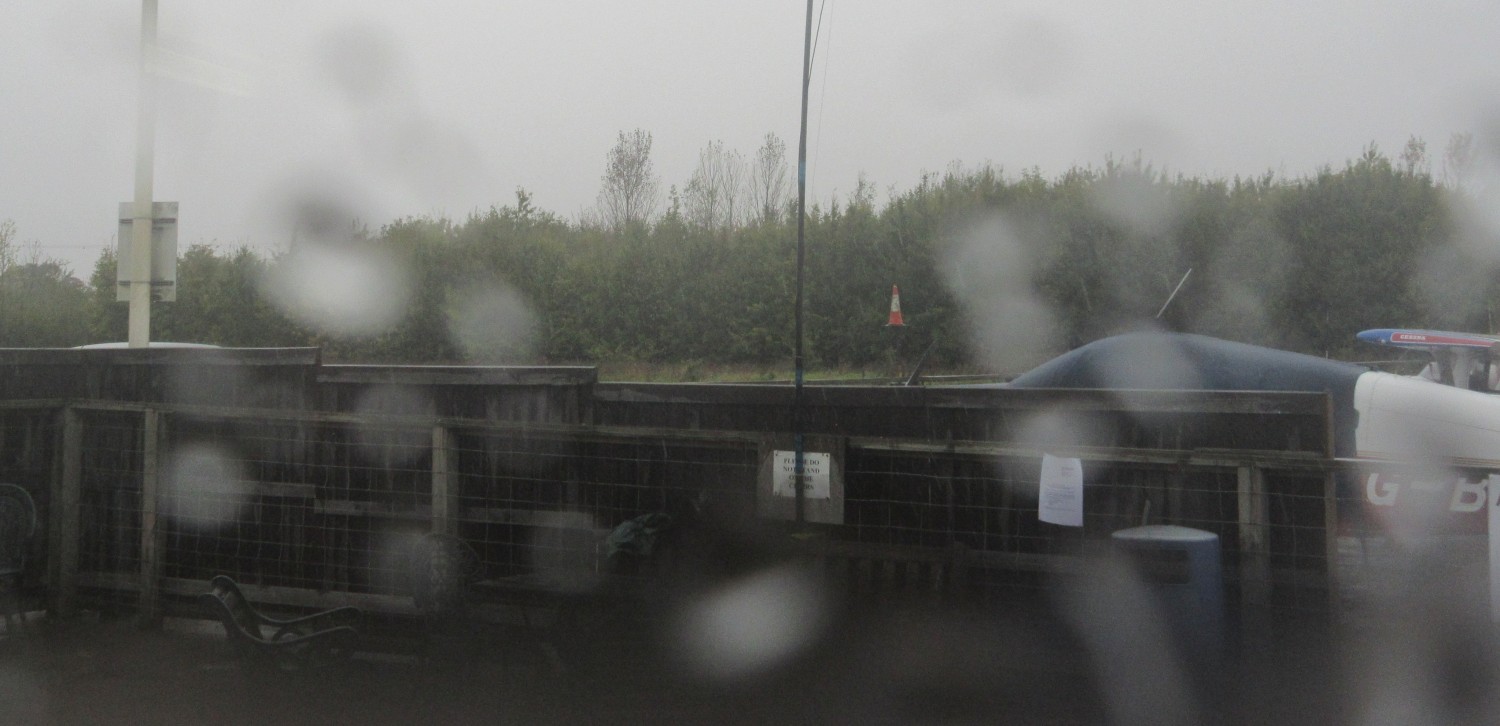 We'd been offered space in the Air Ambulance visitor centre, but worried about securing a long cable run in the torrential rain, we were very grateful to be offered space in two of the flight training booths close to our antennas. We were quickly able to set up, with Charlie and Pete operating in one booth on 40m voice, with Peter next door on 30m CW.
For most of the day, we had a solid pile-up on 40m with almost no letup. Over 120 contacts were made, mostly in the UK, but also with France, the Netherlands, Belgium and a scratchy Sweden. Peter G0DZB worked stations including Belgium, France, the Czech Republic, Germany and Italy, all on 30m CW.
We also made contact with both the Kent and West Midland Air Ambulance special event stations, taking our tally to 9 of the 19 other UK stations taking part over the 9 day International Air Ambulance week.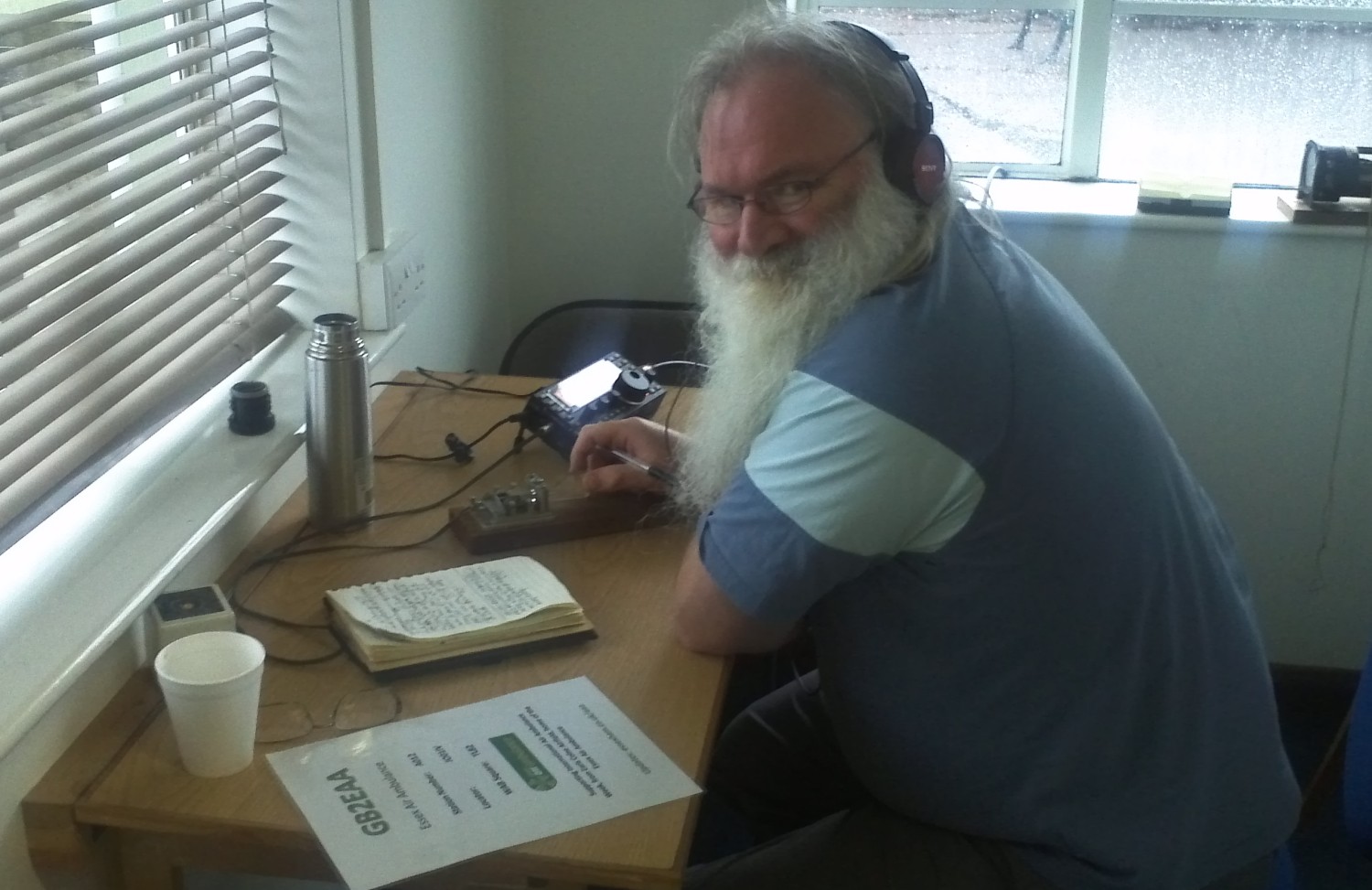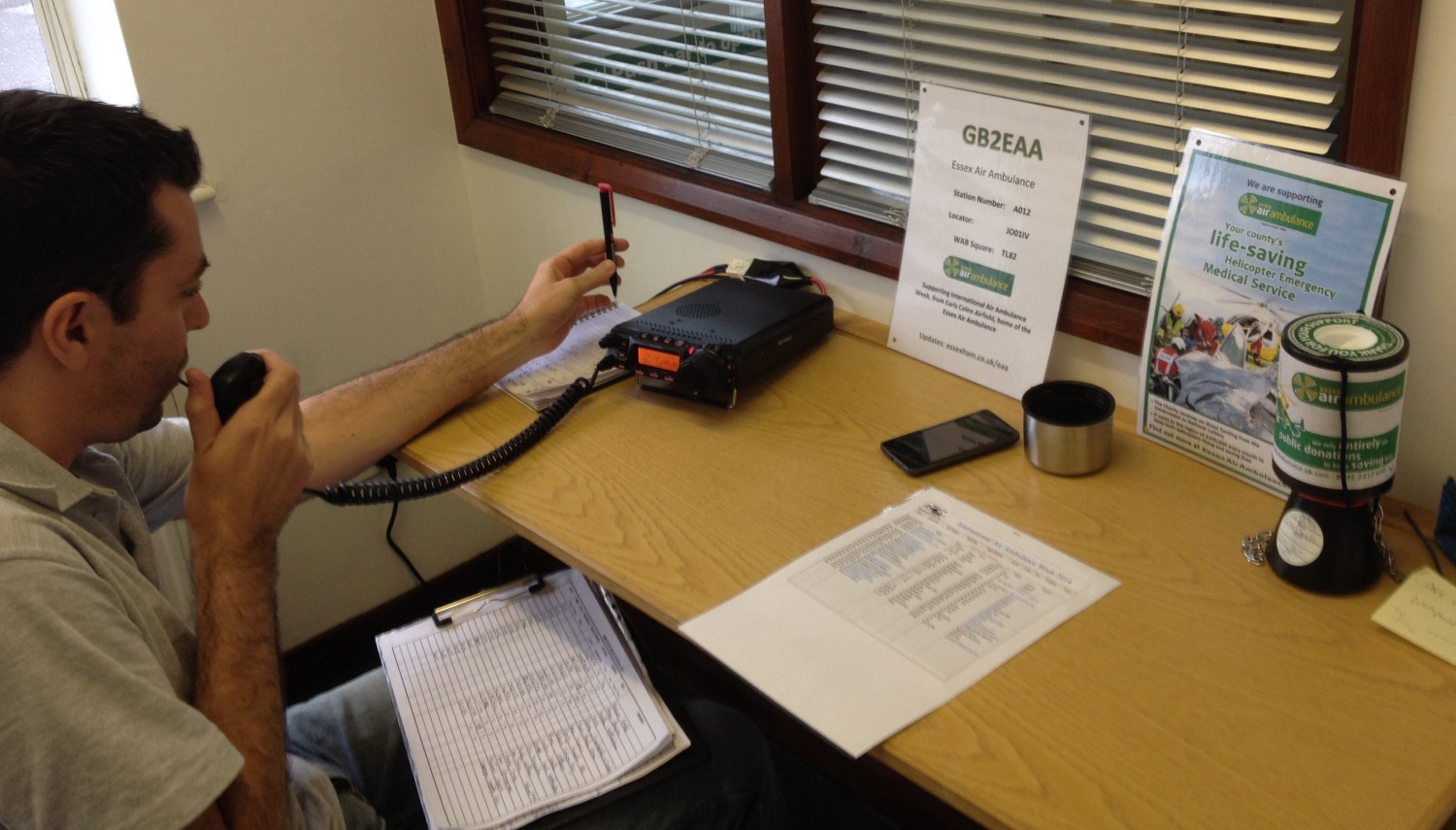 Despite the weather, an excellent day of radio, and a great day at Earls Colne Airfield. The rain subsided on cue at 5pm, our de-rig time, allowing us to take down the aerials in the dry, before waving a final goodbye to our friends at Anglian Flight Centre, and to the Essex Air Ambulance Airbase.
Donate to Essex Air Ambulance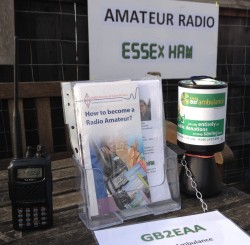 It costs around £440,000 a month to keep the Essex & Herts Air Ambulances flying, and your support is needed.
Please show your support for the excellent work that the Air Ambulance does. Collecting tins are situated around the county. You can also donate online, by post, or by texting HELI25 to 70070 – See www.essexairambulance.uk.com
Essex Ham is an official supporter of Essex Air Ambulance. Supporter ID: 47279
Our Thanks
Thanks very much to the team at Anglian Flight Centres at Earls Colne Airfield for allowing us to set up our stations in support of the Essex Air Ambulance, and for putting up with us and our wires for three days.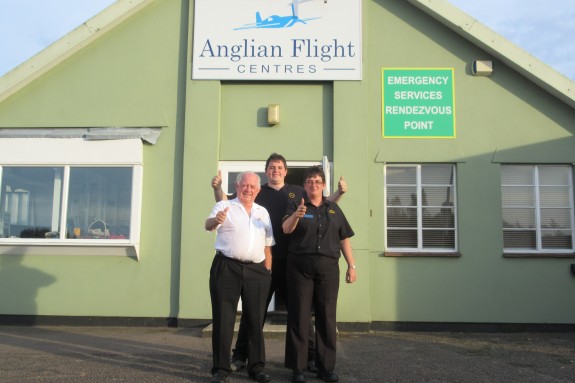 Thanks also to Eddie for the flight around the county, and to Norm for the very welcome breakfast baps and lunchtime burgers. Thanks also to the Essex Air Ambulance crew for spending time with us, and for the team at the Essex & Herts Air Ambulance Trust for making it possible for us to put on the stations.
Event Photos
[ngg src="galleries" ids="37″ display="basic_thumbnail"]
Thanks to Jim 2E0RMI, Charlie M0PZT and Pete M0PSX for the photos
Related Links