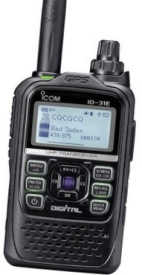 D-Star is a digital amateur radio system promoted by hardware manufacturer icom. The system comes into its own when you connect your D-Star radio via a D-Star repeater. This gives you access to stations around the world.
Setting up a radio to access a D-Star repeater is not as easy as programming for an FM repeater – as well as setting up your transmit and receive frequencies, you also need to program in your callsign. In order for your traffic to be passed over the Internet, you need to have your callsign registered on the D-Star network, which traditionally has not been simple.
We hope to be able to add details of how to set up an icom radio for use on the D-Star network soon, but in the meantime, this page contains what we hope is some useful information:
D-Star Gateway Registration in Essex
The first D-Star repeater for Essex was GB7ZP – This D-Star repeater is located in Danbury, near Chelmsford and is operated by the Essex Repeater Group (www.essexrepeatergroup.org.uk)
The Essex Repeater Group has acknowledged the problems in getting users registered, and is currently unable to register users itself. Their advice in 2014 was to contact retailer Waters and Stanton in Hockley, who would be able to register users in Essex. Waters and Stanton operated a D-Star repeater from their store in Hockley (GB7SS) until 2017, and were offering to carry out registrations for Essex users.
Update 2015: The operator of GB7KH, the D-Star Repeater located in Kelvedon Hatch is now able to register users for the D-Star system. To get your D-Star ID, go to the following website and enter your details:
Thanks to repeater keeper George M1GEO for offering this service to D-Star users in Essex
Related Links