We're aware that several "misconceptions" have recently been doing the rounds about Essex Ham at the moment. I had planned to keep quiet on the subject, for fear of making waves, but I've been persuaded by a number of members on a Facebook chat that getting this out in the open is, in their opinion, the best way to dispel the myths, clear the air and let everyone move on. Essex Ham is an open group, driven by our members, and we have nothing to hide, so let's have a go. Anyone is welcome to challenge anything I've outlined here (publicly, in the comments section below, for all to see), and I'm happy to provide more information if required.
Pete M0PSX – 29 March 2018
Is Essex Ham is planning to take over the world?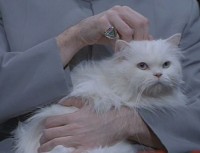 No. Why would we? Essex Ham was created in 2011 to try to fill two gaps – there was no regular "newbie" net in Essex, and there was no website for Essex covering amateur radio. Essex Ham has grown, largely due to members asking for something, offering help, or making suggestions.
Yes, we do like getting PR for our group, our members, and the hobby at large. Getting in the local press or on local radio to talk about amateur radio seems to be a sensible thing to do to promote the hobby. Also, if we run a successful event, do some community outreach, or a member does something interesting, then we put it on social media and send the photos to Radcom and PW. We're not sure what the problem is with getting the hobby and our members, a little PR now and again. Oddly, another club raised this issue in 2014, see: What's Essex Ham Doing Wrong
Is Essex Ham is trying to take over Club X?
Seriously? As of March 2018, we have 390 members in Essex, 500 elsewhere in the UK, and 150 overseas. With over 1,000 members, we are now one of the largest clubs in the UK, thanks to the support of our members. (A good percentage of members of the 12 traditional clubs in Essex are also members of Essex Ham anyway)
Essex Ham's filled a gap that isn't being served by traditional clubs – so becoming (or taking over) a traditional club makes no sense. It's also clear from our member survey at the start of 2018 that there's considerable support for us to carry on with what we doing.
Is Essex Ham a business / making a fortune?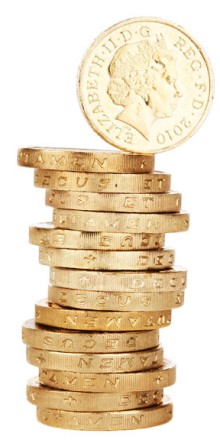 No, and no. As we're a 'virtual' club, we don't charge a membership fee, don't charge for events, and our training courses are free. It's not cheap running a free club, so we do try to raise money to help cover our costs. Here's how:
Donations for our online course: The vast majority of our students simply don't make a donation. The reason is simple – after they take our course, they go to a traditional club and pay that club to do their practicals and exams. We actually generate business for traditional clubs who get students knocking on their door who've already been trained and are happy to pay for practicals and exams. You're welcome, clubs!
Online Ads: We display Google Adsense adverts on our site. Ask anyone in Internet marketing if banner ads make money these days. For a niche hobby website with a fairly small number of visitors, we're talking pence per day.
Affiliate referrals. We take part in a handful of what are known as "affiliate schemes". If we recommend someone to visit a website and they buy something, that company pays a small commission. It's quite common practice. As an example, the most popular product we recommend, is the £10 RTL dongle. Amazon gives us 3% commission on sales of these, and on a good week, we may sell 2 (netting us a massive 57p a week)
Now, let's look at the outgoings. Essex Ham has 9 web domains and 4 websites (essexham, hamtrain, hamskills, sxham), all with ongoing annual costs. Hosting isn't cheap, especially when you are hosting podcasts and video. Then there's the cost of running our 24-hour Internet stream. We pay the RSGB (to be an affiliated club), and ERG for use of their repeater on a Monday. We pay to have a table at the Canvey Rally. We paid to get custom artwork done for some of the Foundation Online modules, paid licence fees for our music used online, and paid for getting our "Morse jingle" and video animations put together. Then there's the WordPress website theme and software (our forum software isn't free). We've also bought stuff – a 20m filter, a Gazebo, the demo Raspberry Pis, our wi-fi hotspot for events, and an audio mixer for the Monday Net stream. Then, there's our free car stickers (not cheap), our business cards (over 750 printed so far), plus the printing for those free "Getting Started Guides", plus the lanyards and ID pouches. Add in setup costs for the T-Shirt logo, video software, donation to Air Ambulance, laminator pouches, the list goes on.
Anyone with any knowledge of how much some or all of the above cost, will fairly soon realise that we can't make a profit from running a free club. Even after actual cost – consider how many how many hours it takes up a year running Essex Ham? How many phone calls? How many miles? How much stress?
We don't have the luxury of guaranteed membership fees each year, profitable training courses, tea & coffee money or admission fees from events, or raffle proceeds to cover our costs. We don't have thousands of pounds in a club bank account either, for that matter. Nuff said?
Does Essex Ham / Pete M0PSX have an agenda?
Yes. Doesn't everyone?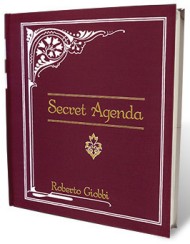 Essex Ham's is proudly displayed on our home page – to promote & support the hobby.
Where we've found a gap in the current local amateur radio offering, we've tried to fill it – Examples over the last 7 years include: Newbie Net, County-wide website, our events calendar covering training & events from other groups, the YL Net, our chatroom, audio/video podcasts, Essex-wide support forum, Getting Started Guides, training videos and material, online training, PR for the hobby, plus lots more.
This is all stuff that we saw there was a need for – stuff that no-one else was doing. Does anyone really have a problem with that agenda?
And Pete M0PSX? "It's a great hobby, I've met loads of great people, and feel I've helped to make a difference in promoting the hobby. Just because someone chooses to give up their free time to do something they enjoy, doesn't mean there's a sinister ulterior motive. I'm sure the same is true for the majority of the RSGB's other 849 volunteers. I've been a member of a local charity radio station for 32 years – I do that for the enjoyment too, and not for any tangible gain – exactly the same as the majority of volunteers for charities and non-profit groups."
Has Essex Ham walked away from the Skills Night?
Sadly yes, but not by choice.
Between August 2016 and September 2017, Pete M0PSX had been in talks with the event's host club CARS about a "reboot", due to a drop in numbers, the need for something new, and as CARS were no longer running activities or staffing their table. After suggestions for a reboot were rejected by CARS, they experimented with a CARS-only social / show & tell format at the end of 2017, which didn't appear to be well-received. Pete was given permission to start work on a "Skills v2" event, and commissioned a survey that many Skills Night attendees completed. Plans were in progress for a revamped event, going back to the original Skills concept as a neutral event supported by a group of clubs working together and not owned by any one club (the 'Suffolk RED' model), at a more appropriate central-Essex venue.
In December 2017, the new CARS committee expressed concerns about a perceived a conflict of interest with Pete M0PSX helping out at CARS (due to his involvement with Essex Ham). After a brief email exchange, it became clear that CARS had some 'issues' with Pete and/or Essex Ham. Pete asked if CARS would like him to step away from CARS until things could be resolved. The offer was accepted. It was left that should CARS have an interest in working together again (benefitting both groups), then Essex Ham would be receptive, and until then, Essex Ham would be happy to continue to promote CARS' events via the group's website and social media.
Nothing further's been heard, and we continue to promote CARS' activities including the Skills Nights.
(Note from Pete M0PSX – "It's sad to have to walk away from an event that I've worked so hard at over the years. My thanks to everyone who came along, helped out, supported the event, and helped to make it great. I genuinely think we made a difference.")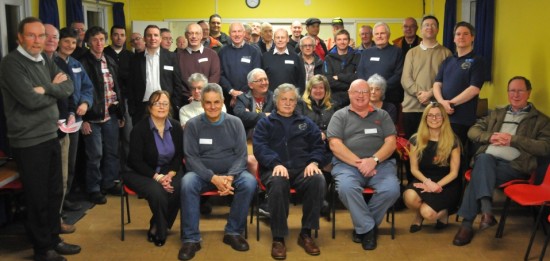 Was Essex Ham taking the credit for Skills Night?
The reason for this myth is actually quite simple. From the start, it's been a CARS event, and that's always been made clear when we've promoted the event. Look back at the early event photos and check for yourself.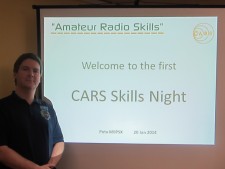 The reason people have assumed the Essex Ham connection is two-fold. Firstly, it was part of the original "deal", and secondly, it's the way that PR works. At launch, it was agreed that CARS and Essex Ham would jointly promote the event. Frankly, Essex Ham's PR was better. For example, for the first 18 months of Skills Nights, CARS didn't have a Facebook or Twitter account. They also didn't operate an opt-in mailing list, and didn't run a busy weekly 2m net. CARS members heard about Skills from the CARS newsletter, and the rest of Essex (and beyond) heard about it from Essex Ham (confirmed by the 2017 Skills survey).
Lots of people heard about it from Essex Ham, and came along because the promotion went to a much wider audience than just CARS. There's a strong body of opinion that without the foresight of Clive Ward G1EUC, that early spirit of co-operation between groups such as CARS, Essex CW and Essex Ham, there wouldn't have been a CARS Skills Night.
If you care, here's the history:
Skills Night was developed by Pete M0PSX in late 2013. Originally planned as something called "Foundation +", Pete first presented the idea to TARG, who chose not to adopt it, allowing Essex Ham to run with the concept. Clive Ward G1EUC at CARS saw an opportunity and suggested that the idea be pitched to CARS. To fit the CARS demographic, the pitch was changed to focus on all levels, not just Foundation. The December 2013 pitch stated that the event would be "run under the CARS banner, and supported by the CARS Training Team and Essex Ham". Promotion of the event would be shared between CARS and Essex Ham.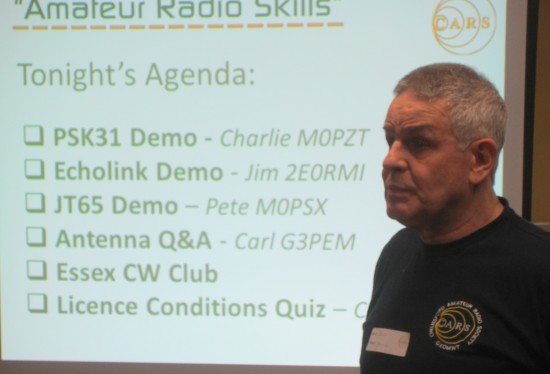 For the event to work, a wider group of people needed to be involved. Just having the CARS Oaklands Museum attendees going to Skills wouldn't have worked. For that reason, Monday night was selected, so that the event could be a meeting place for Essex Ham's Monday Night Net regulars and get a new crowd along. Also, we needed helpers and demonstrators from other clubs and areas, to keep it interesting.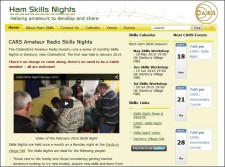 A "club neutral" approach was needed, to attract other clubs, so the website "HamSkills" was created for the event (hosted free by Essex Ham). For the Skills Night to be a success, it needed to be a collaboration. CARS provided the venue, Essex Ham largely drove the PR, the Essex CW Club got behind it, and volunteers from lots of clubs helped out.
The co-operative deal ended with the very sad passing of Clive G1EUC in 2015, which is when the new CARS team decided to change things, such as switching from HamSkills to CARS. But that's a whole different story!
(By the way – If anyone doubts any of this, there's a substantial paper trail to back this up: the original written proposal, CARS minutes from 2013/14, emails, the announcement in the Feb 2014 Radcom and in the Jan 2014 CARS Newsletter, write-ups on the CARS and Essex Ham websites and in the CARS newsletter, review in the March 2014 Radcom, etc.)
Would Skills have happened, or been a success in those early years, without Pete's original proposal, the help of Essex Ham and its members, and the foresight of Clive G1EUC? You decide.
What have we missed?
Any Essex Ham myths still to be explained? Let us know in the comments below.
Questions… Comments… Disagree?
Rarely does a week go by without some rumour or other about Essex Ham being circulated. It's great that we're such a hot topic for conversation -but if there's something on your mind… just ask out in the open, and we'll give you an answer. Our forum, Facebook group, email chat group, chatroom, Twitter feed and comments section are all open and public!
Heard a rumour? Have a question? Please add a comment or question below, and we'll answer for all to see, so that you can make up your own mind!
Enough, already
Can we now get on with having fun with radio for a bit please?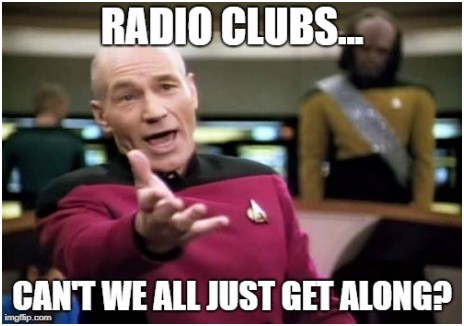 Related Posts