Today, Sunday the 10th of August 2014, saw a rather interesting day of amateur radio at Sandford Mill, near Chelmsford.
The Chelmsford Amateur Radio Society (CARS) had secured a slot to operate HF voice from this afternoon's public open day following last week's First World War Commemoration. Door opened to the public just after 2pm, and CARS were quickly on the air. But not for long.
Mid-way through the first QSO with a G1 station in Ipswich, out went the lights, and off went the station. No, CARS hadn't pulled in too much power and blown a fuse – the problem was external to Sandford Mill. This was the scene at around 2:15pm – GB100MWT QRT, due to lack of power – blurry photo due to lack of light: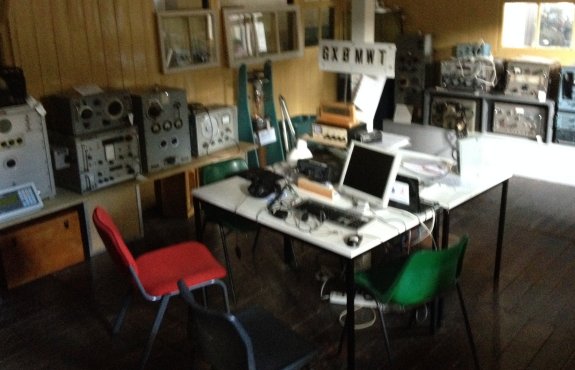 When All Else Fails…
In an effort to radiate something, we briefly toyed with the idea of using handhelds or car batteries, but best option was to get back on air with the aid of a local generator. John G8DET and Charlie M0PZT sped off to John's QTH to get his generator, whilst Jim 2E0RMI and Pete M0PSX stayed on to mind the shop and talk to the museum visitors.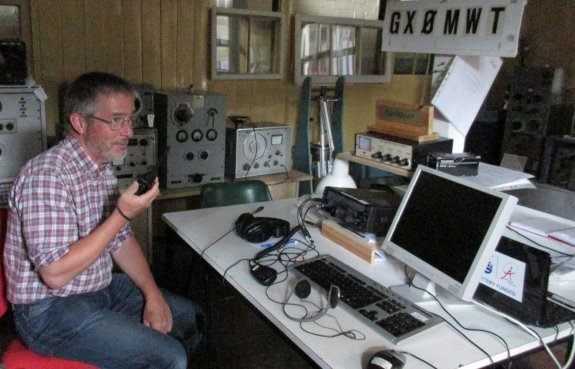 When the generator arrived at the Mill, GB100MWT was back on air fairly quickly and making contacts with stations in England, Wales, Northern Ireland and Ireland, at 100 watts using the club's FT-847, with a solid pileup until we shut down. Operators for the afternoon were Charlie M0PZT and James 2E1GUA, with Pete M0PSX logging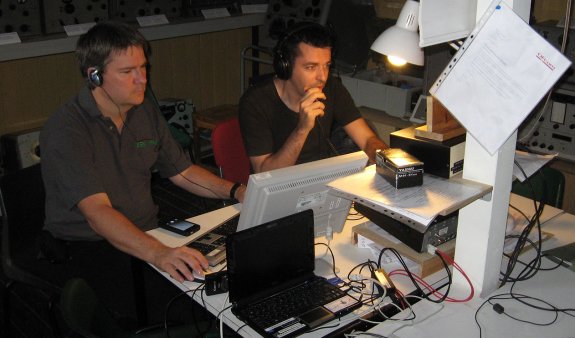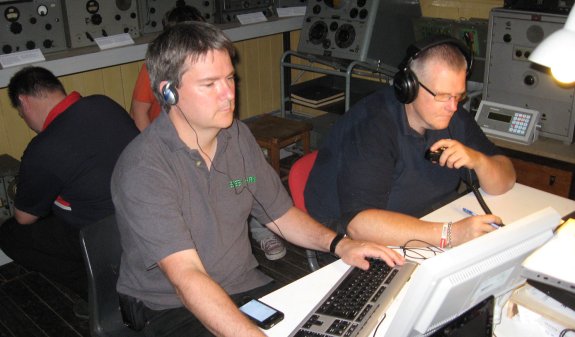 The appalling weather, and the Met Office warnings, kept many members of the public away, which given the local power outage was in some ways, a good thing – as those unable to make it have a chance to visit on the next two weekends (17th and 25th August), when CARS will be back and hopefully so will the power, and the ability to serve teas and coffees. Two of today's CARS team were equipped with flasks… be prepared!
A number of local amateurs turned up to see what we were up to, including Derek M0SCE and Lloyd M6LHG from Southend, Geoff G7KLV, Clive M0GHH and Geoff G3EDM. Thanks also to Essex Ham member Stefan 2E0DDU from Colchester, for being one of the first stations to make contact, after seeing our power cut tweet!
Power and Positives
Engineers from UK Power Networks were on site very quickly – It seems that the problem was with a downed overhead power cable out to the west of the Sandford Mill Museum, and shortly after the station closed down and the public had left – power was restored. A little frustrating that the power was lost as the first visitors were arriving and restored after they were going, but there were plenty of activities that didn't require power to keep everyone interested, and with light, laptops and radio signals active in the 2MT shack, the CARS activities drew a crowd.
In an ironic way, the lack of power helped to demonstrate some of the strengths of amateur radio – our service was able to continue regardless of the power outage, there was a good spirit of cooperation to get the station back on air quickly, and the pooling of resources and knowledge demonstrated the good teamwork that's one of the positive aspects of the hobby. We were successfully able to log electronically throughout, and the logs have already been processed, with eQSL cards for all contacts already dispatched this evening.
Thanks to Dr Geoff Bowles and the dedicated team at Sandford Mill Museum for hosting today's event, and making it a memorable one! Hopefully the next two Sunday afternoon open days will be back to "normal service"
Related Links