The weekend of the 18th and 19th of October 2014 is the big scouting radio event, Jamboree On The AIR (JOTA).
As we reported in our recent post JOTA in Essex, the county has a decent number of stations active supporting the event.
This report covers the first day of operation of the JOTA station in Basildon. This was held at the Kingston Ridge camp site, which is an excellent centre with great facilities for the cubs and scouts.
An impressive range of activities had been put in place to keep the attendees interested and engaged, including a trackable balloon launch, CW practicals, electronics kits, QSL card design, and of course, the amateur radio stations.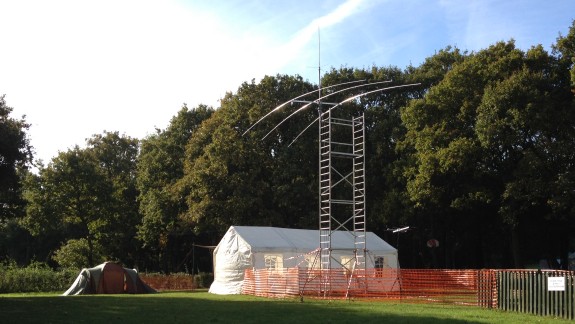 Three stations and three operators were set up to handle guest messages, on 2m, 20m and 40m. Star performer on the operating team was Dorothy 2E0NCE for working her first JOTA station, doing a great job of helping kids aged 7 to 13 to pass guest messages with local amateurs and other JOTA stations in Essex.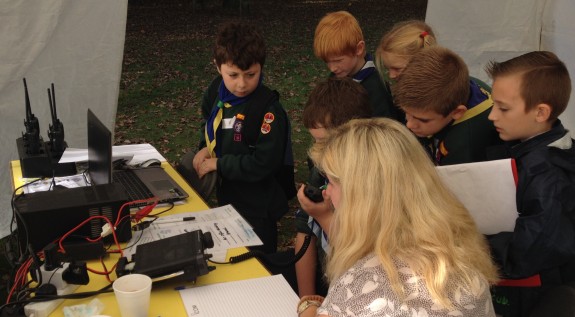 Also working on the operating team were Richard M0CLZ and Pete M0PSX, helped out by the Essex Ham girls Sarah M6PSK and Kelly M6KFA.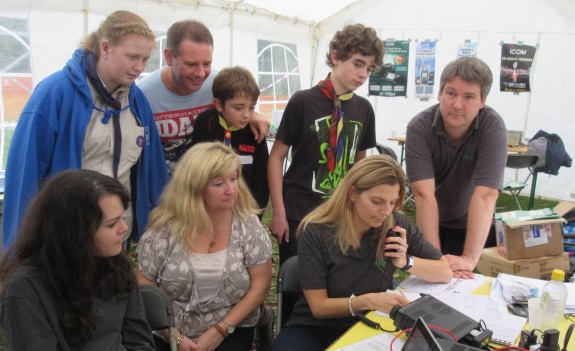 Thanks to the local amateurs who helped out with receiving guest messages, and to the following JOTA stations for working so well with the Basildon team: Chelmsford and District Scouts GB4CDS, the 1st Canvey Sea Scouts GB2CIS. (Supported by SEARS) and the 1st Corringham Scouts using GB3TSG (Supported by TAARC)
JOTA1 Balloon
This was the golden idea… launching a high attitude balloon, and allowing the scouts to track it in real-time on its journey. There was a clear air of excitement as Chris M6EDF, helped by Steve G0TDJ, launched JOTA1 on its way…
Chris got a good flight from the balloon – it traveled 370 kilometres and an altitude of 15km… it eventually ditched in North Sea off The Netherlands.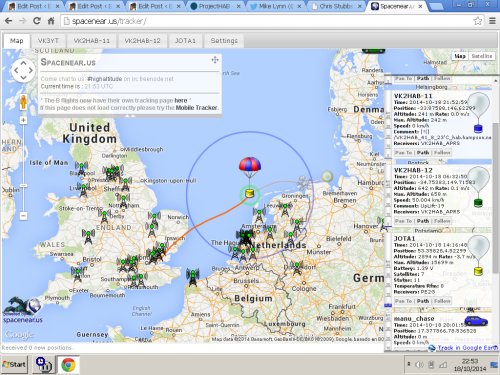 Inkeeping with the balloon theme, scouts created labels attached to helium balloons, which were released simultaneously – the aim being for other scout troops to recover the tags and make contact.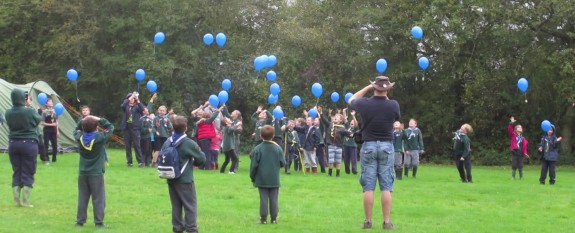 After a couple of stray balloons with the paper payloads got lodged in a nearby tree, Chris leapt to the rescue, using his antenna pole to send them on their way.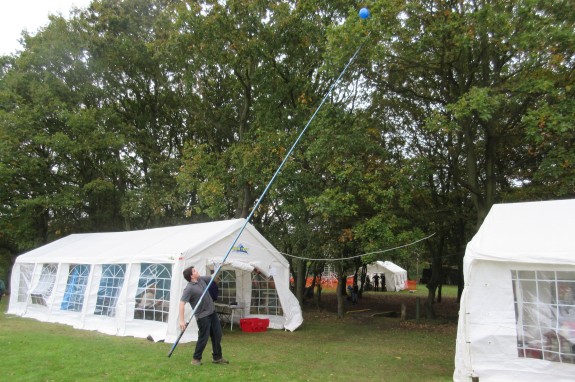 With many of the scouts staying at the campsite overnight – activities continue late into the night, with a live Skype chat explorer James Ketchell, and a construction project with minDuino kits supplied by RS Components.
Tomorrow, we're back on VHF and HF, launching a second balloon, and working with a new group of scouts. Keep an ear out for GB1LC and if we're calling looking for help with scout messages, please give us a call.
Well done to Mike G1KOT for the huge task in putting the event together for JOTA 2014, and thanks for allowing Essex Ham to be a part of the event.
Related Links