A few bits of general interest news for Essex Amateur Radio folk for next month – including details on how to join the RSGB for a pound, how to get a "V" in your callsign, and news on what local clubs will be up to in July and August.
Centenary callsign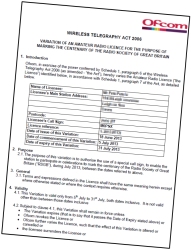 To celebrate the 100th anniversary of the RGSB, you can apply for a special addition to your callsign. Those who apply for the variation to the callsign have the option to add a "V" between the 5th and the 31st of July. Examples:
M6ABC becomes MV6ABC
2E0ABC becomes 2V0ABC
M0ABC becomes MV0ABC
G3ABC becomes GV3ABC
To be allowed to use the "V", you'll need to apply for an NoV (Notice of Variation) via the RGSB site. The process takes a minute or so, and you'll need your OfCom licence number – The NoV is emailed to you as a two-page PDF file (pictured here)
Apply for the NoV here: RSGB Online NoV Application
Join the RSGB for £1
Here's an offer that those not in the RSGB can't refuse – get a year's membership for £1. This will get you a copy of the monthly Radcom magazine, plus use of the QSL card bureau, discounts at the RSGB online book store, plus the knowledge that you#'ll be supporting the UK's amateur radio body.
There's been some controversy of the decision to offer £1 membership, notably from loyal RSGB supporters who've paid full price for years, nonetheless, it's a good offer for those not with RSGB, and may help to boost member numbers. The £1 offer is only available until the 14th of July 2013, and you can find out more here: RSGB Membership
G100RSGB in Essex
As you may be aware, all year, the callsign G100RSGB is moving around the country. In July and August, the callsign will be in our patch, with a number of Essex clubs holding the callsign. Here's the list of the clubs who'll be holding the callsign, as far as we know:
16-17 July: Braintree ARS
20-21 July: Chelmsford ARS
22-23 July: Colchester ARS
24-25 July: Essex CW Group (at Waters and Stanton, Hockley)
26-27 July: Felixstow ARS
28-29 July: Loughton & Epping Forest ARS
09-10 August: Thames ARG
The callsign is a very popular one, often resulting in pile-ups. For the 21st century, electronic logging and Twitter are being used, causing clubs to get up-to-speed with fast-entry electronic QSO logging
More info here: RSGB Centenary Station
Share and enjoy!