Want to talk to the Netherlands on 70cms from Essex? Selim M0XTA explains all.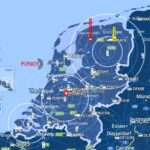 The following message was posted in the Essex Ham forum and discussed on this week's Monday Night Net, but at Selim's suggestion, we're reproducing it as a news story, for those keen to give it a try and who may have missed the forum announcement:
The PI2NOS 70cm repeater in the Netherlands on 430.125MHz has been heard many times in Essex and elsewhere during Tropo lift conditions. Unfortunately, until mid-December 2016, we were not allowed to transmit on its input frequency 431.725MHz from here in Essex, as 0we are within the 100km radius of Charing Cross exclusion zone. Those familiar with the 70cm bandplan, or who've recently sat Foundation, will recall that no amateurs are not allowed to transmit anywhere from 431.000MHz to 431.999MHz within a 100knm radius of Charing Cross, and outside of that radius, an erp limit applies at all licence levels.
As Selim tells us – thanks to his help, it's now possible (and legal) to make contact with PI2NOS…
Selim has been in contact with Stichting HobbyFonds Scoop, who run the PI2NOS, PI3UTR (2m) and other national repeaters who have built a very sophisticated, technical and efficient repeater system, telling them about the 100km exclusion zone for 431MHz. He told them that from his home QTH in Chigwell, he can hear the PI2NOS just about every day on 430.125MHz, and when there are a small-to-medium Tropo conditions, it comes in very strong.
More about PI2NOS
In the Netherlands, there are 3 separate transmitters on the same frequency that covers the whole of the country. It works very cleverly when it comes down to co-channel between the transmitters. there are many receivers in the Netherlands, also 1 receiver in Belgium and 1 in Germany.
The special receiver for us is installed at the current Breskens receiver site and the nearest transmitter is in the town of Goes (pronounced as "khooes") That is the nearest transmitter site for the repeater close to Essex and as I mentioned earlier, can nearly hear it all the time here at home.
The special receiver in Breskens has a directional antenna pointing straight at us down the Thames estuary, so it should be pretty easy to access the repeater when heard:
Output 430.125MHz
Input: 438.625MHz
(Original input is 431.725MHZ which we can't use in Essex – Unless you are portable on Walton on the naze which is the only place in Essex to use it)
Some handy links:
You can also access and listen/talk to the repeater via Echolink: node number 430125 (But as for me I'd rather use it via RF, that's the excitement about it!)
Well done to Selim for sorting this out. If you hear the repeater one day during Tropo conditions via your vertical co-linear or any of you reading this manage to have a vertical 70cm beam up to use the repeater all the time, Selim would encourage you to call in. The Dutch are nice people, they all speak English and they will make you feel welcome when you are on the repeater. So please don't be shy to call into the repeater!
Thanks to Selim M0XTA for the information, and the opportunity!