The Yaesu FT-450D is a very capable HF/50m radio, ideal for those looking to get started in HF. It's also currently available at a discounted price.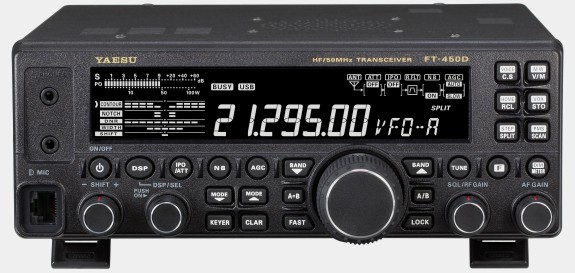 Thanks to Charlie M0PZT for spotting this, and for supplying the following thoughts on this radio:
The FT-450D, £489 after cashback, and £549 retail – a steal – Currently more expensive and out-of-stock at other UK distributors. Available online at Martin Lynch: Yaesu FT-450D at ML&S
I owned one for about a year before upgrading to its bigger-brother, the FT-950. Previously, I was using and FT-817ND. The FT-450D is a great 1st HF+6m radio and is small enough to fit into the most restricted of shacks, but also a big enough radio to offer a good operating experience. Of particular interest is the IF Filtering as standard which operates down to 300Hz on CW and Digital modes making operations on a crowded band quite tolerable.
Although the radio has a comprehensive menu system, there are enough buttons on the front panel to ensure that you don't need to re-read the manual each time you want to change something. Adjusting the filtering, IF Shift or engaging a frequency split (for pile-ups) are all have a dedicated button.
Obviously you don't get 2m+70cm but those with an FT-817, 857 or 897 don't get sharp filtering as standard – a must for any serious CW, Digital or /P operator! The 500Hz filter for the above radios is an additional £100. The FT-857 is also £100 MORE than the FT-450D before cashback.
So, if you have around £500 for a radio and are looking to equip the Shack, this radio deserves serious consideration.
Thanks to Charlie M0PZT for sending this through. Charlie will be at this coming Saturday's Raspberry Jam in Southend, and you can keep up to date with Charlie's ham radio antics at www.m0pzt.com