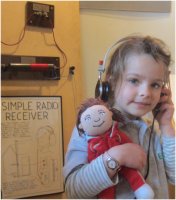 There's a slightly scary story on the Southgate Amateur Radio News service today about the next generation of amateur radio operators.
Have a guess how many amateur radio operators under 25 are members of the RSGB?
A disappointing 295.
Catch the full story: Younger Radio Hams Disappearing
Something I wasn't aware of – membership to RSGB is free to all amateurs aged under 21, as well as to amateurs in full-time education between 21 and 25 years of age.
If you know an amateur who qualifies for free membership – get them to sign up using the form on the RSGB site: RSGB Junior Joining Form
Crisis for the hobby?
So, why is the number so low? Is that we have so few under 25s in the hobby? Or are many unaware of the free membership offer?
It's fair to say that ours isn't an overly young hobby, and we tend to take up the hobby when money, time and jobs allow – typically a little later in life. The lack of youngsters isn't entirely surprising, especially with the current Internet / Tablet / Smartphone generation – but are we doing enough to bring new, younger people into the hobby.
A few months back, a letter I wrote to Radcom was published aimed at encouraging clubs to do more to get the M3/M6 community to be better represented. Maybe this needs to be widened, and clubs need to consider doing more to promote the hobby to the younger generation.
So, what can we do?
Essex Ham's been trying to find new ways to promote the hobby online, and to make "getting started" information as easy as possible to find online. Our most recent example is our two-minute video designed to get across what we do in a short-and-sweet package. It'd be great to see this shared by the community via Youtube, Twitter and Facebook (Now referred to as YouTwitFace!)… that's where youngsters hang out – on the social media platforms, and it's often all about video.
Here's our current 2 minute promo piece:
If you want to share this, either share the link:
http://youtu.be/6UFP158SJbY
, or you can embed this on a website using the code on the YouTube Share > Embed tab below the video. You're welcome to add this to your personal or club website if it helps, or via social media.
What else can we do? One thing I've noticed on the various field events and get-togethers I've been covering for Essex Ham, is a lack of what's known as POS material – Point of Sale leaflets and handouts.
Where we have people seeing what we do – are we doing enough to sell ourselves, and making it easy to know how to find out more? If you're a club or operate a special event station, do you:
Have readily-available promotional leaflets?
Demonstrate anything that might interest the under 25s?
Use computers / presentations so that people can see the wider picture of what we do?
Offer any material – car stickers, badges, cards, freebies?
Do you sell your club's Foundation courses at every opportunity?
Make it easy for people to register their interest in what you do – email address capture?
If we're to get new, younger blood into the hobby – maybe we need to think more 'outside the box'. This year sees the first YOTA (Youngsters On The Air), and targeting schools, scouts and military cadets is something that many clubs have tried with varying degrees of success. What more can we do? Or do we just wait for today's teenagers to retire and take up whatever's left of our hobby…
So – come on – what more could (or should) we be doing to get youngsters interested and involved?
It'd be great to see your suggestions, comments and thoughts… if you care…
Pete M0PSX
Related links