The weekend of Saturday the 10th and Sunday the 11th of May 2014 was the Fly-in at Stow Maries Aerodrome, in Essex. This is an excellent family fun weekend with visiting guest aircraft, at the impressive and fascinating World War I airfield
The Dengie Hundred Amateur Radio Society has a permanent shack at the airfield, and was operating over the weekend under the station's callsign GB0SMA.
Here is a two-minute video containing images captured during Essex Ham's visit on Saturday the 10th of May:
Sadly, the weather on Saturday was not great, meaning that many of the aircraft planning to visit were unable to make the trip – nonetheless, there's plenty to do at the Stow Maries Aerodrome – displays of aircraft, vintage cars and bikes, crafts, activities for the kids, reenactment groups and much more.
The Dengie Hundred ARS were active making contacts on 2m, and also on 80m AM – For this, they were making use of the T1154 / R1155 combination pictured here. This has been lovingly restored by Peter Bridgeman G3SUY and is always a pull at any amateur radio event. The T1154 transmitters and the R1155 receivers and were in use between 1941 and 1950, and they played a significant part in during World War II. These radios were designed in Chelmsford, and it's great to see them in use.
During the day, lots of visitors popped into the shack, as well as a number of the local air cadets who were helping to support the event – hopefully some new amateur radio operators in the making.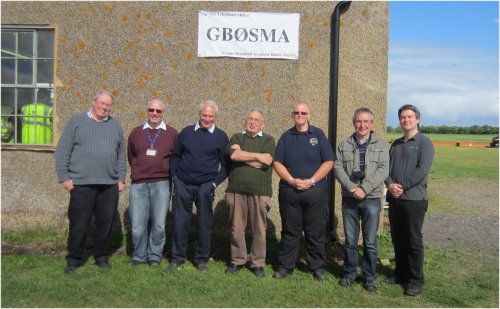 The Dengie Hundred ARS will be active again tomorrow, Sunday the 11th of May – so pop down and show your support for the GB0SMA station, and the Stow Maries Aerodrome.
For details and directions, go to www.fosma.co.uk
More images
[ngg src="galleries" ids="20″ display="basic_thumbnail"]