Snow has fallen, and continues to fall, across the county of Essex for much of today. With large parts of the UK, and indeed parts of Europe affected by the snow, it seems that many amateurs have stayed at home, wrapped up in the warm playing radio. Here's a quick summary of what's been going on today.
First off, the planned local field day obviously had to be called off. Lucy M6ECG, Rob M6KDP and James 2E1GUA had planned a field day in Bradwell, but with the forecast getting grim yesterday, the event's cancellation was reported on our forum and our Twitter feed. We understand some Essex Hams were planning a trip to the Dover Rally today, but we've not heard if they made it (or made it back!)
For those of us staying in the warm today, HF has been very busy. Here are some of the highlights captured by Essex Ham
The RSGB Centenary Station was operating from the Isle of Man today – The callsign GD100RSGB took to the air this morning, and was barely audible to us here in the South of the county. What could be heard though, was the massive European pile-up trying to work this unique callsign. We listened on 14MHz, and didn't even bother trying a call, as there were too many voices
The International Space Station's packet system has been silent for several weeks now, but was live again today, giving us another chance to work the ISS using APRS packet data, although the snow significantly affected the signal from the space station
The 5MHz RSGB news service took to the air again at 12:30 today, but was less audible than last week's. The 5MHz band is only available to Full licence holders with an NoV… see our 5MHz First Steps
Data has been very busy today, with strong signals from the US, Australia, South Africa, Thailand and the usual European suspects. 20 metre PSK31 was buzzing, and there were some good contacts to be had today (See the upcoming screenshot to get a feel for the traffic leaving the UK)
Speech and Data HF listeners may have noticed calls from several stations with callsigns beginning OE2013 – These were very active today and are special event stations celebrating the Alpine Ski World Championship 2013 in Austria. There's a competition running to make multiple contacts with these special event stations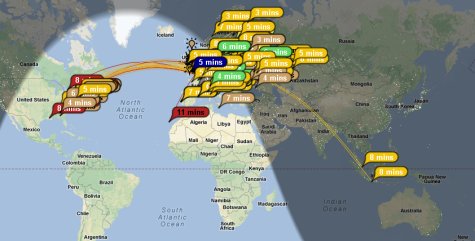 Hopefully those kept in the warm by the falling snow took full advantage of the day to play radio. HF was certainly busy, but the 2 metre band was pretty quiet today, with only a low level of chatter on GB3DA, and very little chatter picked up simplex here in Southend. Pete M0PSX even tried some mobile work in an Essex park, between snowball fights… but all was quiet!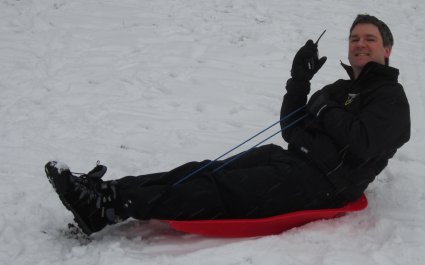 If you've been stuck at home today, please share your thoughts in the comments section below.
73 from a very white Essex!