11th of September 2016: This has to be some kind of Essex Ham record. For some reason, I was woken early, and I just couldn't get back to sleep. I switched on the mobile, checked the weather and thought "be nice to go out and do some radio. Out went the following tweet: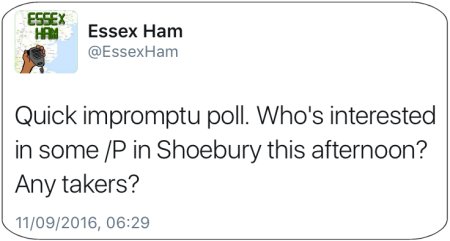 A few hours later, the time and venue's sorted, using the power of social media, and just after midday, the first car arrives at the location to set up.
Given the very short notice, an impressive 9 people came along for a few hours of radio, chat and tea at Shoebury East Beach. Gold star to Peter G0DZB, who biked down from Colchester, and encountered the joys of the A127 approach to Southend on a sunny beach-going day.
In attendance: Dorothy M0LMR, Laura M6LHT, Paul M0XMT, Pete M0PSX, Peter G0DZB, Richard G7OED, Sarah SWL and Steve 2E0UEH. Also joining us for the first time at an Essex Ham event, was Trevor M6TMB, who'd been out for the day at Southend Pier and heard us on a 2m handheld. Nice to meet you Trevor!
Watch our short video of the afternoon's activities
Apart from various handhelds – two stations were on-air – Steve operating QRP on 40m HF, plus a 2m station for communal use to chat to locals not able to attend. HF bands weren't favourable to QRP operation from Steve's home-made mag loop, but 2m was buzzing, with Dorothy working a couple of local pile-ups.
Events like this are also great for non-radio activities, and today's event included:
Mag-loop training
Trying to get a mains-powered Nespresso machine to be happy about a 3000w inverter
Laura using Essex Ham's portable wi-fi to remotely control a Raspberry Pi robot over the Mobile Internet
Lots and lots of "fetch" with Richard and Dorothy's Zena
Chocolate popcorn clusters
Some Pokemon Go! and Ingress action
Plus tea, chat and several confused passers-by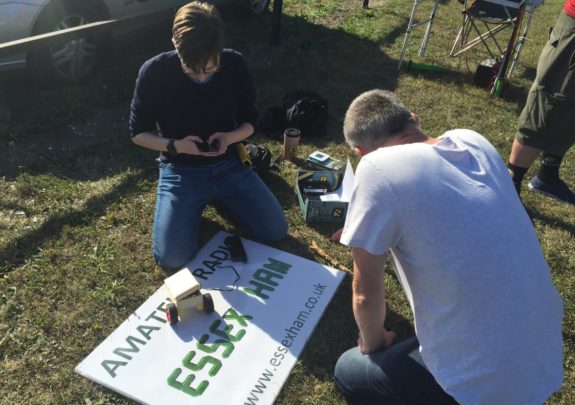 Thanks to everyone who turned up for a very spur-of-the-moment gathering – Lots of fun, great to see everyone, and a gorgeous day for it too.
Keep an eye out on our Twitter, Facebook and Google+ feeds… even early on a Sunday morning… just in case!
Pete M0PSX
Photo Gallery