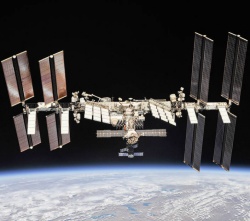 A school for deaf children are set to talk to an Astronaut on the International Space Station in a world-first radio communication.
At 1212hrs on 12 October 2021, Lloyd Farrington from the Newbury and District Amateur Radio Society (NADARS) will be calling the International Space Station using Amateur Radio equipment and callsign GB4MHN to enable ten deaf children to speak to NASA Astronaut Mark T. Vande Hei.
The children at the Mary Hare School for deaf children in Newbury will be talking to the Astronaut aboard the International Space Station (ISS) as it orbits above them at 17,500 miles per hour.
In what's set to be a world first. a group of deaf children will each ask a question to the astronaut who will then answer the question. His reply will then be interpreted into subtitles and sign language for the children to 'hear'.
The event is made possible by the world-wide organisation ARISS (Amateur Radio International Space Station) which heads up the radio contacts for space agencies NASA and ESA.
Opportunity to listen and watch
The downlink from the ISS signal can be received on the 2 metre band (normally 145.800MHz) and can be heard live all over the UK when the contact is underway. The signal should be audible using a basic 2m handheld, and it's always a fascinating experience listening in to a voice from space.
The time to listen is 12:12pm on Tuesday the 12 October 2021. A reminder that only the space-to-ground contact can be heard on 145.800MHz.
The event can also be watched live via an internet live stream: https://live.ariss.org
Radio Amateur and contact co-ordinator Lloyd Farrington from NADARS said: "This is a truly exciting event for both the school and NADARS. It's a great privilege to be able to speak to an orbiting Astronaut and we'll have NASA and ESA watching and listening to us due to it being the first contact of this kind in the World!"
Thanks to the team at NADARS for submitting this story to Essex Ham, and best of luck to all involved for the event