Saturday the 30th of May 2015 saw the sixth Southend Raspberry Jam take place at the Tickfield Centre, and a team of Essex Hams were there to promote the hobby.
The event is organised by the team from SOSLUG, the Southend-on-Sea Linux User Group, and was a great event aimed at encouraging people of all ages to get involved with programming, construction and technology. Activities included a Scratch hackathon, violent Python, 3D printing, digital badge making and a whole host of tech talks.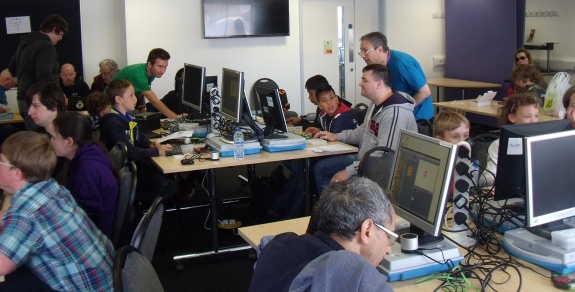 For Essex Ham, this type of event is a great opportunity to get amateur radio in front of people who already have an interest in technology, making the hobby a much easier "sell". It also helps to demonstrate some of the other aspects of the hobby, so we typically focus on SDRs, Raspberry Pi and Arduino crossover projects, SSTV and data modes.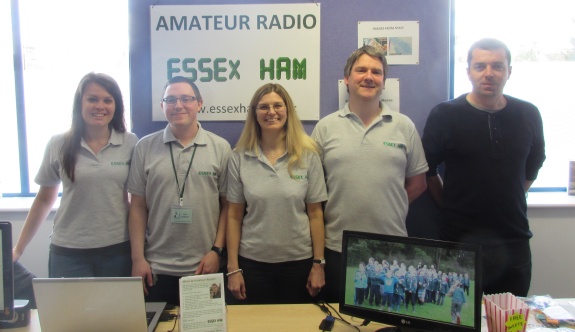 Essex Ham Demos
Always up for trying something new, Nick 2E0DVX came up with some interesting demos. Not strictly amateur radio-related, but a good draw for the kids, was his musical potatoes – touch a potato to play a musical sample, and get a tune going. Also on display, a cheap Morse key – a screwdriver and some elastic bands. The always-popular 'Send Your Name in Morse" was running, and we also had a scrolling video explaining the hobby, plus loads of Essex Ham and RSGB leaflets.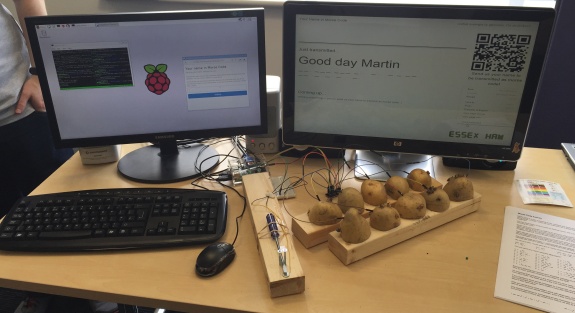 We were next to Charlie M0PZT, who was very busy with his Ham Goodies hat on selling kits, components, SDR dongles and all sorts of items, as well as being on hand to talk about amateur radio.
Amateur Radio Talk
A new feature for this Raspberry Jam was TeachMeet – A series of lightning talks – up to 8 minutes on a topic likely to be of interest. Pete M0PSX gave a lightning talk on amateur radio and working the International Space Station, outlining that contact is possible for amateurs using voice, image and data, and explaining the challenges of making contact. This was a nice tie-in with the AstroPi – a kids experiment involving Tim Peake and his upcoming trip to the ISS.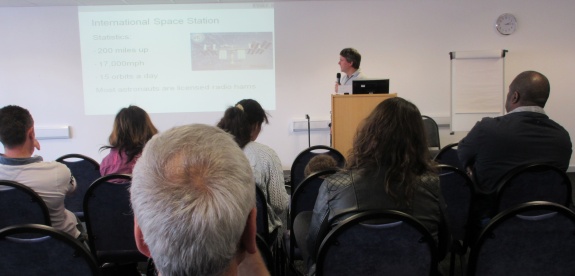 Demo Station
In another first, we were able to set up a 2m station at the Raspberry Jam. Thanks to Jakub 2E0FTX for setting up the station, ready for sending guest messages. RF conditions in the building (plus a lack of openable windows), meant that the station wasn't able to reach very far, but it served its purpose as a showpiece for the hobby and for some photo opportunities.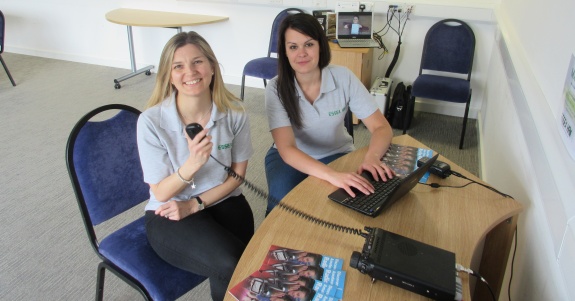 TX Factor
Bob G0FGX and Nick 2E0FGQ – two thirds of the TX Factor team spent the day with us at the Raspberry Jam, and it was great to welcome them back to Essex after their first visit back in March (See: TX Factor Visits Essex)
One of the key reasons for their visit was to get some footage of youngsters getting involved with amateur radio, and we were happy to help with getting some of the Raspberry Jam visitors to send guest messages, sample the hobby, try out some of the equipment and get hands-on with the activities at this busy event.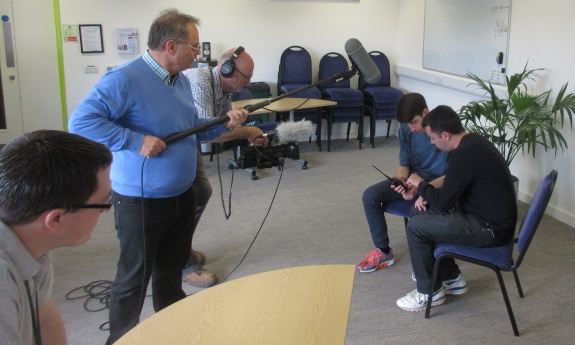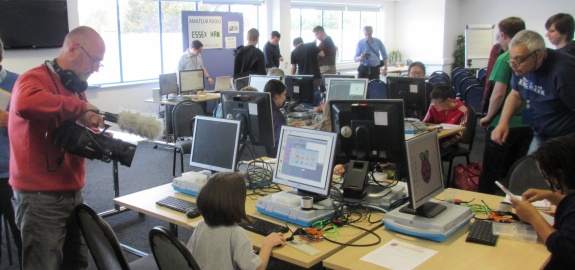 A great day with the team at SOSLUG, and a great opportunity to promote amateur radio. Thanks to SOSLUG for hosting the event and allowing Essex Ham to be a part of it.
A big thanks to Nick 2E0DVX, Maj (still SWL), Charlie M0PZT, Jakub 2E0FTX (and Nikola), Mark 2E0RMT, Sarah M6PSK (and Kathryn), Kelly M6KFA, James 2E1GUA, Nick G4HCK from Thurrock Acorns, Paul M6PEQ, Laura T (awaiting callsign), Ed G8FAX and anyone I've missed, for coming along and helping to support the hobby.
Another Raspberry Jam is set for later in the year, so keep an eye out, or visit SOSLUG's site.
More Event Photos
Related Links