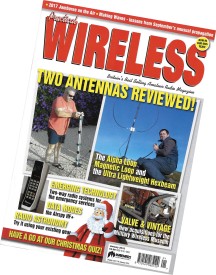 The January 2018 edition of Practical Wireless is out. Subscribers get this a few days ahead of those buying from the shops, so we thought you might like a sneak peek if you've not yet got your issue…
Here's what's on offer in the January issue:
Reviews of the G3TXQ Hexbeam and the Alpha Loop antennas
how ham radio has helped shape 2-way comms
A military wireless museum
a Morse oscillator project
Airspy HF+
fun with tripods,
a free radio telescope
Plus the usual features
There's also a plea to support your local repeater groups, following the shutdown of the South Yorkshire Repeater Group for "various reasons"
Also, there's an interesting article by Colin G6MXL suggesting that us hams use the Christmas period to give the hobby a boost and show the family what it's all about, plus the suggestion that we help youngsters into the world of radio by getting Santa to deliver them a shortwave radio to play with.
For some festive fun, there's also a quiz on page 40 with a mix of questions for all licence-levels.
Ham Radio in Essex
What's going on here in Essex features well this month, with notable mentions being:
News:
CARS Communicator Badge for the 1st Woodham Ferrers Scout Group
Essex Ham's table at the October Skills Night, plus a great photo of SEARS member Laura M6LHT
A new club for Hammersmith, started by Selim M0XTA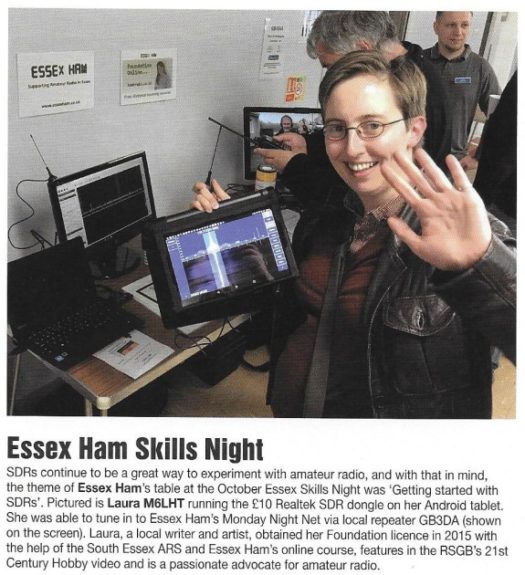 World of VHF
Mention for Tom M0ABA's EME activities in Shoeburyness
Jamboree On The Air
Essex Ham: A group shot and brief report on GB1BEL, including a mention for Nick M0NFE's Your Name in Morse, Ian 2E0HPR's ADS-B demo, and to Derek M0SCE for running the event
Harlow & District ARS: A picture and brief report on their JOTA activity
A letter from SEARS member Terry G1XXV about D-Star usage in Essex & Kent
There's also a mention of the SEARS Canvey Rally on the 4th of February 2018.
A great read this month – Well done to Don G3XTT and his contributors for another excellent issue. You can catch Pete M0PSX interviewing Don and new owners of Practical Wireless in Episode 19 of TX Factor.
Handy links