On Tuesday the 5th of May, Charlie M0PZT gave a talk on 'Operating Portable', for the Chelmsford Amateur Radio Society.
Around fifty people came along to pick up some tips on how to get more from working /P, and they weren't disappointed – as Charlie's talk had a good mix of content for those new to the world of portable operating, as well as to those who are old hands at amateur radio.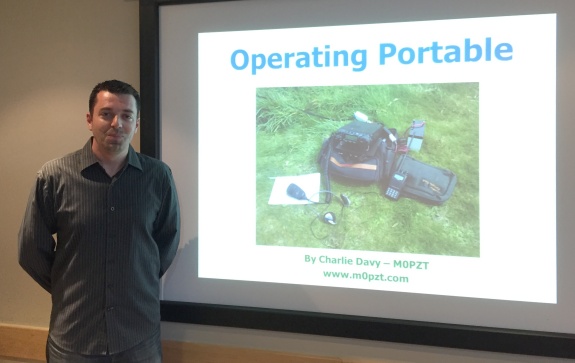 Charlie started by running through 'The Big Three' of working portable – Why? Where? and How?
Charlie spoke about some of the antics that Essex Ham have enjoyed at places such as Galleywood Common, Chignall and Shoebury East Beach – including some firsts, such as Ricky M6DII's first HF contact with his new kit. Working /P gives you the chance to operate free from noise (electrical and man-made), plus to the chance to learn from others and try new antenna combinations out f the reach of most domestic set-ups.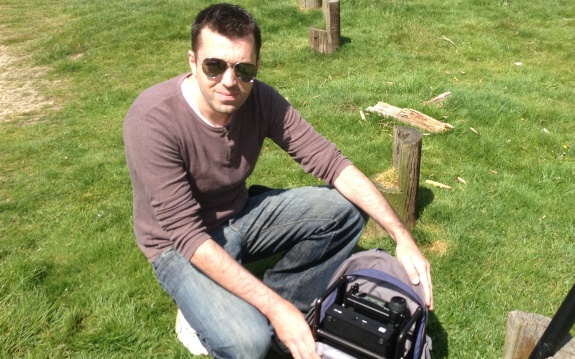 Operating outside of the cosy environment of the home shack offers some challenges – what equipment to bring, antennas, how to get power miles from anywhere, and how to keep yourself fed and watered. One common theme throughout the talk was "Safety first" – including details on how to safely erect an antenna, use of yellow ropes and velco, and carrying a first aid kit.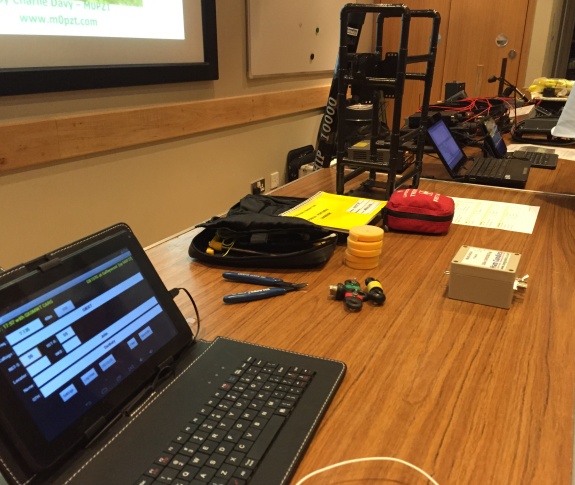 Those who know Charlie know that he cycles out to many events, so has learnt to travel light – he can't throw loads of spare kit into the boot, so has had to compromise and improvise.
Charlie, plus fellow portable operators Peter G0DZB and Pete M0PSX, brought along an impressive collection of portable bits and bobs, including Charlie's custom-made FT-857 Porta-Frame, TabLog (logging on a cheap Android tablet), antenna tuners, carry bags, antennas and a large hammer.
Power was also the subject of discussion – biking to /P sites means that Charlie relies on SLABs for operation, unless some friendly Essex Ham brings along an 86amp/hour leisure battery. There was also some discussion of lighter LiPo batteries, with an appropriate warning that they do require careful handling. An interesting anecdote from Carl G3PEM about NiCads was a great note to help wrap up the talk.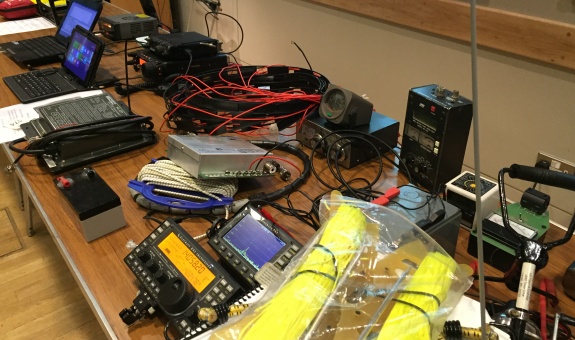 The Society's raffle had a very /P flavour – well done to Martin G4TOO for winning the top prize of a Dipole Kit from SOTAbeams (complete with coax/wires).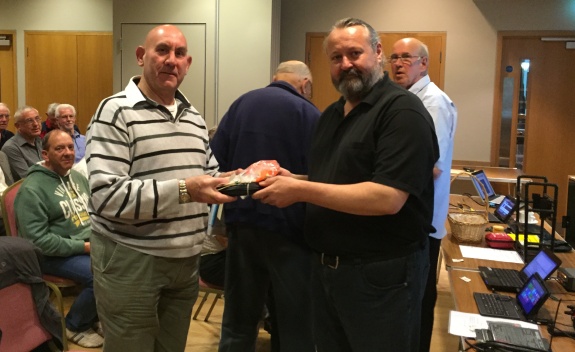 If you fancy getting out and working portable, expect plenty of opportunities this summer – and as Charlie pointed out – events such as Galleywood Common and Shoebury Beach are a great opportunity to either bring out your own kit to give it a try(with help from others if needed), or have a try using kit brought along by other operators. Keep an eye on Charlie's Twitter Feed, Essex Ham's Twitter Feed or the Essex Ham Facebook page.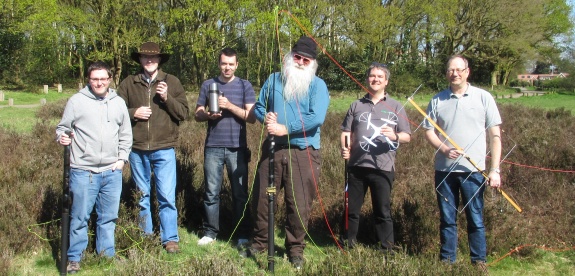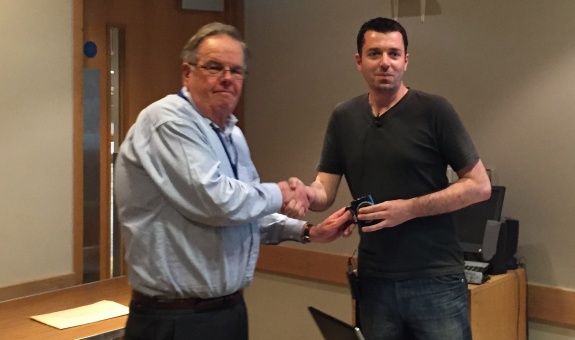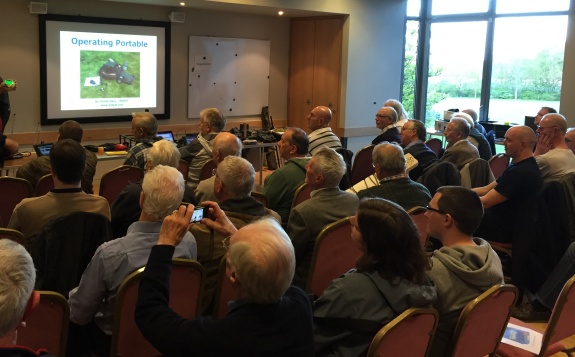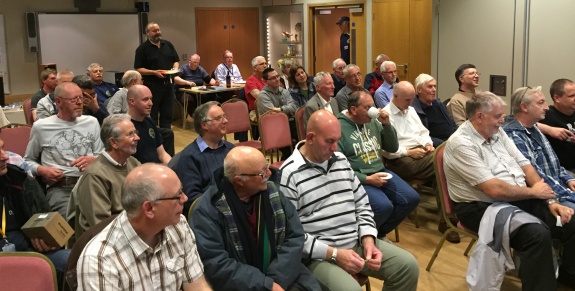 Well done to Charlie M0PZT for putting together an excellent talk and passing on some top tips – see you out there… in the field.
Handy Links