Today, Sunday the 8th of June, was another impromptu gathering for Essex Hams at the popular Galleywood Common venue.
These events are generally organised at the last minute over Twitter, with Charlie M0PZT pulling together the details with a bit of additional PR from Essex Ham and on the GB3DA repeater.
Eight amateurs turned out: Charlie M0PZT, Peter G0DZB, Pete M0PSX, Steve M0SHQ, Mark M6RKC, James 2E1GUA, Chris G0IPU and Ricky M6DII – As usual a great mix of chatting, radio, tea, experimentation, and silly photos – some of which you'll find here.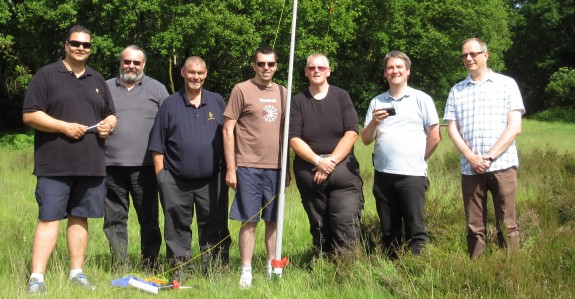 Highlights of the day:
Ricky M6DII, bringing along his a 40m/20m "Band-Hopper" linked-dipole and a 10m travel mast, both from SOTAbeams. With help from the team, the aerial was erected for the first time, analysed by Steve M0SHQ's kit-build antenna analyser (£60!), and fired up for the first time with a Yaesu FT817. This allowed Ricky to make his first ever HF QSO, with the help of the Essex Hams at Galleywood. Here's a picture of Ricky, just after his first HF contact: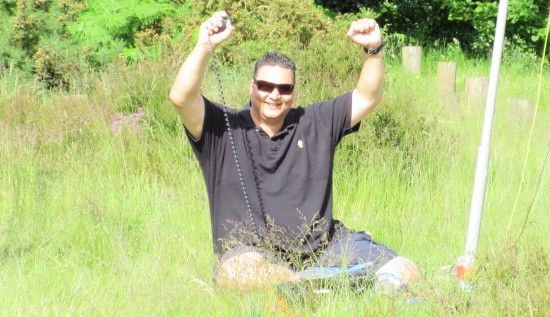 Mark M6RKC and Pete M0PSX came along to relax after working for Essex RAYNET on the Orchid Cycle Ride. Working on a RAYNET event is very different from an HF field event, offering quite a contrast. Mark's van is an Aladdin's Cave of kit… you name it, he has it. His impressive crate and HF magmount pulled in solid special event stations from Brazil – Here's Charlie giving Mark's kit a try…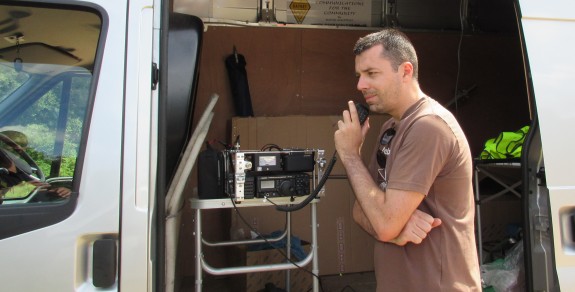 As well as testing out various bits of kit, we had a look at Steve M0SHQ's satellite beam, experimented with different variants of tea, tested Pete's wi-fi camera, made contact with Brazil, and worked another amateur also working /P in a different car park at Galleywood Common… small world!
Video Compilation of Galleywood Common 08 June 2014
Upcoming Events…
Keep an eye on Charlie's M0PZT's Twitter feed for details of upcoming impromptu events in the Chelmsford area. We also promote these on Essex Ham, so follow us too for updates (Essex Ham Twitter | Essex Ham Facebook)
The Galleywood Common event for the diary though, is Saturday the 21st of June – The Summer Solstice "Longest Day"
Event photos
[ngg src="galleries" ids="23″ display="basic_thumbnail"]