Well done to the nine new Essex amateurs who'll be taking to the air soon.
On Thursday the 6th of October 2011, the Chelmsford Amateur Radio Society's training team in Danbury wrapped up the 6 week Foundation course with the final exam.
The official picture of the nine successful candidates holding their pass papers will be posted to the CARS training website shortly, but in the meantime, here's the pic I managed to snap on my smartphone on the night: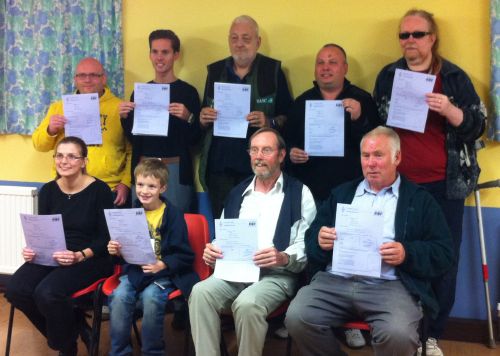 There'll now be a few days wait whilst the exam paperwork is passed from CARS to the RSGB, and then on to the OfCom database. Within the next few days, those that have passed their Foundation course will be able to go on to the OfCom website and pick their callsign. There's a summary of the process here: Foundation Licence Process
One of the aims of this website is to provide information to anyone just starting out in the hobby, and hopefully anyone who's just joined will be able to find out more information on the next steps here: Just Got Your Licence?
We'd also love to get your questions too – so please get in touch. And if you're one of the faces pictured here, please add a comment below. We'll be keeping an ear out on the Chelmsford 2 metre repeater  on Monday the 17th and the 24th of October at around 8pm, so please say hello if you're looking for a contact.
Finally, a few links for the newbies:
Again, well done to those that passed in Danbury last night – Looking forward to "working" you in the near future!