As part of some ongoing research into the amateur radio hobby, I have today been looking at how things have changed as far as UK exams and training have progressed in the last 15 years.
Getting into the hobby has never been easier, thanks to the Foundation exam. Until 2003, if you wanted to get an amateur radio licence, you were required to pass the City & Guilds "Radio Amateur Examination" (RAE). From 2004, the system that we know today has been in effect: Foundation, Intermediate & Full.
From my fairly brief research, it seems that getting a Full licence today is pretty different to how things were back in the RAE days. On this page, is a short summary of the key differences as I see them:
Getting a Full Licence – Then and Now
New to the hobby? Fear not, this table is not for you! Getting started in amateur radio is easier than it used to be. Foundation courses are available free online, or at local clubs and typically require 14-20 hours of study, leading to a 26-question multiple-choice test (which you can take online at home). See Getting Started in Amateur Radio for more.

Confused? This table seems to have caused some confusion to a number of RAE radio amateurs who may not be 100% familiar with today's licensing structure. Before 2003, to get a full UK amateur radio licence, you had to take the City & Guilds RAE exam. Since 2004, candidates are required to take the Foundation and Intermediate exams, before they can move to the Full exam. To make for a fair comparison, both columns demonstrate getting a full licence from scratch. Apologies to those who've been confused!
2003 RAE 7650 Exam
2022 Three-tier System
Type
Theory-only
Theory-only (practicals removed in 2020)
Number of exams
1
3 (Foundation, Intermediate & Full)
Exam Fee
£29.50
£97.50
Exam Time
2 hours and 15 minutes
4 hours 30 minutes
Questions
80
130 (26 + 46 + 58)
Practicals
None
None
Training Courses
Structured courses at hundreds of C&G centres (mostly at colleges) across the UK, as well as at some radio clubs. A course fee applied, although self-study was possible (as there were no practicals)
Run by a minority of clubs that offer training. In most cases, the club will charge a course fee.

Very few clubs offer any face-to-face training for the Full exam. Most students have to self-study, often using the Bath online course

Exam Availability
Twice a year (May & Dec) at hundreds of C&G centres (schools & colleges) across the UK
Run by clubs, or since 2020, can be taken online
Syllabus
8 sections (RAE 7650 syllabus)
10 sections (RSGB syllabus). Much of RAE syllabus, plus new content including: frequency synthesis, semiconductors, SDR, DV, A-to-D, DDS, Fourier transform, data modes, digital TV EMC, and other topics.
Questions on Licensing Conditions
18
25
Questions on Operating procedures
6
11
People Entering Hobby
571 (2002)
1475 (2015)
Example Papers
2003 Actual RAE Paper
2020 Example Mock Exams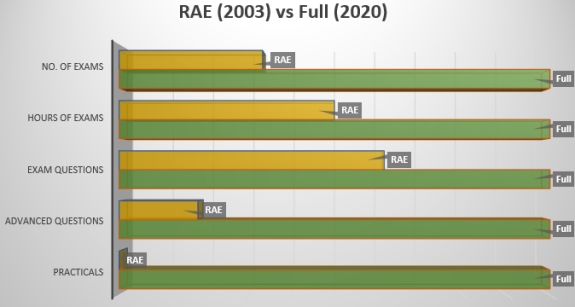 About the RAE Exam
Previous exam papers (posted here) show that from the 1940s to the late 1970s, this was a ten-question written test. From 1979, this became a multiple-choice test.
The RSGB Handbook 1994 explains that exams had to be sat at a recognised G&C exam centre (mostly colleges), and there were exams twice a year. Until 1998, the paper was in two parts: Part 1 (Licencing conditions, interference, EMC), and Part 2 (procedures and theory). Candidates took both papers in a single sitting. If they failed one of the two papers, they wouldn't need to take the other paper again. In 1998, the two papers were merged into a single paper.
The RAE papers were 100% theory-based, unlike today's system, where candidates have to complete 7 assessment tasks in front of a registered assessor before being allowed to sit Foundation.
The one-paper system ran from 1998 to 2003, when City & Guilds ceased running the RAE, leading to RSGB introducing Foundation, Intermediate & Full.
RAE Exam Reports
The RAE Examiners reports make interesting reading, and there is a common theme raised by C&G:
"Many of the less able candidates find difficulty with some of the practical aspects essential for operating and maintaining an amateur radio station" (May 1999)
"There were many questions in this paper that were very badly answered. Several showed a lack of practical experience and understanding" (Dec 1995)
"Again, there was evidence that some candidates were lacking in practical application" (Dec 2001)
"Several of the questions that were not well answered show a lacking of some candidates in practical experience or demonstration" (Dec 1999)
"Again there was some evidence that benefit would be gained by greater use of practical demonstrations" (May 1996)
"Many candidates were unfamiliar with several topics essential for the practising radio amateur" (Dec 1995)
"An analysis of the results show clearly that not all candidates have had the opportunity of attending a course with adequate practical content and demonstration" (May 2001)
Some interesting observations were raised in the RAE Examiners reports, including:
62% of candidates in December 1995 couldn't answer a question about station usage, with many candidates thinking that relaying of news, or other stations to increase the range, was allowed
In December 2000, many candidates thought 2W1XUL was a club callsign
In December 1996, most candidates didn't know who to notify if they moved house
In May 2001, 55% of candidates didn't realise that the log could be used to record communications and observations
In May 1998, 41% thought that the amateur radio licence allowed amateurs to tune in to broadcast radio stations.
In May 1999, 35% thought that sending messages for general reception (broadcasting) was allowed
In May 1996, only half of candidates could recognise a Novice callsign (many thought it was 'GE')
In December 1996, many candidates did not know what do if called by a CB user, and most didn't know who to report it to.
In May 1998, 66% of candidates couldn't correctly explain was a log was for
In December 1996, 42% of candidates didn't know what the band plan was for
In December 1995, 63% of candidates couldn't find the International Disaster bands in the licence booklet
In December 1999, most candidates failed to identify that they could relay messages on behalf of a user service
In May 2000, "a disappointing number of candidates" chose to use a multimeter switched to an AC range to measure voltage across a DC circuit.
Thanks to G4DMP for his excellent RAE Exam Paper & Report Resource, that's allowed this summary to be compiled.
RAE in Essex
Options for taking courses and exams in Essex in the C&G era appear to have been far better than they are today. Here in Essex, RAE centres included Basildon College, Benfleet Six-form College, Chelmsford College, Clacton Adult Education Centre, Colchester Institute, Harlow Education Centre, Rayleigh Centre, Southend College of Technology and William De Ferrers School in Chelmsford. Also nearby: Centres in Barking, Enfield, Havering, Waltham Forest, and Ipswich, as well as across Kent, London, Suffolk and Herts.
Summary
Comparing the 2003 and the 2017 mock papers is an interesting exercise. If you've passed "Full" in the last 10 years or so, take a look at how the paper looked back in 2003. If passed in the RAE-era… perhaps have a go at the RSGB's latest mock. It might be interesting to see which paper folk feel is easier!
I'd be interested to know your thoughts…
Pete M0PSX
Related links