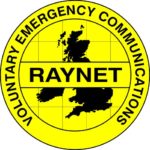 Essex has been the centre of much media attention in the last few days as a result of the severe weather warnings for the county. Following the Environment Agency's severe warnings of a "risk to life" in parts of the county, Essex RAYNET were quickly deployed to support an evacuation of a potential 2,500 residents.
Here's a report from Pete M0PSX, one of the RAYNET volunteers who was deployed during the incident:
The Essex RAYNET management team routinely alert members of likely poor weather warnings issued by the Met Office, so news of possible flooding wasn't a surprise. In the early hours of Thursday morning on the 12th of January, Essex RAYNET were warned that assistance may be required. At that time, members were advised to be on possible standby, to charge up batteries, and to potentially be ready to deploy.
A few hours later on Thursday morning, Essex RAYNET was officially notified by Tendring District Council, via the Essex Civil Protection and Emergency Management Team that RAYNET's support was required. Straight away, Essex RAYNET were en-route to the area and within a few hours, a Control station was operational at Tendring District Council's DERC (District Emergency Response Centre) in Weeley. Cross-band (2m/70cm) repeaters were active to cover the local area, as well as county-wide for other members of Essex RAYNET.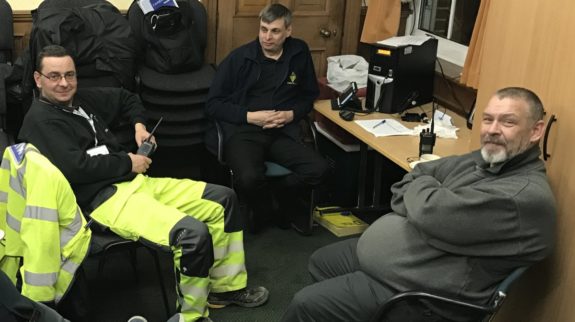 The group's primary involvement was to support Tendring District Council, who were coordinating the evacuation of a potential 2,500 residents from Jaywick. Four locations were activated to provide coverage:
DERC – Control at the Tendring District Council offices in Weeley, mostly manned by Dave G0DEC, Mark 2E0RMT and Roland M0BDB
TEC – An emergency rest centre was opened at the nearby Tendring Education Centre
Forward Control – The central command for the police and fire and rescue teams. A large number of emergency vehicles were gathering at this point for operational briefings, before deployment to the at-risk areas in Jaywick
A point was active at Frobisher School to support evacuation.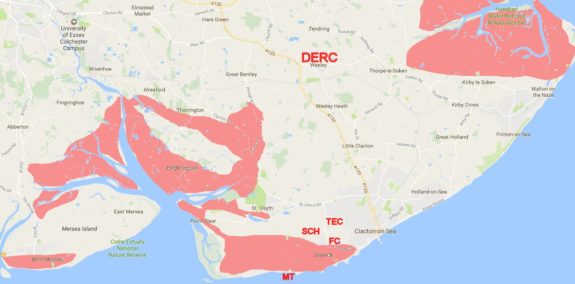 Essex RAYNET members were deployed to each location making use of a cross-band repeater for robust communication back to Control at the council offices in Weeley. Through the use of cross-band 2m/70cm, most of the comms could comfortably be achieved using 5 watt handhelds.
In the run-up to the expected tidal surge, most of the effort from the emergency services was contacting the residents (with police knocking on over 2,000 doors, leafleting and media), and preparing to evacuate the most vulnerable to a rest centre.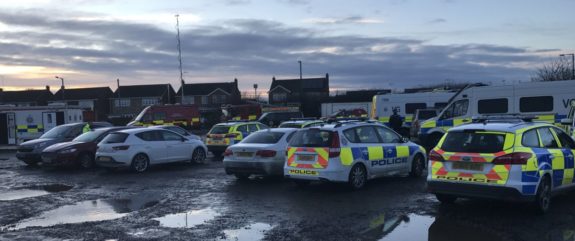 Essex RAYNET continued to be active through the night alongside council officials at the three main locations. By this point, 17 Jaywick residents had already settled in at the TEC rest centre, which was well-staffed, well-stocked, and well-prepared.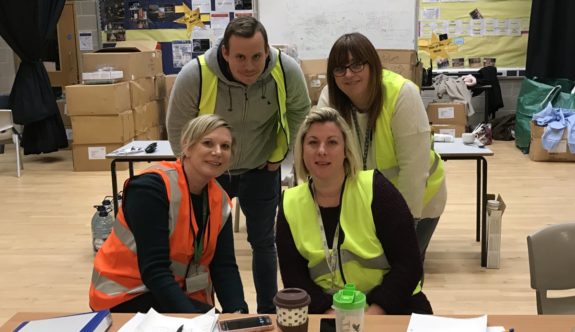 From 1am, things had quietened down a little, and some of the RAYNET team at Control were able to take shifts in getting a few hours shut-eye. Closer to Jaywick, Phil G4RPF and Pete M0PSX were able to get 2 hours sleep on inflatable mattresses in the rest centre before a 5am start. The morning was expected to see a planned evacuation of the most vulnerable start at 7am, ahead of the tidal surge predicted for midday.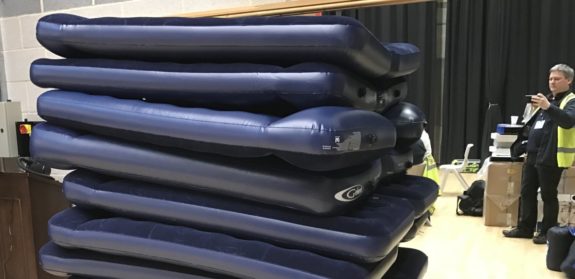 Media interest in the event was very high, with satellite trucks and radio cars from BBC and Sky in attendance, as well as local and national print media arriving from Thursday into Friday.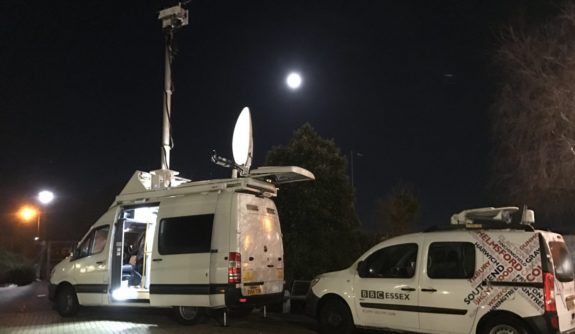 The evacuation was in full flow from 7am on Friday, but after a few hours, it became clear that the tides and high wind predicted for midday were likely to be less severe. As teams were preparing to scale back the operation, the Environment Agency reported that the latest information was that midnight high tide was of greater concern than the midday tide. With the prospect of overnight floods and subsequent rescue operations, the operation ramped up again.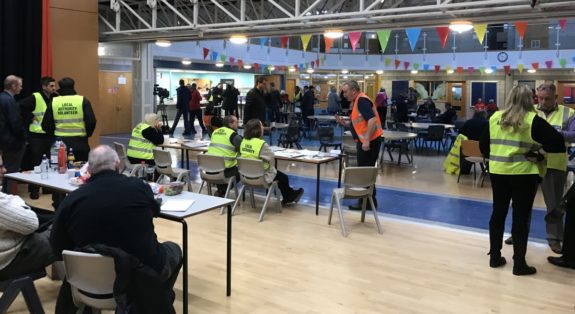 By this point, most of the emergency services, council officials, volunteers and RAYNET members had been active for 24 hours, and a call was put out for additional RAYNET members to assist. As it was a working day, many members were unable to attend immediately, and a call for assistance from nearby RAYNET organisations was made, with Mid Herts RAYNET on standby for deployment on Saturday. In the end, enough Essex RAYNET volunteers were able to support the event, but nearby groups were on standby if the incident had either escalated or become protracted. RAYNET's national emergency planning team were also kept informed.
Evacuation activities in the Jaywick area continued through Friday evening. At the peak, 230 residents from Jaywick heeded the advice to gather at the rest centre, some bringing their pets. Fortunately for all concerned, the predicted midnight tidal surge didn't happen, and residents returned home on Saturday morning. Essex RAYNET were stood down a few hours later, with some members having been active for over 40 hours, and looking forward to a decent sleep on Saturday.
Essex RAYNET's Role
16 members of Essex RAYNET were in attendance in a support role, and were deployed as part of Tendring District Council's contingency plans. The team expended a total of 332 man hours over the two days. Mobile phone coverage in parts of the affected area was not great, and had the worst happened, it would likely have been necessary for a significant amount of message handling to be done by the RAYNET team.
Numerous important messages were passed by RAYNET during the operation, and operators were able to keep council official and volunteers aware of events taking place at other key locations without tying up landline and mobiles.
Incidents like this serve to highlight the need for volunteers to be available to assist communities in times of need. If you have an amateur radio licence, volunteering for RAYNET is a great way to put your skills to good use. Although emergencies requiring RAYNET's support are fortunately few in the country, RAYNET supports many community events and charity fundraisers throughout the year. Not only does this provide a valuable service to the community, but it helps RAYNET members hone their message handling skills, technical capabilities and deployment plans.
For more about Essex RAYNET, go to www.essexraynet.co.uk, or nationally, go to www.raynet-uk.net
Related Links
Essex Police Incident Summary